Ansbach placekicker Eichhorn signs on with Div. III Dubuque
by
Rusty Bryan
April 3, 2004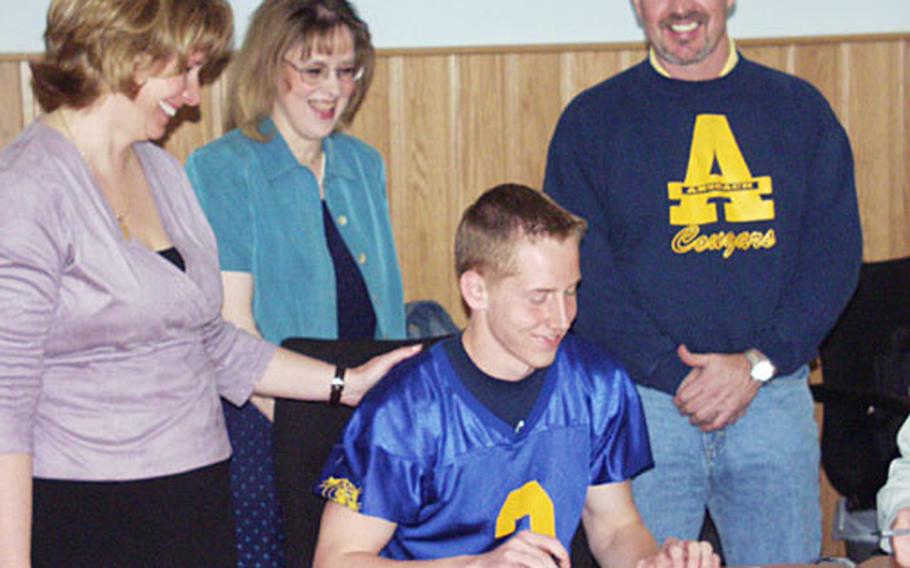 ANSBACH, Germany — Two-time All-Europe placekicker Garrett Eichhorn of Ansbach booted one bit of anxiety into the trash can but teed up another Friday morning when he signed a letter of intent to play football this fall at the University of Dubuque in Iowa.
"It's a weight off my shoulders to get in," Eichhorn said as he waited for Dubuque's associate director of admissions, Bob Brosius, to negotiate gate security at Barton Barracks in Ansbach. "But now there's the matter of actually having to perform."
Based on past performance, Eichhorn, 17, should have few worries. He first appeared on Dubuque's radar when he was perfect on a DODDS-record five field goals with Brosius in attendance at Ansbach's 43-6 victory over Baumholder in the Division III title game on rain-slicked Minnick Field last November.
"The longest was 37 yards," said Ansbach coach Marcus George, who called the field goals partly to hold the score down against an outmanned opponent and partly to showcase Eichhorn's ability to Brosius.
"I was pleased that he had the rhythm and consistency to perform in those conditions," George said. "I've been in Europe since 1985, and Garrett is the best kicker I've ever had."
The Spartans, members if the Iowa Intercollegiate Athletic Conference, could use Eichhorn's help. They were 0-10 last season.
Partial credit for Eichhorn's success belongs to George and Eichhorn's father, Leonard, a helicopter pilot who extended his tour in Germany to allow his son to complete his fourth year at Ansbach. The extension allowed George to take the student to Auburn University's summer kickers' camp; however, it also entailed a second deployment to Iraq for his father.
"His father missed all of [Garrett's junior season, first of Ansbach's current streak of back-to-back D-3 titles] and he missed the championship game last season," said the kicker's mother, Lisa.
In addition to those milestone moments, Eichhorn's father also missed Friday's signing ceremony, although he made contact via satellite shortly after his son and Brosius signed the letter of intent.
"I'm pretty elated," Leonard Eichhorn said. "It's not something we planned on. It's something that happened because of Garrett's hard work."
Although he missed much of his son's prep career, Leonard Eichhorn vowed the situation would change during his son's college years.
"I plan on making as many games as I can," he said.
A soccer player since the age of 3, Garrett Eichhorn didn't play football until his freshman year at Ansbach.
"I wouldn't be playing football," he said, "if Mick Plummer [of the Ansbach coaching staff] hadn't come around my freshman year and asked if I wanted to."
Eichhorn, whose career-long field goal record is 45 yards, said his soccer skills translated quickly and easily to football.
"The only difference was the placement of the feet," he said. "There are a lot of physics involved in kicking that the average person doesn't realize. You're born a kicker. You either can do it or you can't."
When Eichhorn arrives at Dubuque, he might encounter some familiar faces.
"We have 25 DODDS kids on campus now," said Brosius, "and 46 have applied for this fall. They make a huge difference on our campus."
None of them, however, is there on athletic scholarship. Dubuque instead offers academic and need-based financial aid.
"As an NCAA Division III member school," read Eichhorn's letter of intent, "the University of Dubuque offers no athletic scholarships. The University of Dubuque supports student-athletes in their efforts to reach high levels of athletic performance — which may include opportunities for participation in conference, regional and national championship competition."
Brosius said the rules, however restrictive they might sound, let Division III schools field true student-athletes.
"There's no money involved," he said. "No one's trying to make any money. The kids are playing because they want to play."
---
---
---
---