Ansbach girls eye record win streak in title quest
---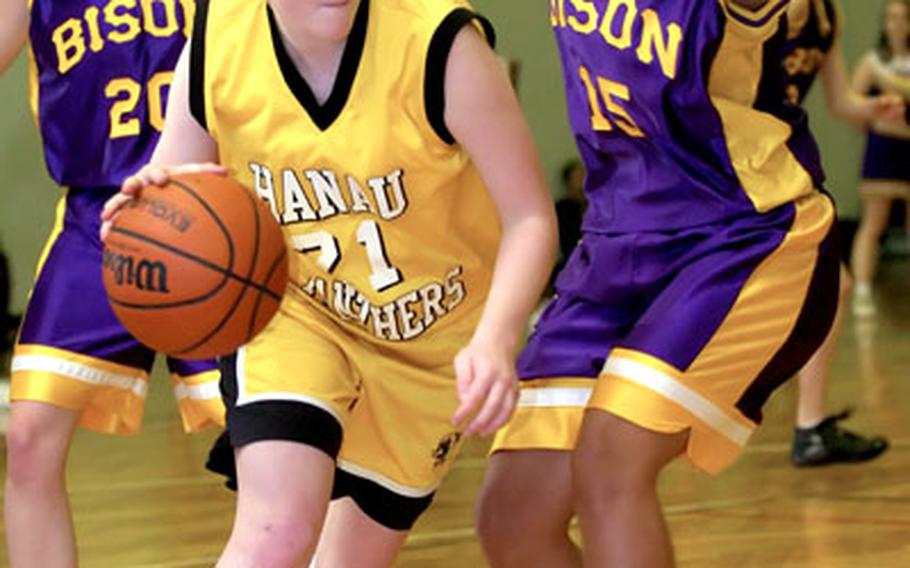 All eyes will be on the Ansbach Lady Cougars when the European basketball championships tip off Wednesday in the Heidelberg-Mannheim area.
The Lady Cougars, the defending Division III champions, are not only looking for another title, they also have a chance to tie the DODDS record for most consecutive victories.
If the Cougars run the table, they will have won 34 straight, a record set by the Ramstein Lady Royals from 1998-2000.
"We try to stay away from talking about it," coach Mick Plummer said. "There's enough pressure without that. We're trying to push that we have to get better every week, and that if we do that, the streaks and championships are a result of making that improvement."
And Plummer sees plenty of challenge in the Division III field.
"It's going to be a great tournament," he said. "Sigonella is really strong. They brought some really good athletes up here for volleyball, and they've only lost to Aviano and Naples, who are strong Division II schools."
"Rota is really strong, too," Plummer said. "Greg Jacobs always does a great job with them, and Sam Crowder, who impressed us so much last year, is not even their leading scorer this year."
In the other divisions:
Division I
Kaiserslautern's Corey Sullivan is hoping his team's attitude will help the Lady Raiders overcome what he sees as a Division I field consisting of "five strong teams."
K-town split its two-game series this season against Heidelberg and International School of Brussels, but compiled an unbeaten conference record by winning the second game of each series: the one that counted in the conference standings.
"We really didn't talk about the importance of that second game," Sullivan said. "They just rose to the challenge every time. This is a special bunch of girls."
In addition to ISB and Heidelberg, Sullivan expects defending champion Lakenheath and Ramstein, the 2004 runner-up, to contend.
Division II
In Division II, the Bitburg Lady Barons will try to rise from a probable No. 7 seed to win an unprecedented fifth straight European girls crown.
But north of the Alps, Division II has been the special province of Mannheim. The Lady Bison's disciplined style under coach Adrian Crawford produced an 11-3 overall record and a 7-0 conference mark.
But Mannheim is sure to be tested by unbeaten and experienced Italy champion Naples and Italy runner-up Aviano, along with Division II league foes Vilseck, Hanau and Patch, all itching for revenge for tough losses.
Division IV
It's the battle of the strangers as teams such as Lajes, Incirlik and Ankara join Iceland, Milan and III-North foes Alconbury, Menwith Hill and Brussels in the battle to reach Friday afternoon's title game.
Division I also decides its champion on Friday at BFV Sports Arena, while Divisions II and III will wait until Saturday at the same sites to settle their title games.
---
---
---
---