Another week, another key game for DI title hopefuls
---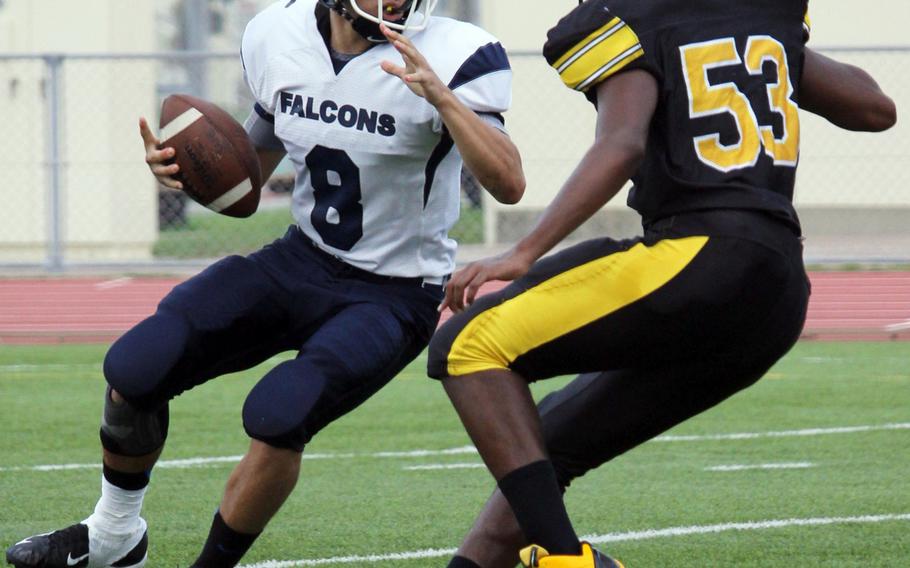 To boldly go where no Mustang football team has gone before.
That's the narrative for American School In Japan, which for the first time in the school's football playing history pays a call on Seoul American. Kickoff is at 6 p.m. at the Falcons' Sims Field.
"How about that?" said John Seevers, in his 40th year with the Mustangs program, about the historic first. "We're always excited about playing a good quality team, and this being our first trip to Seoul American, that's exciting too."
It's the second time the teams have met in the past two seasons, on the heels of the Falcons' 11th-hour win last Sept. 12, when Nick Mauldin hit Rico Howard for a 68-yard touchdown pass with 50 seconds left to break a 26-26 tie. Seoul American won 34-26.
But Seevers and the Mustangs aren't looking primarily for vengeance, but rather to get in position to play for the Far East Division I title Nov. 12. It's ASIJ's first D-I game of the season, following 51-0 and 40-0 wins over Division II products Robert D. Edgren and Zama.
"Every game is a big game for us," Seevers said. "We're planning to take every game one at a time and to keep getting better every week, and we're doing it. That's what we're focusing on."
For the Falcons, it's an especially big game now that they've fallen to 0-2 on the season, including a 48-6 defeat at Kadena on Sept. 10.
It's a must win for the Falcons if they hope to stay alive for a D-I title-game berth, their first since 2008, and first-year head coach Shawen Smith says it will boil down to doing things right.
"We need my guys to execute," Smith said, adding that throughout practice the last two weeks, he's been "stressing that we need to all be on the same page."
"The guys should know all the plays by now. They just need to execute them, have all 11 guys working together, that's the common goal."
ASIJ at Seoul American is the only divisional game of the weekend. Zama plays at Yokota on Friday, but the game doesn't count in the D-II standings.
That was a last-minute addition to the schedule; Robert D. Edgren forfeited its scheduled Friday game at Yokota and DODEA officials added Zama, since each had the week off.
Camp Humphreys, South Korea, hosts a football doubleheader Saturday. Three-time defending D-II champion Daegu plays against Samsung, a Korean team, in a neutral-site game, followed by Rhinos at Humphreys.
Twitter: @ornauer_stripes
---
---
---
---