Pacific volleyball player of the year
Another Thornton has ASIJ on top again
by
Dave Ornauer
November 18, 2011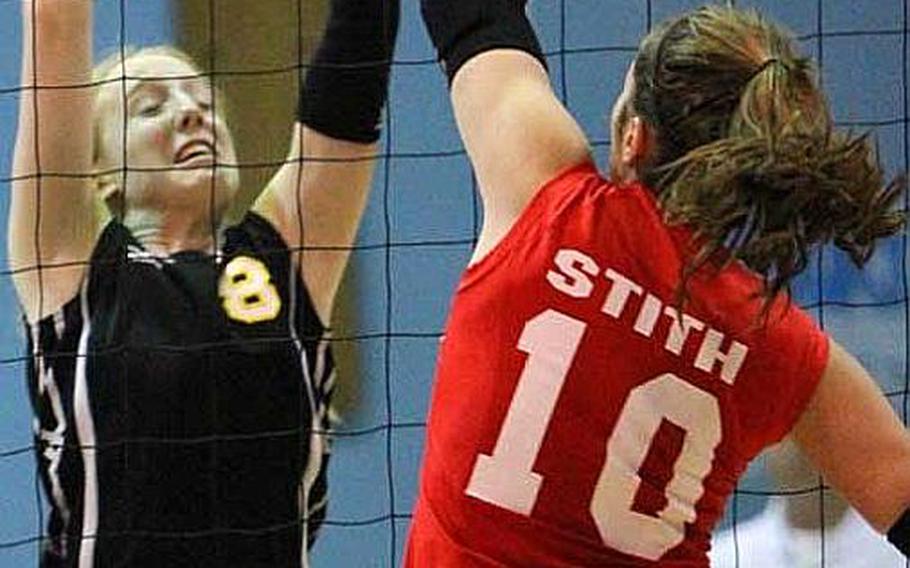 What may be the most successful six-season stretch of American School In Japan girls volleyball in more than two decades might not have been possible without the work of three sisters named Thornton.
Middle blockers Catherine and Gwen Thornton each earned MVP honors as seniors in lifting ASIJ to Far East Division I Tournament titles in 2006 and '08.
On Nov. 12, Liz followed in those footsteps as the Mustangs won the D-I title again, beating Kanto Plain arch-rival Nile C. Kinnick in three sets at Seoul American High School's Falcon Gym.
"She is a phenom," Kinnick coach Al Garrido said.
Though just a sophomore, "her presence and leadership on the court are undeniable," longtime Mustangs coach Gail Lanier said. Whether at practice or in matches, "Liz is focused, determined and competitive, wanting herself and her teammates to be the best they can be."
One who doesn't come off the court for a defensive substitute when on the backline, Thornton is as effective at serve receive and passing to setter Baileigh Gibson as she is finishing sets with booming kills.
"She's light, quick, she's got a great leap and she can bang the ball," Garrido said. "She may be most dangerous when she's receiving the ball. She has great court vision. When she's in a rhythm, it's very hard to stop her."
She averaged 15.7 kills and 4.5 block points during a regular season in which ASIJ placed second behind three-time Kanto Plain Association of Secondary Schools champion Kinnick and split with the Red Devils during the regular season.
The Mustangs ended the Red Devils' unbeaten season in the last Kanto match prior to Far East. During D-I Tournament week, the Mustangs dropped just one set, beating Kinnick twice, and Thornton had a 43-percent kill ratio and a 14.4-percent service-ace ratio.
"A smart player, Liz has the ability to read the opponents court and make her hits count," Lanier said.
"A talented player, she achieves success by working hard at improving her skills. Energetic, enthusiastic, she makes coaching fun as she likes challenges and I know she is always ready to play."
Lanier says seven players who suited up at Far East for ASIJ, including Thornton, will return next season.
---
---
---