America's national pastime isn't even an official DODDS sport
by
Rusty Bryan
April 6, 2008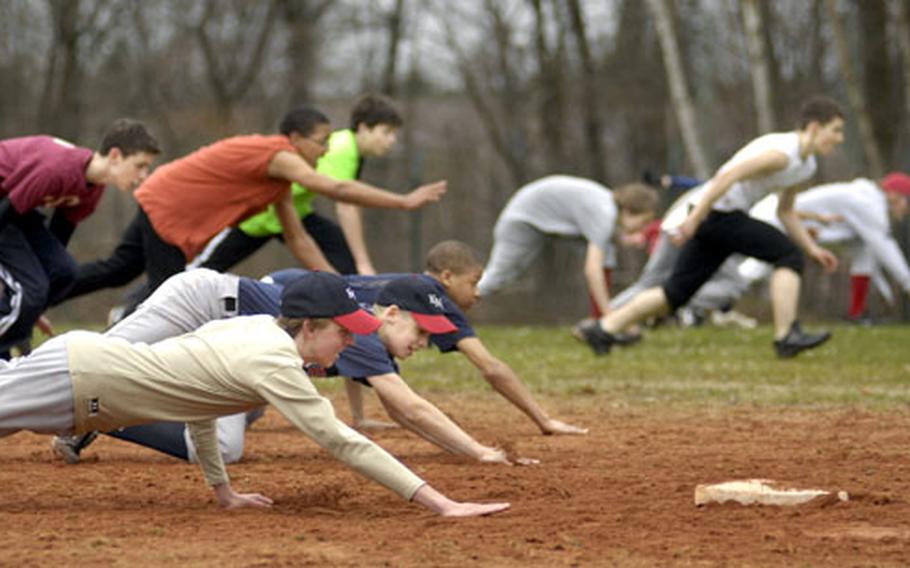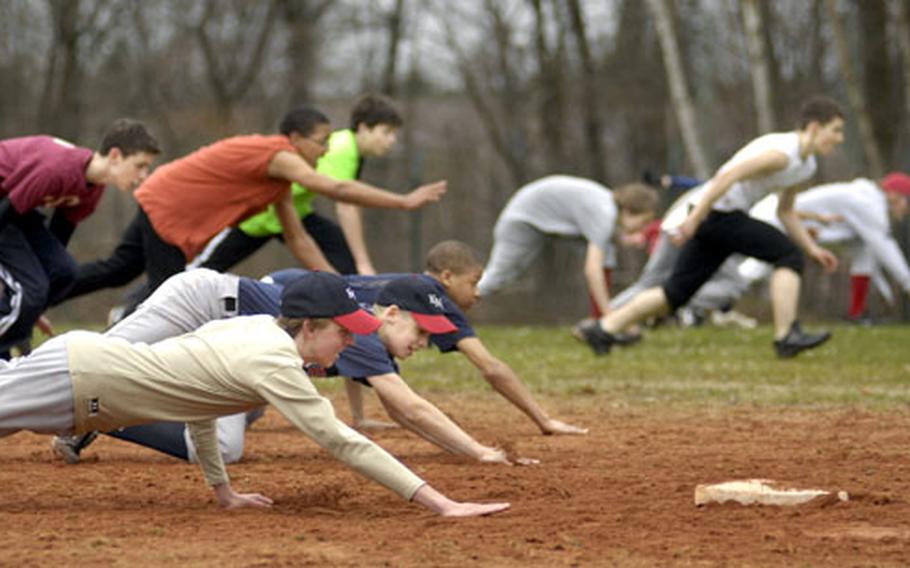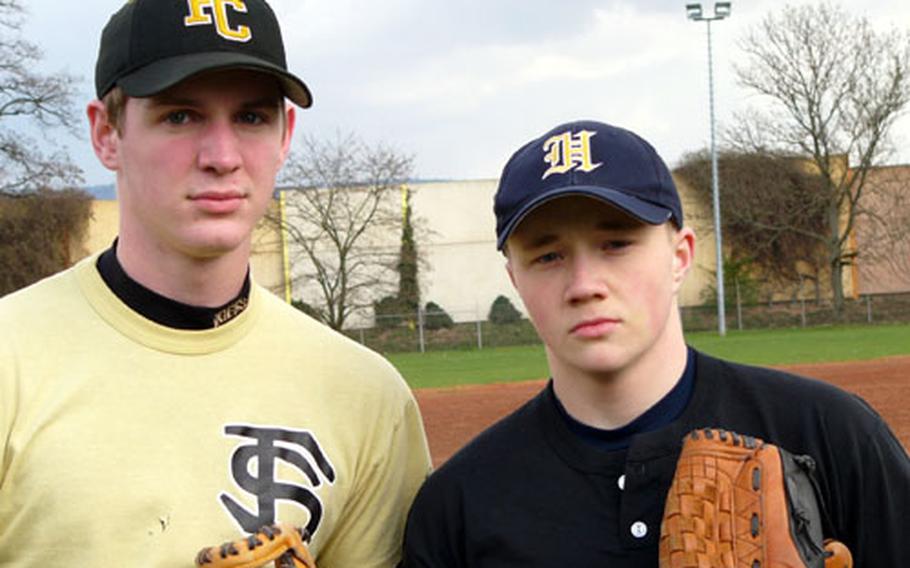 While hundreds of students across Europe represent their high schools on the softball diamond, the soccer pitch and the running track this spring, a group of baseball players can only sit on the sidelines and wonder, "Where's the love?"
The Department of Defense Dependents Schools system in Europe sponsors plenty of sports for both boys and girls, but America's national pastime isn't among them.
Instead, high-school baseball in Europe is run by the military's Morale Welfare and Recreation's Child and Youth Services. DODDS foots the bill for equipment, travel and coaches for other sports, but baseball players have to come up with the money (around $45 per player) to keep the sport going. The coaches are unpaid volunteers.
This situation is a marked contrast to DODDS-Pacific where baseball if a fully sponsored program, even if it doesn't have a season-ending, theaterwide championship tournament.
So why doesn't DODDS support a baseball program in Europe?
Money.
"Funding is tight," said Margret Menzies, DODDS-Europe public affairs officer. "We have 'X' amount of money to run an athletic program. We have to make tough choices."
Those choices are obvious to players like Heidelberg's Shane Close.
As soccer players practiced on the next field over to prepare for the third weekend of high school competition when spring break ends, Close and his teammates were practicing on substandard fields with no idea when their season would begin.
"If baseball were an official sport, this place would probably be cleaned up better," Close said, gesturing at patches of ragged grass and mounds of dirt dumped on the diamond. "We'd probably have better equipment, too."
Finding enough fields is only one of the problems, Menzies acknowledged.
"We'd have to find coaches, umpires and facilities," she said. "For example, the Child Development Center in Vicenza was built on top of two former ballfields."
Heidelberg's Chris Williams says he misses the atmosphere that comes with putting on your school's uniform and taking the field.
"It's not like playing for your school," said Williams, a junior catcher who played high school ball in Ohio before coming to Europe. "It's like going out to play ball with some of your friends."
Plus, Williams added, the present situation makes it nearly impossible to catch on with a college team.
"It's embarrassing," he said. "We're considered [Youth sports]. College coaches in the States don't even recognize us as playing high school baseball."
Big differences
Perhaps the biggest differences between DODDS-supported and CYS sports are in finding coaches and setting schedules.
In a supported program, the school district pays a faculty coach or sponsor to keep things running, while in baseball, it's up to unpaid volunteers to do it all.
One of those coaches, Kory Bell, who assisted at Heidelberg last year, wrote in a recent e-mail that using volunteers only to run the program only illustrates the scope of the issue.
"My biggest problem with the current status of baseball in Europe is that there is a difference between what it should be and what it is," he wrote. "Simply put, baseball has the opportunity to enrich, educate, and also launch student athletes to academic and athletic opportunities at a university (and life) level. Stateside schools of all sizes recognize this and fully support it. European military high schools do not."
Furthermore, while the DODDS spring schedule is in full swing, the baseball season does not yet have a completed schedule, final number of teams in the league and no tournament site or date, according to Heidelberg volunteer coach Bob Close.
"There's a winnowing-out process that goes on until it's determined how many teams will play," Close said of the delay in pinning down the schedule. Until then, "We're focused on honing our skills and getting ready to play."
And until this season, baseball players couldn't even earn a school letter.
In the face of those problems, DODDS-Europe completed a memorandum of understanding over the winter that outlined the details of what the system expected of CYS in exchange for agreeing to award letters to baseball players, including meeting the educational requirements.
According to Patch volunteer coach Shawn Phelps, the academic requirements for a baseball letter are the same as for supported sports, except that compliance is overseen by a YS official, not a faculty member.
"To letter, (players) have to meet the same standard as every other DODDS athlete," he wrote in a e-mail. "However, if they become ineligible and they choose to participate they can do so ... the only penalty is that they are no longer eligible for a letter from the school."
Hope for the future?
So it's there any chance of DODDS fully supporting a baseball program in Europe in the future?
Menzies said the school system has recently conducted an online student sports-interest "inventory." The inventory results, which have not yet been compiled, will be taken into account, in designing future DODDS-Europe athletic programs, she said.
Phelps said that if the inventory reveals baseball as a popular choice, it should get a place in the DODDS lineup.
"Funding is the main problem," he said recently. "If (baseball's) what they want, we should find funding."
But Bell suggested the system could do that by making choices he views as fairer.
"Add up the numbers what it costs for Heidelberg to play Lakenheath in football," he wrote. "Then tell me how it's fair that the high school doesn't buy one baseball. Open up your newspaper and read about a girls softball game this spring and see if you see one sentence about the 'high school' boys baseball team.
"Better yet, volunteer your time for free to try to coach a group of 17- and 18-year-old athletes with parents who expect an involvement in a varsity-level baseball program. Then try and deliver it on your own, with your own money, no contact with the school …"