Home Team
All sights set on Kaiserslautern for Europe's first winter finals
---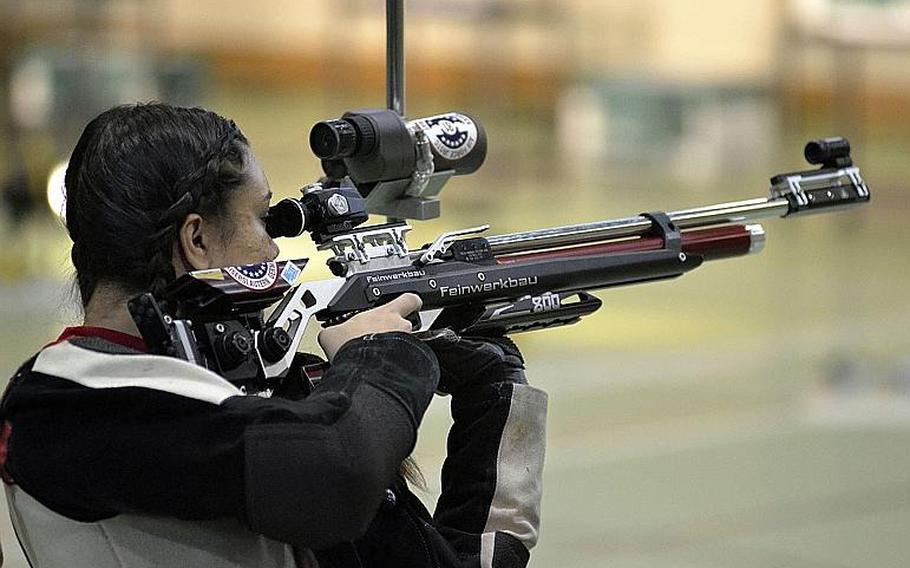 The first championship event of the 2018 DODEA-Europe sports calendar arrives Saturday as Kaiserslautern High School hosts the European marksmanship finals.
While a landmark on the DODEA-Europe calendar, the annual event has taken on added meaning this year. For the first time, the European championship meet will also serve as a Junior Olympic State Championship qualifier, providing further incentives and opportunities for the six teams - Alconbury, Ansbach, Kaiserslautern, Stuttgart, Vilseck and Wiesbaden - set to compete Saturday.
Recent history suggests the Stuttgart Panthers will hoard most of the event's available accolades. The program has claimed the last four DODEA-Europe team titles while placing multiple shooters consistently among the event's top individual finishers. This year's Panther team looks very capable of extending that run of dominance.
Stuttgart has consistently outshot and outscored its competition over the course of a five-meet regular season stretching from Dec. 2 to Jan. 27. The Panthers are loaded with proven performers, including seniors Callum Funk, Eileen Dickinson, Macy Kimball and returning Stars and Stripes marksmanship Athlete of the Year Fallon Dickinson.
The reigning dynasty has managed to hold off eastern conference rivals Ansbach and Vilseck throughout the winter, but the margin is close enough to make Saturday's final rematch interesting.
Junior co-captains Alyssa Garcia and Mikaela Motherwell, both top-six individual finishers last year, have kept the Falcons very competitive throughout what new coach John Sabala called a "rebuilding year" prior to the season. Vilseck, a strong second place to Stuttgart last year, finished a close runner-up to the Panthers again in last Saturday's regular-season finale.
Senior team captain Gabrielle Peach has headlined a resurgent Ansbach Cougars program making its first European appearance in three years. Coach Christopher Buchanan said the second-year shooter "developed more of a democratic style of leadership" over the course of the season, guiding the program to its current success and setting it up for more in the future.
"She is preparing the team not only for Europeans," Buchanan said, "but also next year after she graduates."
Ansbach is joined by small-school peer Alconbury among a six-team field comprised otherwise of much larger Division I programs. Dragons coach John Pardo said his "earning a slot at Euros" makes the season a success for the sport's only England-based program, and credited captain Derek Ratliff for his steady improvement over his four-year run with the program and his infallible consistency as the team's senior cornerstone this winter.
"We could always count on him," Pardo said.
While drawing from a far larger student base than either Alconbury or Ansbach, home team Kaiserslautern is a developing program in its own way. The Raiders take over hosting duties for the marksmanship finals for the first time; the event was held at Vilseck last season.
Raiders head coach Robert Meyer said the opportunity to host is "exciting" for the program, which has been a fixture of the DODEA-Europe championship meet since its 2015 debut. But the school is taking the responsibility seriously: Meyer said his goal is a "dignified, efficiently run, safe and enjoyable competition in which the clear winners emerge at the end without controversy."
That's a worthy goal, but it's not the only one the Raiders hold for this weekend. Kaiserslautern, led by returning senior captain Victoria Jackson, has nurtured a slim advantage over western conference adversaries Wiesbaden and Alconbury all winter, and will need a strong performance Saturday to hold off those familiar foes, make a run at Vilseck and Stuttgart and perhaps improve on its third-place showing of a year ago.
Twitter: @broomestripes
---
---
---
---