Boys cross country AOY
All's well that ends well for St. Mary's Richter
---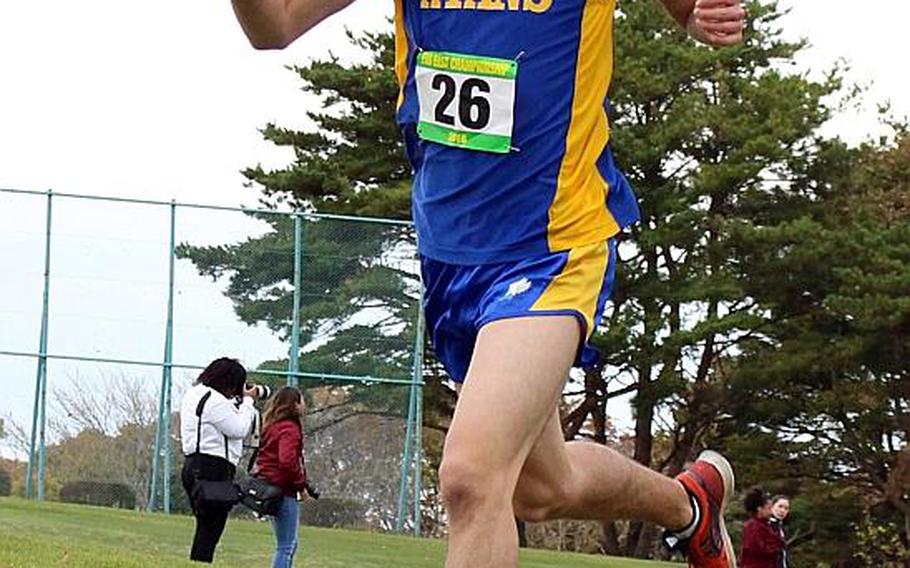 For three years, Thomas Richter watched as rivals such as Dan Galvin of Yokota and American School In Japan's Willem Thorbecke would mount the winner's podium after the Far East High School Cross Country Meet.
The St. Mary's student hoped he'd one day do the same.
That day came on Nov. 8 in the frigid environs of Gosser Memorial Golf Course at Misawa Air Base, Japan. There, Richter picked up just the second victory in his four-year cross country career, but it was a career capper: First place overall and in Division I.
It came just over a week past his first race victory in the Kanto Plain finals.
For that, and helping St. Mary's to the boys team championship in Far East and just missing in Kanto, Richter has been named Stars and Stripes' Pacific high school boys cross country Athlete of the Year.
"I knew I would do decent at Far East, but I wouldn't have imagined standing in the same place" where Thorbecke stood in 2014 and Galvin last year after winning Far East titles, Richter said.
He remembered, though, what his chief rival this season, ASIJ's Ryan Nishida, said: "'The top four or five runners could win the race on any given day,' so I am really happy that I was able to be in top condition for both races."
But for Richter, just getting in shape for cross country has been a seasonal battle. He's a swimmer for the Tokyo Buccaneers, a club associated with St. Mary's, and spends most of the year in the pool.
He's certainly no fish out of water on the cross country course, having not finished outside the top 10 in any race since his sophomore year. But swimming always puts extra muscle mass on his body, mass that he has to shed, he says, to get into top running shape.
"Swimming is the best way to train your lung capacity," Richter said of the plusses swimming offers running. But on the down side, "it takes time for me to get in shape" for running. "It does help me in the long run for cross country, but it detracts from my speed at the beginning of the season.
"I'm still a bit heavy at the beginning of the season, so it's hard for me to get in shape for running. I lost five kilograms (11 pounds) from the start of the season to the end, so it definitely detracts from the speed I could maintain" during races.
Richter did stay close to the front of the pack for most of the season, finishing third and second twice each on the Tama Hills 2.9-mile course, with Nishida prevailing each time.
It was after the Asia-Pacific Invitational on Oct. 14 on Guam, where Richter finished eighth, that he pushed harder toward season's end and the Kanto and Far East finals, breaking through in the former on Oct. 29, where he ran a personal-best 15:04.4 at Tama.
Then, with temperatures in the low 40s and a real-feel of 19 at Misawa, Richter ran another personal best, of 17:01.0, holding off Korea district champion Jack Newton of Seoul American by three seconds.
"Looking back at my four seasons of cross-country, I always tended to do better toward the end," Richter said. "So, I guess you could call me a 'late riser.'"
Twitter: @ornauer_stripes
Stars and Stripes' Pacific All-Far East boys cross country team Thomas Richter, St. Mary's, Far East Division I and Kanto Plain finals champion. Jeff Ferrand, Yokota, Far East Division II champion. Jerry Lotz, Nile C. Kinnick, DODEA-Japan champion. Jack Newton, Seoul American, Korea district champion. Tony Wachira, Okinawa Christian, Okinawa district champion. Ryan Nishida, American School In Japan, Asia-Pacific Invitational champion.
---
---
---
---