All-Marine coach scouting out players at Pacific regional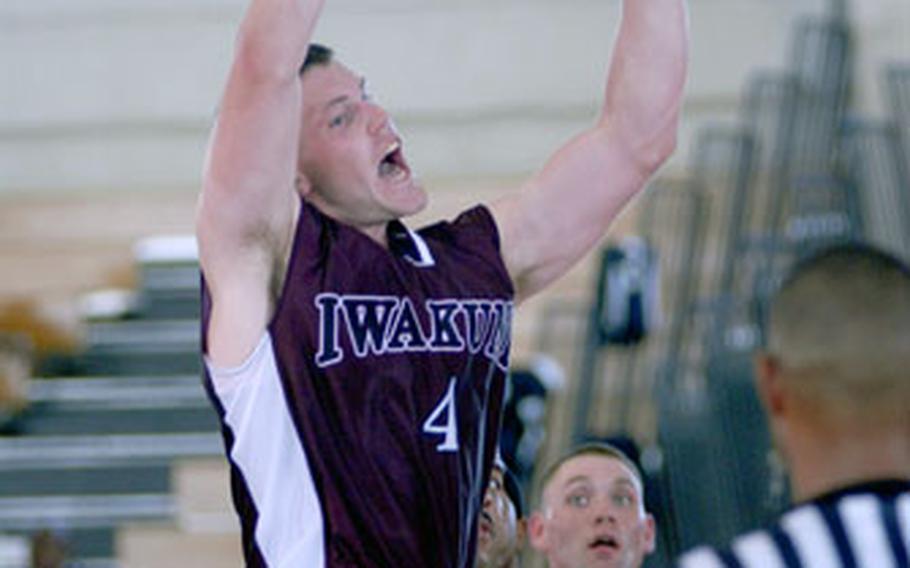 CAMP FOSTER, Okinawa — Thomas Kromis' brow furrowed as he examined Marine Forces Pacific Regional Basketball Tournament team rosters: Precious few bright markings highlighted names of players eligible for All-Marine tryout camp.
Yonnes Sanders, two-time reigning MVP? Vincent White, high-scoring guard of two-time defending champion Marine Corps Base Camp Butler? Barry Celestine, seven-time All-Marine shooting guard? Can't go; duty commitments for each of them.
Jimmy Wheeler of 3rd Marine Division/Expeditionary Force, a four-time All-Marine and two-time All-Armed Forces forward? Can't go; he's been tabbed his new company's gunnery sergeant.
"It doesn't make my job easy," said Kromis, 38, a master sergeant assigned to Fort Worth Naval Air Station's Joint Reserve Base in Texas.
The Marine Corps sent him to last week's Marine regional tournament to scout players for the All-Marine tryout camp Oct. 22-Nov. 1 at Henderson Hall in northern Virginia. There, they'll battle East and West Coast regional selectees for berths on the All-Marine team competing in the All-Armed Forces tournament Nov. 3-11 at Fort Carson, Colo.
Kromis' mission: Seek players who can help the Marines win the tournament for the first time since 2003 and only the third time in 27 years — but also look for quality people.
The big problem? Only 18 of the tournament's 66 players were released by their commands to compete for the six berths slotted for the All-Marine camp.
"You hate to have to leave good talent back here on the island," Kromis said. "But in typical Marine Corps fashion, we'll try to do a lot with what little we've got."
Camp itself has shrunk somewhat the past few years, considering the number of deployed Marines and budget shifting in support of operations Iraqi and Enduring Freedom. What used to be a three-week affair with up to 30 prospects has been cut to just 11 days with 18 players, six per region.
"You're talking only four days to evaluate them, then cut down to the final 12 and then have just five or six days to put together some type of productive practice," he said. "We have a big hill to climb. The deck is stacked against us. Like trying to beat the house in Vegas."
In the early stages of the Pacific regional tournament, Kromis said, he's seen one or two players on each of the teams with "real potential" to perform at the All-Armed Forces level.
"You want some players with experience but also guys who are role players, to do the dirty work and play defense," he said. "But the caveat is off-the-court conduct. We're ambassadors, wherever we go. We expect them to act like Marines. If they do their part and if the coaches do their part, we'll put together a competitive product."
Ex-All-Marine woman holding her own as men's coachTrinia Grant doesn't see herself as a woman coaching men. The eight-time All-Marine and two-time All-Armed Forces women's player sees herself as a mentor of talent.
"It's just me coaching other players," said Grant, 32, a gunnery sergeant from Detroit who took the helm of the 3rd Marine Logistics Group team for the regional tournament. She also coaches the team in the Joint Military Athletic Conference, where they're 4-4 this season.
Grant has the pedigree. She qualified for the All-Marine Corps women's team for eight straight years (1992-99) and made the All-Armed Forces team in 1995 and '96.
"I have no problem," said Celestine, who plays for Grant. "To me, it's just about knowing the game. She knows the game. She's played All-Marine ball. And she isn't afraid to tell you what you need to hear, instead of what you want to hear."
Quarterfinal summaries3rd MLG 44, Hospital 2
Halftime: 3rd MLG 44, Hospital 2. Leading scorer: 3rd MLG, Jacksby Sewell 12. Noteworthy: Game discontinued after halftime; Hospital chose not to continue playing.
Wing 78, Iwakuni 68
Halftime: Wing 34, Iwakuni 34. Leading scorers-Wing, Floyd Spears 22, Josh Reaser 20, Thomas Johnson 17; Iwakuni, Richard White 27, Kareem Pulliam 13, Spencer Herron 12.
Semifinal summariesBase 89, 3rd MLG 65
Halftime: Base 38, 3rd MLG 20. Leading scorers: Base, Robert Gibbons 32, Raquawn Jean 18, Vincent White 13, Burnett Miles 12.
Division 75, Wing 74
Halftime: Division 44, Wing 41. Leading scorers: Division, Trevor Highsmith 18, Terrance Terrell 16, Jimmy Wheeler 13, Jeffrey Lenard 10; Wing, Thomas Johnson 18, Josh Reaser 16, Floyd Spears 10, Johnny Odombrown 10.
2006 Marine Forces Pacific Regional
At Foster Field House Camp Foster, Okinawa
Single-elimination playoffs
Friday's games
3rd Marine Logistics Group, Okinawa, 44, U.S. Naval Hospital Camp Lester, Okinawa, 2
1st Marine Aircraft Wing, Okinawa, 78, Iwakuni Air Station, Japan, 68
Marine Corps Base Camp S.D. Butler, Okinawa, 89, 3rd MLG 65
3rd Marine Division/Expeditionary Force, Okinawa, 75, Wing 74
Saturday's game
Base vs. Division, 6 p.m.