All-Europe Girls Basketball: Wiesbaden duo, Brussels senior lead way
by
Rusty Bryan
March 31, 2010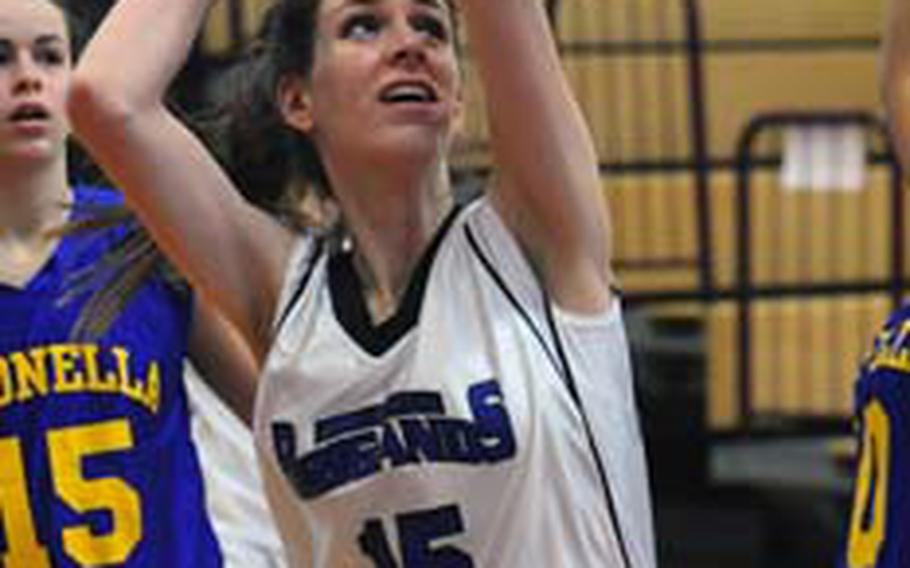 Wiesbaden's unstoppable Thomas sisters and Kathleen Anderson, a Brussels senior in just her second season of high school basketball, headline the 2010 All-Europe basketball team selected last week by a panel of high school coaches chaired by DODDS-Europe athletic director Karen Seadore.
LeAndra Thomas, the lone repeat first-team choice from 2009 and MVP of this year's European D-I tournament, and her sister LeAmber, a second-teamer last year whom coach Jim Campbell calls "the best rebounder I've ever coached," combined to average just under 27 points, 14 rebounds and seven steals per game in leading Wiesbaden to the European Division I championship. And as if the Thomas double-team weren't sufficient to lead the Lady Warriors to their title, they were joined on the first team this year by senior teammate Ashley Smith, a 5-11 forward who contributed some 10 rebounds per game to the champions' totals.
Not to be outdone, Anderson, a six-foot center who led Brussels to the European D-III volleyball title in October, averaged 13.6 points, 8.7 rebounds and two blocks per game in doing the same for a young Lady Brigands basketball team.
Anderson, the only girl to make the All-Europe first team in two sports this school year, gave up basketball as a seventh-grader to concentrate on volleyball and just returned to the hardwood her junior season. Obviously, she regained her hoops stride quickly, and her coach, Dexter Bohn, provided a possible reason in nominating his pivot for All-Europe.
"She has a great attitude and work ethic," he wrote.
Anderson and the Thomases weren't alone as 2010 All-Europe first-teamers who helped their schools to European championships. Racquel Davis, a 6-1 senior center who played in Brooklyn, N.Y., her junior season, shot 76 percent from the floor and 89 percent from the free-throw line in leading the Lady Barons to the 2010 European Division II title. Davis averaged more than 11 rebounds and nearly three blocks per game this season.
Joining LeAmber Thomas in moving up from last year's second team to the Top 10 this time around are senior guard Erica Turner, who transferred to Kaiserslautern from Lakenheath last fall, and Patch sophomore Janelle Loney.
K-town coach Corey Sullivan appreciated what Turner brought to his D-I runner-up squad.
"She would routinely provide floor leadership for our team," he wrote in his nomination comments of his 8.2-point, 4.6-rebound per game guard. "… Although not the fastest player, she excelled in the open court and knows the game of basketball well."
Loney, too, knows more than a little about the game. The 5-5 sophomore guard averaged 20 points, six steals and three assists per game, and, according to her coach, Karla Young-Phillips, "showed us a different game this year," by driving through traffic and getting to the rim herself or dishing off to an open teammate.
Loney was one of three sophomores on this year's first team, where she was joined by fellow sophs Gabby Wells of D-II runner-up Ansbach and the All-Europe team's tallest player, 6-2 Jasmine Mailoto of Aviano. Both posted gaudy numbers. Wells, a 5-5 guard, averaged a triple-double — 16 points, 13 steals and 11 rebounds per game — while Mailoto contented herself with a double-double average of 17 points and 12 rebounds per game.
The Thomas sisters were the only juniors on the Top 10, which was rounded out by five seniors. Patch guard Shy'Kimeyun Alexander joined Anderson, Davis, Smith and Turner in that group.
AFNORTH junior Brenda Broadwater, a second-team in 2009, made the second 10 again this year. The highest scorer among the Top 20, 21-points, 10 rebounds-per-game senior forward Alex Schmidt of Bitburg, resides on the second team along with another double-double performer, Staci Thomas of Ansbach. The 5-7 senior forward averaged 10 points and 15 rebounds each time she took the floor.
2010 girls' All-Europe basketball teamFirst team
Player School Yr. Pos. Ht. Stats/coachs commentKathleen Anderson Brussels Sr. F 6-0 13.6 pts, 8.7 rbs, 2 blks per gameShy Kimeyun Alexander Patch Sr. G 5-5 10 pts, 5 rbs, 4 stls, 3 assts per gameRacquel Davis Bamberg Sr. C 6-1 76 pct from floor, 89 pct from lineJanelle Loney Patch-y So. G 5-5 20 pts, 6 stls, 3 rbs, 3 assts per gameJasmine Mailoto Aviano So. F/C 6-2 17 pts, 12 rbs, 8 assts, 2 stls/gameAshley Smith Wiesbaden Sr. F 5-11 5.5 pts, 9.4 rbs, 2.4 stls per gameLeAmber Thomas Wiesbaden-y Jr. F 5-6 13.4 pts, 8.7 rbs, 2.9 stls per gameLeAndra Thomas Wiesbaden-x Jr. G/F 5-7 13.9 pts, 5 rbs, 4 stls, 2 assts/gameErica Turner Kaiserslautern-y Sr. G 5-5 8.2 pts, 4.6 rbs, 2.4 stls per gameGabby Wells Ansbach So. G 5-5 16 pts, 13 stls, 11 rbs per gameSecond teamNadia Booker Ramstein Sr. F/C 5-11 7 pts. 11 rbs, 3.6 blks per gameBrenda Broadwater AFNORTH-y Jr. G 5-2 7 pts, 5 stls, 4 rbs, 2.3 blks per gameJenna Cepe Bamberg Sr. G 5-4 12 pts, 4 assts, 4 stls per gameMackenzie Crews Ramstein So. G/F 5-7 10 pts, 6.2 rbs, 3.5 stls, 2 assts/gameRebecca Luna Heidelberg So. G 5-3 17 pts. 3 stls/gm. Best defenderElizabeth Rios Bitburg So. G 5-2 18 pts, 7 rbs, 6 stls/gm in EuropeansAlex Schmidt Bitburg Sr. F 5-7 21 pts, 10 rbs/gm in EuropeansStaci Thomas Ansbach Sr. F 5-7 10 pts, 15rbs/gm. Great leader.Shaionica Speight Lakenheath Jr. G 5-3 10.5 pts, 3.2 stls, 2.6 rbs per gameCariema Wood Kaiserslautern Jr. G 5-5 9.6 pts, 4.3rbs, 2.4 stls per gamex-All-Europe 1st team 2009; y-All-Europe 2nd team 2009; Coaches quoted—Jon Mittenzwey, Heidelberg; Michael Hunt, Ansbach
Selection panel—Karen Seadore, DODDS-Europe athletic director; Dexter Bohn, Brussels; Jim Campbell, Wiesbaden; Adrian Crawford, Mannheim; Matthew Martinez, Lakenheath; Terra McAllister, Bamberg; Karla Young-Phillips, Patch