Alexander, Wright take shots at scoring record on Day 2 of Far East tourneys
---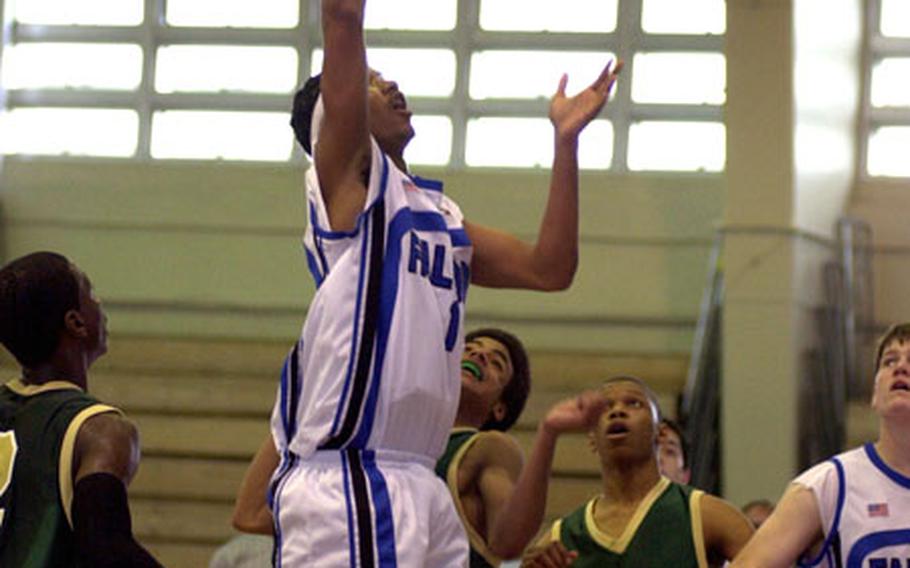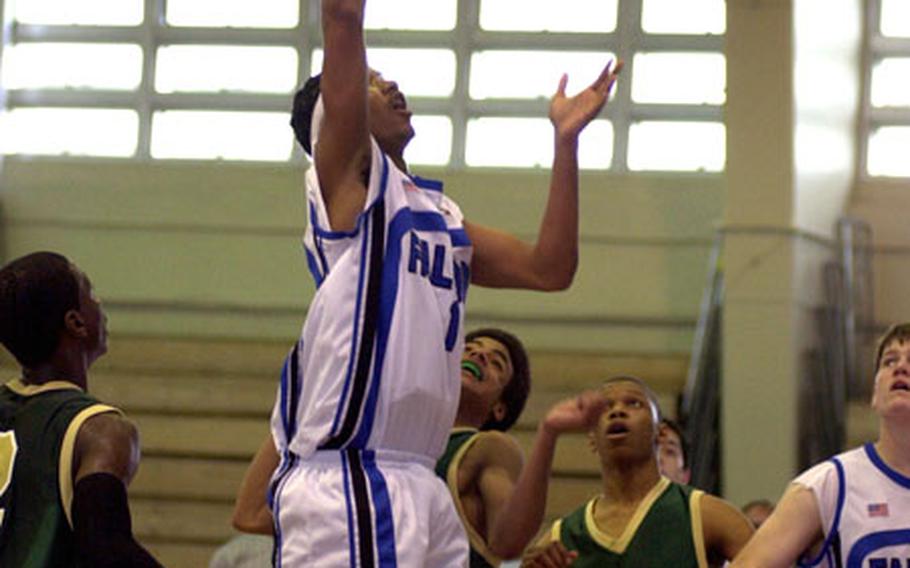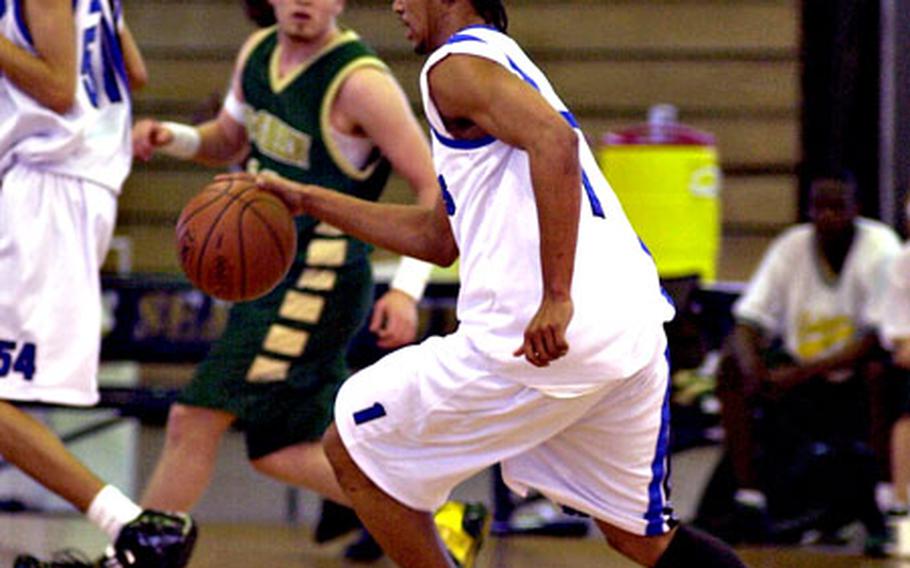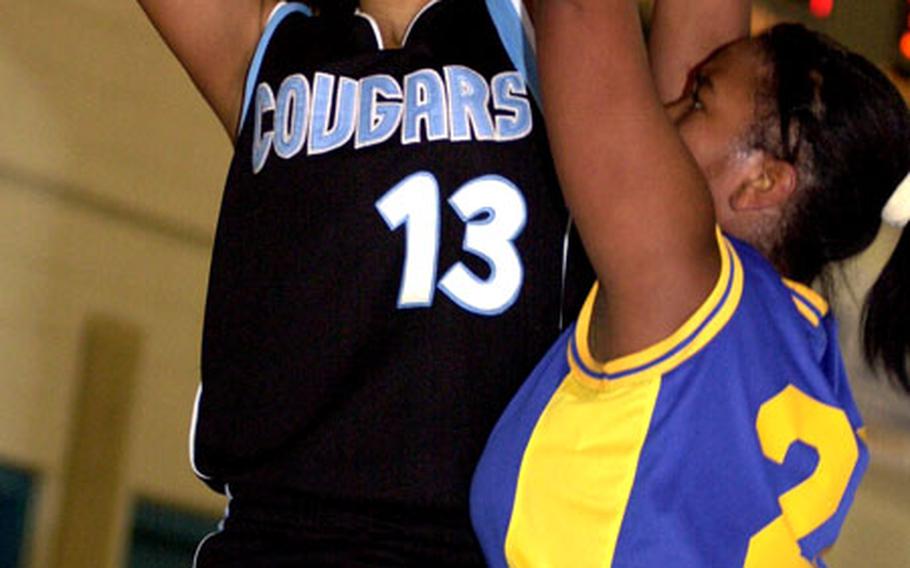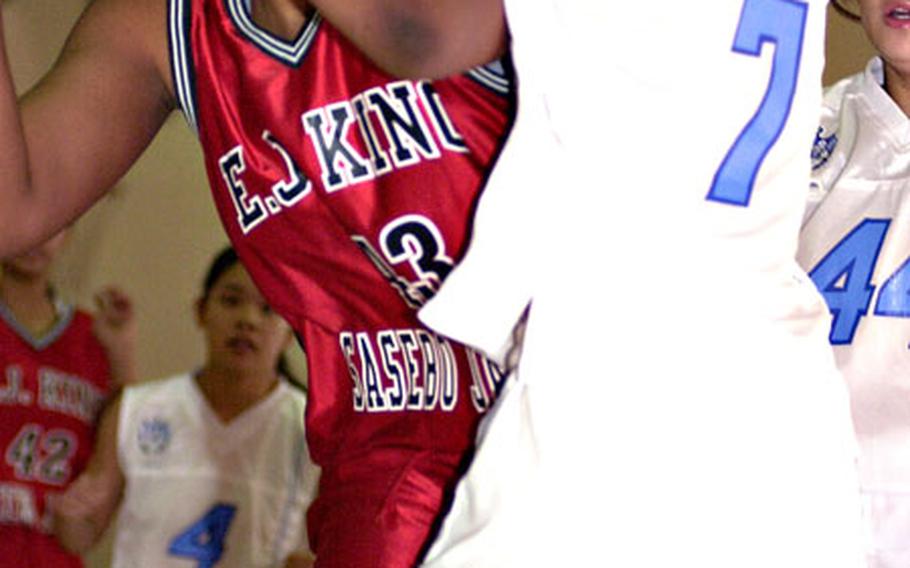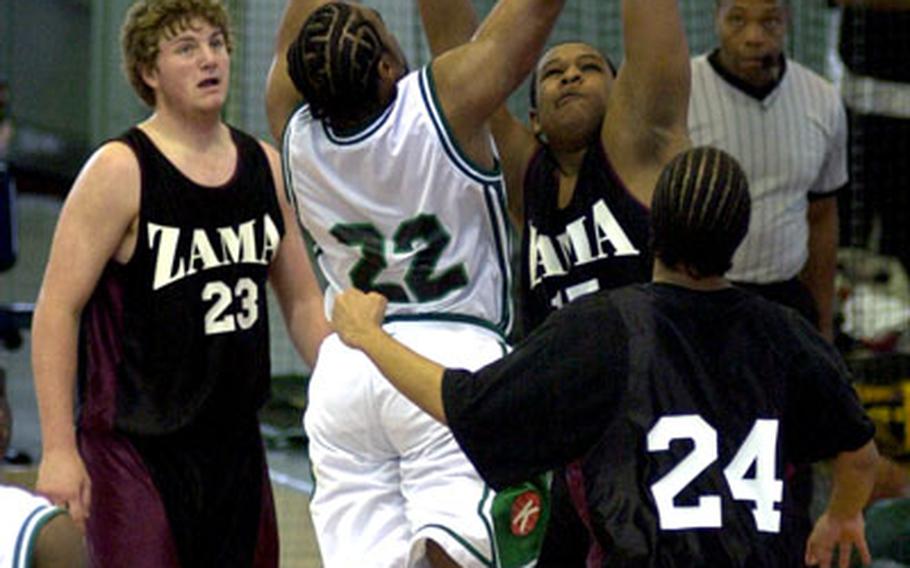 Similar in size and stature, Erika Alexander and Tiffani Wright came equally close to Pacific high school basketball history Tuesday.
The 6-foot center transfers each came within three points of topping the region's single-game scoring record for girls in leading their teams to pool-play victories in Far East high school tournament play.
Wright's 38 points powered Zama American of Japan past two-time runner-up John F. Kennedy of Guam 53-49 in the Girls Class AA Tournament at Seoul American High School.
Wright said she "had no idea" she was within three points of the record of 41 set in the 2000 Class AA tournament; "winning" was all she had on her mind.
Echoed Alexander, a fellow 6-footer: "I was just playing hard for my team, hoping we would win."
Alexander's E.J. King Cobras of Japan did win, 64-59, in the Girls Class A Tournament at Pusan American School. But it took solving the riddle of Guam's St. Paul Christian Warriors' pressure defense, which had intimidated its two previous foes with its fleet-footed, pressing defense.
The Cobras used freshman point guard Kristia Suriban to break the pressure, then work the ball in to Alexander, who grabbed 26 rebounds, breaking the 1994 record of 25.
The strategy helped King rally from a six-point deficit.
"We got rattled in the second quarter," coach Bridget Vertin said. "But we settled down by the fourth quarter and just kept dishing it inside. Kristia can break any press."
"They played very well," Warriors coach Paul Pineda said. "They handled the pressure. And we had no answer" for Alexander.
The victory pulled E.J. King to the top of its round-robin pool and continued the turnaround from last year's 4-21 season to a 16-8 mark through Tuesday.
Zama American also maintained its reversal from last season's 13-14 showing to a 16-9 mark through Tuesday.
Both play-alike centers said their teams are primed for Center Court runs.
"We have the team, we have patience and we have love for each other," Alexander said. "Team unity."
After dropping their pool play opener Monday, the Trojans now "are headed in the right direction," Wright said. "If we all come to play, we can beat any team in our path."
'The Finger,' now healthy, helping boost Kinnick's boys
The most talked-about digit in Pacific high school basketball is 100 percent well and contributing once more to Nile C. Kinnick's drive for its first-ever Boys Class AA crown.
Uncertain was whether junior Travis Ekmark would miss the tournament on Okinawa, after he broke his right pinky on a road trip to Misawa Air Base in late January. But the cast was removed Feb. 17 and he came to Okinawa and hit three straight three-pointers in his first game.
"Travis is back," coach Nathan Brewster said after Ekmark, with his finger taped, scored 10 points in Kinnick's 55-40 win over Guam High. "He hasn't had any problem. He's raised his game for Far East."
The Red Devils proved they could win without Ekmark, going 3-1 after losing him, but Brewster says it's "definitely very nice" to have him back in the lineup. And it bodes well for his team's chances, he said: "I haven't seen any team that we can't hang with."
Cardiac Cougars overcome injury bug with clutch wins
With just five healthy players and one getting around the floor with a bad ankle, Osan American of Korea is being called the Cardiac Cougars — but it's making the most of its chance to reclaim, with a minimum of resources, the Boys Class A title it won two years ago.
In Tuesday's first game, Brandon Holling went down with a tournament-ending knee injury, then Cory Black turned an ankle.
Yet the Cougars prevailed 53-52 on Chris Durham's two foul shots with 2.4 seconds left.
Then, going against a Pusan American team that twice beat the Cougars during the regular season, Osan American lost yet another player, Ellis Colton, to an ankle injury.
But Colton's ankle was taped and iced to where he could be functional. So when Ben Kretz fouled out, Colton stepped on the court in overtime and hit a shot with 16 seconds left that brought down the Panthers 46-43.
Osan advanced to a Wednesday showdown with defending champion St. Paul.
Meanwhile, the defending runner-up Cobras actually benefited from the loss. With 11 teams in the tournament, the Cobras drew a bye into the second round of the double-elimination playoffs, meaning a few more hours' rest.
---
---
---
---