Tennis preview
After ASIJ steps aside, there's renewed hope on tennis courts
by
Dave Ornauer
September 6, 2018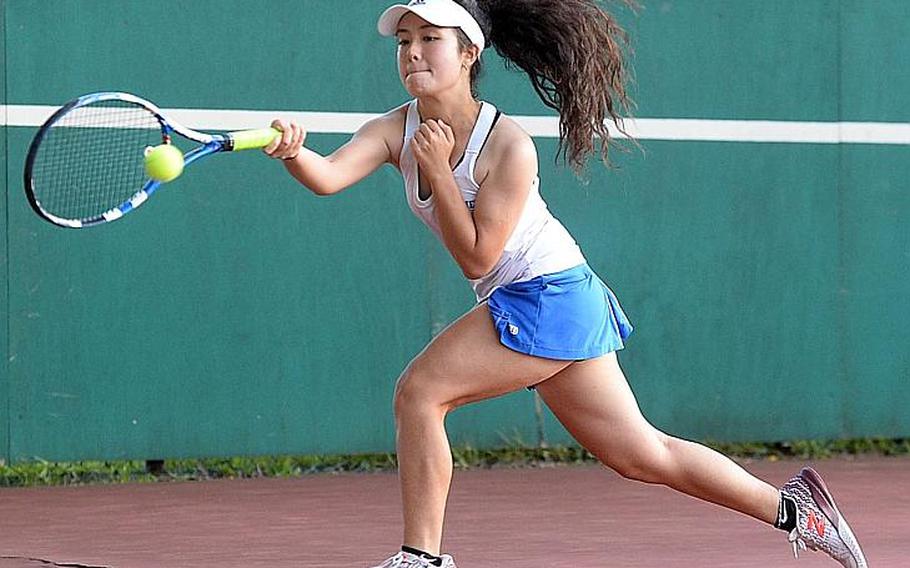 After basking in what coach Amanda Vinson called a "dream season" for Kubasaki's tennis team, Shannon Hyde and the Dragons face a 2018 season in which they'll be starting over in many respects.
The tall, lanky junior with a powerful serve and right-hand forehand returns as the top singles seed for a Dragons team that lost the rest of its boys lineup. Top girls seed Andrea Johnson graduated, and the rest of the girls roster is fairly young.
But in the mind of Vinson, in her third year at Kubasaki, the future is bright - if the number of players who showed up for tryouts is an indicator.
"I am so happy to have the opportunity to work with the tennis program and these kids," said Vinson, whose Dragons were second behind five-time champion American School In Japan in the overall Division I standings at the Far East championships.
Sixteen players came out to compete for spots in the girls lineup, which will feature senior returners Carolina Rivera and Lili Manzi, along with Johnson's younger sister, Allyson, a freshman.
It might be a bit harder on the boys side, where there's "quite a dropoff" after Hyde, Vinson said. "It's going to be a challenge for me to keep Shannon motivated this season and to challenge him enough that he can continue to grow as a player."
One school that won't stand in Kubasaki's or any other's way come this Far East is ASIJ, which has opted to play in a tournament in October at United World College in Singapore, which permits them to bring all 12 boys and girls players, instead of just the four they could bring to Far East.
Since the Mustangs won all five titles at last Far East, ASIJ going to Singapore "opens things up a lot," coach Mark Lange of Matthew C. Perry said.
Lange spoke of E.J. King's Takumi Kodama, a sophomore and DODEA-Japan doubles runner-up last year, whom Lange called an "excellent player; just needs more confidence." Seniors Jonathan Lee and Akira Goodman give the Cobras a potentially potent attack.
Lange's own senior girls singles players Sarah Saiki and Marion Vesprey also might stand a chance as well.
"The possibilities are endless," Kadena coach Aaron Fisk said. His Panthers will challenge Kubasaki for district supremacy behind a girls team led by veterans Kobi Davis and Maddie Tsirlis, among others.
Girls singles players still have to get through Sarah Omachi, the Seisen junior who finished second in girls singles and won girls doubles in the 2016 Far East tournament.
Other teams bolstered by veterans include Nile C. Kinnick, which has almost its entire lineup intact, led by junior Daniel Posthumus and senior Tomaki Farmon. Nico Hindie returns as coach after a year's hiatus.
Zama, which won Division II last year, welcomes a new coach, Oscar Baldemor, and faces a rebuilding job after losing senior twins Megan and Marissa Petros. Another team starting over is Robert D. Edgren, with a new coach, Chris Herrera.
There are also new coaches at Seoul American and Daegu. Scott Rumery takes over the Falcons after having not coached since the mid-1990s at RAF Chicksands; his lineup features junior Hana Ro and senior Kai Bufkin.
Zachary Zendejas takes the reins at Daegu, which features 2016 Korea Blue doubles champion Ben Sessions.
Matt Pollack is back for his third season as Humphreys coach. Ronnie Holley returns to coach Osan.