AFNORTH's Eden chooses team play over more goals
by
Rusty Bryan
March 22, 2007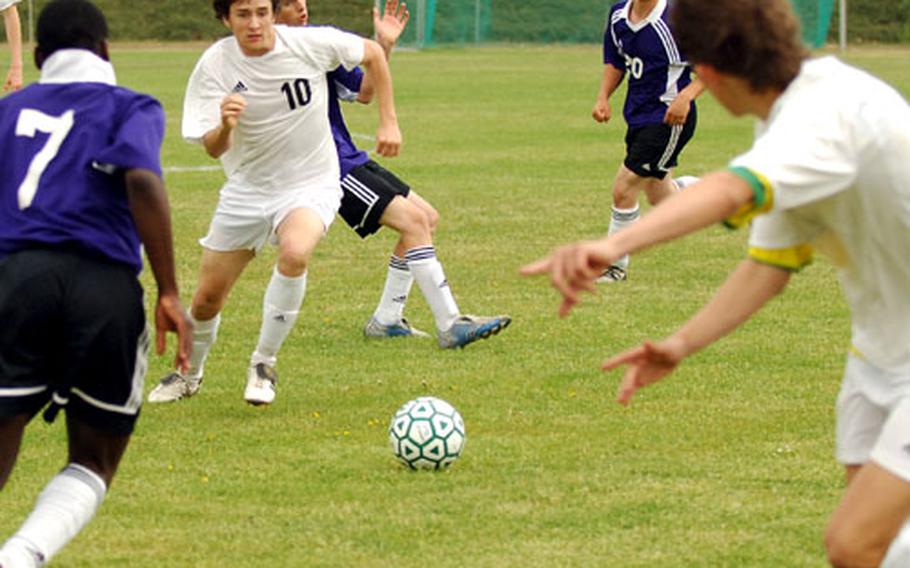 Few scoring combinations clicked as smoothly last season as AFNORTH's tandem of Chris Eden and David Pohl.
All-Europe first-teamers both, Pohl scored 16 goals and handed out eight assists, while Eden had five goals and 11 assists.
With the departure of Pohl this year, it would seem logical that Eden, a senior, would feel pressured to take up more of the scoring load.
Logical, but wrong.
"I don't feel under pressure to score," Eden, 18, said by telephone Monday when asked whether he's looking for his shot more often this season.
"[Pohl] was great. But we've had others — Alex Hartung, James Perea and Tobias Christmann — step up. They're all great. All I have to do is get the ball to them."
AFNORTH's first goal of the season in a 5-0 home victory over Baumholder last Saturday bears out Eden.
"He put up a beautiful cross from a corner kick, and (James) Perea put his head on it for the goal," AFNORTH coach Greg Blankenship said Tuesday night by telephone.
Eden went on to score two goals, both off assists from Hartung, but the pattern was set. Eden would continue to be Eden in 2007.
"He loves to pass the ball," Blankenship said. "He really sets up the other strikers well."
Blankenship did find more responsibility for Eden, though.
"There is more of a burden on Chris this season," Blankenship said. "We have a young team, and Chris has more of a leadership burden, too. He especially has the burden of seeing that our defense isn't overburdened. "
Eden agreed with Blankenship about the need for on-field direction.
"You always need a leader," he said, but denied the job was his. "We have no real set leader. Brock (Blankenship) and Endre (Gjorv) take care of the defense, and James can organize the midfield."
Coach Blankenship knows where the team's overall leadership is coming from.
"[Eden] leads by example," Blankenship said. "The younger players see how hard he works and how hard he plays and realize they can't expect to do any less.
"And he never gets on a teammate. Instead, he'll take the team aside and say, 'Here's how we're going to do this.' He's always positive."
Blankenship, who plays Eden all over the field depending on the game situation, said Eden brings his best to the table wherever he sits.
"He plays defense on his [Olympic Development Program] team, because he doesn't get rushed," Blankenship said. "He calms everyone down."
The defensive mind-set carries over when Eden moves forward.
"When he plays forward for us he plays tough defense from the box all the way back to midfield," Blankenship said. "He hustles after every ball like a defender."
Eden said he hopes to play soccer next year as a walk-on, either at the University of South Florida or the University of Florida.
"I've had some offers," he said, "but not from places I want to go to school."
Blankenship thinks Eden, who he said has impeccable soccer skills, will be a welcome addition wherever he goes.
"He'll make it on the next level," the coach said, "because he can play defense and because he works so hard."