Girls golf AOY
Acker backed up title with another victory
---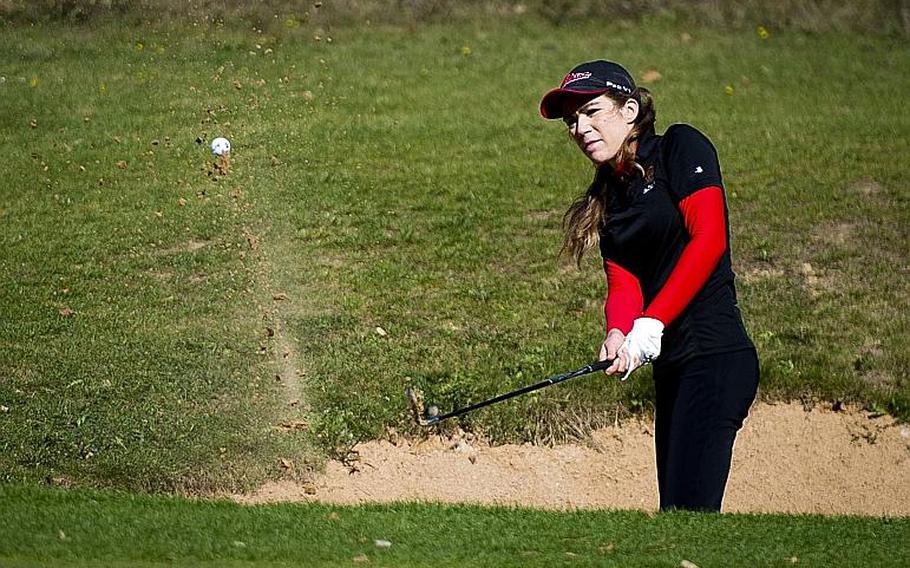 Last year, Jasmin Acker learned how to become a champion. This year, she learned how to stay one.
The Kaiserslautern junior successfully defended her DODEA-Europe girls golf championship in October. As a result, she is the Stars and Stripes girls golf Athlete of the Year for the second consecutive year.
While the eventual outcome was the same, Acker's two championship seasons couldn't have been much different.
In 2015, Acker was one of a handful of aspirants hoping to take over for departed four-time champion Jenna Eidem. The sophomore won out, claiming a narrow four-point win over rival Leigha Daryanani of Bitburg in a battle that seemingly could have swung in either's favor.
That wasn't the case in 2016.
Acker returned a supremely confident defending champion, her shots noticeably more purposeful and precise. After a strong regular season, the result was a dominant 11-point runaway from a fading pack of contenders at the European championship.
Kaiserslautern coach Chris Grogan detailed Acker's improvements.
"She has improved every facet of her game," Grogan said. "Driving, approaches, chipping and putting."
Underlying all this progress was Acker's successful transition from optimistic championship hopeful to established favorite. Acker herself called this year's tournament "less stressful," a result of both a more secure points advantage and her own maturing approach to managing the pressure.
"I try not to focus too much on that and just focus on what I'm doing as it happens," Acker said.
Grogan has noticed his star player's growing self-assurance.
"Her biggest improvement has been her consistency with her shots," Grogan said. "She has been able to become more reliant on her swing to provide the desired outcomes."
The more comfortable Acker gets, the more certain those outcomes seem to be.
broome.gregory@stripes.com
Twitter: @broomestripes
---
---
---
---