Academies looking for bragging rights in 108th Army-Navy Game
by
Patrick Thornton
November 24, 2007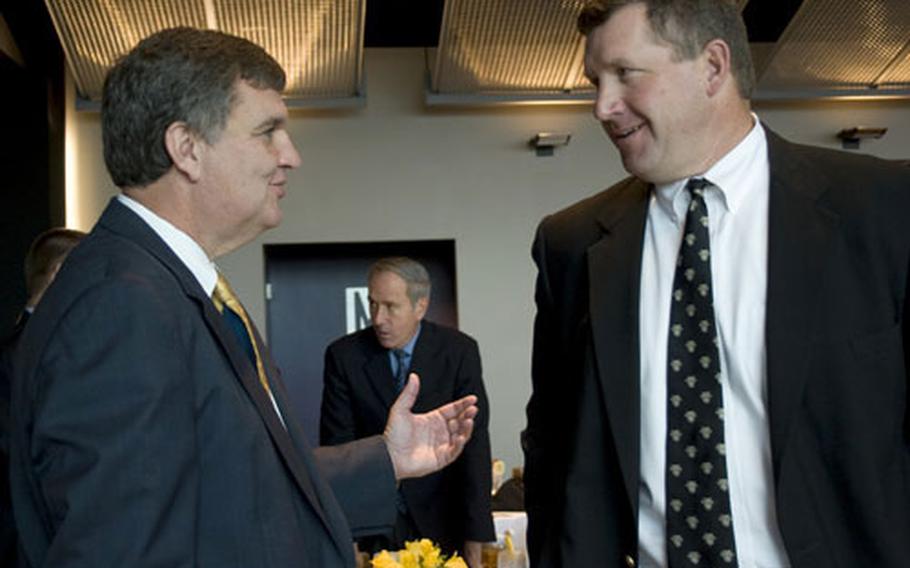 Note:This is just one feature in a series of many on the big game. Click here for the full feature.
The Army-Navy game is much bigger than the Super Bowl – 10 times bigger.
At least, that's the viewpoint of one person who has played in the Super Bowl and coached in the Army-Navy Game: Army Head Coach Stan Brock, a former New Orleans Saints and San Diego Chargers offensive lineman.
"This is the biggest game I have ever been involved in," Brock said. "The Super Bowl is not even close. The emotion inside the Super Bowl can't compare to this."
Brock reasons that the Super Bowl is sold out well in advance, long before the contestants are even known. The stands are filled with lots of corporate America types who don't really care about the outcome. Army-Navy is the exact opposite.
Virtually everyone within M&T Bank Stadium on Dec. 1 for the 108th meeting of Army-Navy will be rooting for one of the two teams and most of the crowd will be affiliated with one of the two branches of the military. It's a rivalry that defines both services and the players who attend both schools. A win over their rival can atone for a season of football sins.
First-year head coach Brock, who served as an assistant for three years, will be looking for his first victory over Navy and the Black Knights' first victory over the Midshipmen since 2001. The 108th meeting will feature a bowl-eligible 7-4 Navy team against a rebuilding 3-8 Army team. The series is virtually even with Navy leading 51-49 with seven ties, but Navy has owned the rivalry the past five years, outscoring the Black Knights 202-68.
A 3-9 Army team did make it interesting last year before losing 26-14, but keeping the score close is not a consolation prize for the proud school and its alumni and fans spanning the globe. An Army victory will turn a largely forgettable season into one that many will remember forever. When people find out a student is attending one of the two academies, the game is usually a part of the conversation.
"The first thing [people] ask is, 'Did you play football?' senior wide receiver Jeremy Trimble said. "The next thing they ask you is, 'Did you beat Navy?'"
Trimble can't say that he has, and he has witnessed some less-than-stellar Army teams. But a victory in his last game ever as a Black Knight would change all of that.
"I want to say that I beat Navy," he said.
Standing in Trimble's and the Black Knights' way is a talented and well coached Navy team. The Midshipmen have been to four-straight bowls and are bowl eligible again, and the Navy seniors would like to go out with one last victory over their arch-rivals.
"It would mean a lot to our seniors to beat Army every season they have played them," Navy Head Coach Paul Johnson said.
But this game is different than most rivalries. It's one of mutual respect, not hate, because the players realize that one day they'll be serving with one another on the same team as part of the U.S. military.
"I never say 'I hate Army,'" Navy linebacker Irv Spencer said. "It's a game -- you can never take it farther than that."
Army is looking for a victory like the one Navy scored in 2002. Navy's 58-12 win after a 1-9 start ignited the program and was the catalyst for the success the program is enjoying. The win gave them the momentum to go 8-5 the following year and make their first bowl since 1996.
"We want to have a winning record," Brock said about emulating Navy's recent success.
He is keenly aware of Navy's turn around and what a victory could mean for his program. But for the millions of people following this rivalry around the world, both program's seasons – winning records or not – come down to one game. Even though it is just a game, it means a lot more than that to a lot of people.
"It's a tradition," Navy Athletic Director Chet Gladchuk said. "It's an American way of life."
Sound OffGot something to say about your favorite or least favorite team? Want to sound off about the big game? E-mail ArmyNavyGame@gmail.com, and we'll select the best e-mails and audio clips to post on our special feature coming later this week.
Please include your name, age, location and rank and unit, if applicable. If you are sending an audio file, please make sure it is smaller than 15 megabytes.