Home Team
A weight-by-weight look at wrestling's championships
---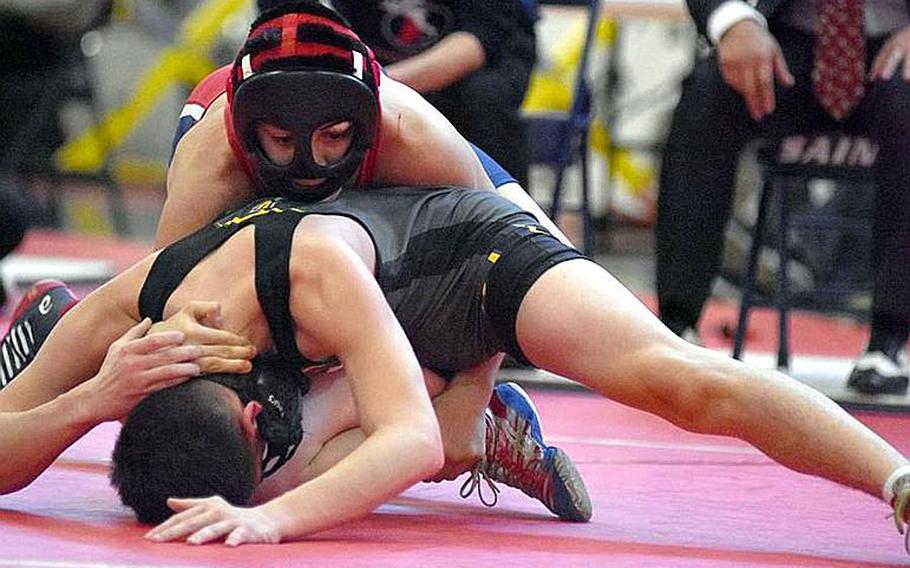 Grapplers from across Europe gather at Wiesbaden's Clay Kaserne Fitness Center on Friday and Saturday for the 2017-18 DODEA-Europe wrestling championships, a packed two-day event with 14 individual championships and three divisional team titles at stake.
The Stuttgart Panthers have dominated the event in recent years and won their fourth consecutive Division I team title this time a year ago. The Panthers are likely to again crown multiple weight-class champions on Saturday. But they'll be challenged for the team title by the Ramstein Royals, who will flood the brackets with Europe's deepest roster and might stockpile enough points to unseat Europe's reigning dynasty.
The Aviano Saints are near-locks to repeat as Division II champions, boasting depth and top-flight title contenders no school their size can rival. But the Division III team race is wide open among a handful of small-school title hopefuls.
106 pounds: There's a vacancy at the top of DODEA-Europe's smallest division as neither of last year's finalists return to the bracket. There's also a list of eight candidates to take advantage of the opportunity.
Ramstein has a pair of entries in central sectional champion Andres Hart and Matthew Oreskovich, while local rival Kaiserslautern offers a counter in northern sectional champion Jasson Quinones.
But reigning champions Stuttgart and Aviano will try to register some early points in this spot. McKinley Fielding is a legitimate title contender for the Panthers, as is southern sectional winner Ethan Herrera of the Saints.
113: Last year's 106-pound third-place match between Wiesbaden's Atreyu Allen and Sigonella's Munro Manning might have served as a preview of this year's final in the weight class.
With 2017's top two finishers out of the way, Allen and Manning are poised to move into the main event. Both handled their business in sectionals with respective first-place finishes in the central and southern qualifiers.
Northern sectional champ Noah Wolfe of Kaiserslautern will try to intervene, as will Vilseck's Johnathan Alvarado, Ramstein's Eli Rothas, Stuttgart's Jack Engelke and Brussels' Caleb Burnett.
120: Kaiserslautern sophomore Conner Mackie, who narrowly lost last winter's 113-pound title bout, will take another title shot after a standout regular season and first-place northern sectional finish.
He'll meet a diverse group of nine opponents along the way. The bracket includes Mackie's fellow sectional winners, seasoned Vilseck senior Adrian Cruz and sophomore upstart Philip Rivera of Rota, as well as solid entries from the Division I powerhouses in Stuttgart's Carter Hanes and Ramstein's Brian McKinnley.
126: Stuttgart will seek to claim key team points here on the strength of Sean Smith, who moved to the head of the weight class over the course of a dominant season capped by a first-place central sectional showing a week ago.
Fellow defending team champion Aviano has its own strong entry in fresh contender Julius Gaduang. But the upstart will have to overcome a lot to reach the finals, including southern sectional champion Ben Latimer of Sigonella and the imposing duos of Ramstein's Xavier Woodard and Christian Griffith, Lakenheath's Jacob Brown and Philip Severance and Vilseck's Nicholas Burns and Brandon Stachl.
132: Stuttgart's Benjamin Fielding is the presumed champion in this 11-wrestler bracket despite its considerable depth and quality. Fielding is seemingly unbeatable on a DODEA-Europe mat, having won a European title at 120 pounds as a freshman, repeating that feat at 126 pounds as a sophomore and blasting through yet another new weight class this winter.
He's likely to again encounter Aviano's Liam Knowles, the southern sectional champion, in Saturday's final. Fielding pinned Knowles in 46 seconds in last year's 126-pound title bout.
Ramstein's Dante Lapitan and Lakenheath's Ethan Boren are among the bracket's potential spoilers.
138: Aviano's Jacob Gamboa has jumped up multiple weight classes since reaching the championship match at 120 pounds a year ago, but the results have remained the same. The Saint sophomore cruised through the southern sectional last week and is a strong bet to meet or exceed his second-place showing of a year ago.
Ramstein's Russell Bodily, himself having jumped two classes after competing at 126 pounds last year, is among Gamboa's top threats. Zavier Benoit of Alconbury won the northern sectional a week ago and will look to collect some valuable team points for the Division III Dragons.
145: The rivalry between Stuttgart's Abraham Engelke and Ramstein's Joseph Medina has waged all winter and continued in the central sectional, with Engelke claiming first prize. The final episode of the season-long series could be a major factor in determining the outcome of the larger Panther-Royal struggle this year.
Southern sectional champion Anthony Cervantes of Aviano and northern counterpart Brenden Yates of Lakenheath might disrupt such a rematch.
152: Wiesbaden's Joshua Theodore fell short in the finals of this weight class last year and is poised to return to that match this winter. The Warrior senior took first in the central sectional last week and enters the European tournament as the grappler to beat for the title.
Jackson Blivin will attempt to do exactly that. The Naples captain has dominated the south this winter and will look to extend that dominance to Wiesbaden this weekend. The Wildcat leader placed third in Europe at 145 pounds last winter.
This particularly difficult 12-wrestler class includes one more championship-level entry in SHAPE's Zak Kappenman, who has dominated the north as thoroughly as Blivin did the south this winter. Kappenman reached the semifinals at 152 pounds last winter.
160: Munich International's squad consists of two wrestlers. But what a pair of wrestlers they are.
Blaise Ronnau will bring a perfect 22-0 record, including three impressive pinfall wins in the southern sectional, into the European finals. While he'll see some new competition this week, that impressive mark makes him a favorite to claim gold.
Northern sectional champion Bohdan Polovynko, central sectional winner Gregory Sanchez of Stuttgart and Ramstein's Aaron Valentine are among Ronnau's most formidable obstacles.
170: Munich's small but impactful presence in the European tournament continues with Blaise's brother Drake Ronnau. The elder Ronnau is similarly undefeated and the southern sectional champion, and he's also coming off a third-place showing at 160 pounds in 2017.
Championship-bout appearances and/or wins for the Ronnau brothers might be enough to deliver Munich a Division III title despite its lack of ancillary entries.
Fellow sectional champions Robert Baumback of Stuttgart and Daniel Holland of Lakenheath comprise Drake Ronnau's stiffest competition this weekend.
182: Vicenza has a relatively small contingent of wrestlers in Wiesbaden this year, but the Cougars have a good chance of tasting glory in this weight class. Ethan Johnston, a semifinalist at 170 pounds last year, won the southern sectional last weekend and could cap his strong season with a European title.
While Vicenza won't have the numbers for a Division I championship bid, other entries in this bracket will be looking to help their teams' title efforts, including central sectional champ Ayden Kemp of Ramstein and Stuttgart rival Connor Boyer.
Division III Alconbury, meanwhile, will seek to keep pace with Munich via a strong showing by northern sectional winner Dee Wilson.
195: As the scales approach 200 pounds, brackets often get thinner as many schools struggle to produce entries for the higher weight classes. But there's still plenty of competition when the continent pools its wrestlers into the finals at Wiesbaden.
Kaiserslautern senior Hunter Wiles is a seasoned competitor in the upper weight classes, having finished fifth at 182 pounds a year ago. He'll stack up against central champion William Green of Stuttgart, southern champion Augusto de Sousa Matos and Nick Clarida of Naples and Ramstein grapplers Sean Elliott and Teddy Ward in this eight-man bracket.
220: Kaiserslautern's Royce Staley edged Vilseck's Juan Oestreich by a 2-1 decision in a semifinal match that was among the best at last year's championship meet. The two are likely to bring that evenly matched action to the main stage this weekend, with Oestreich looking to avenge the loss and Staley hoping to secure the title that escaped him last year.
The seniors have been the class of the weight class all winter and confirmed as much in the sectional round last weekend as Oestreich took top honors in the south and Staley did the same in the north. Central sectional champ Milo Clark of Ramstein will seek to scuttle the anticipated rematch.
285: The DODEA-Europe heavyweight class is, appropriately enough, the land of the DODEA-Europe heavyweight programs. Both Stuttgart and Ramstein will field two competitors who make up the bulk of the meet's final bracket.
Central sectional champion John Carroll and runner-up Christopher Frye represent the Panthers; Caleb Love and CJ Jackson represent the Royals. Northern sectional champion Marshall Ellis of Brussels and southern champion Joe Perroni of Sigonella offer some small-school resistance to balance the scales.
Twitter: @broomestripes
---
---
---
---