A season of firsts for Patch's McNevin
by
Rusty Bryan
September 21, 2006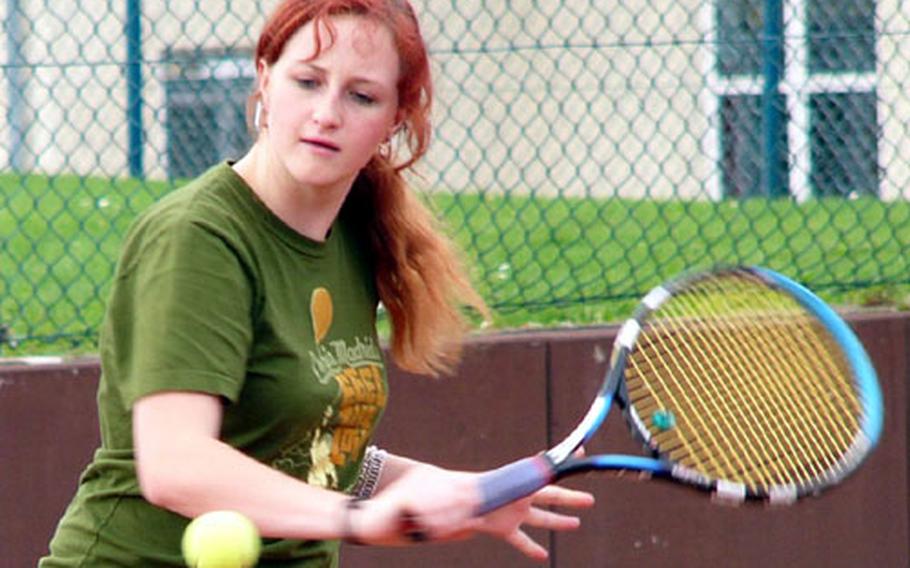 VAIHINGEN, Germany — If Patch High School newcomer Mariel McNevin is to break the seven-year stranglehold that international players have on the DODDS-Europe girls tennis singles title, Panthers coach Walter Fritz thinks her power game will be the key.
"She and her father came out on the second day of practice," Fritz said Tuesday. "I asked whether she was a beginner, too, and her father said, 'She's no beginner.' I hit with her about three minutes, and my hand nearly fell off. She hits a really heavy ball."
McNevin, who's been playing International Tennis Federation tournaments since sixth grade, might not be a beginner at tennis, but she's a novice in lots of other ways.
She's new to the Patch community, and had to ask her teammates directions to the clay court that was to be the site of Tuesday's practice session.
"I still don't know my way around here," the 16-year-old junior confided with a smile.
It's also her first time in an American high school — in Europe or the States. She spent her last four years attending Kenya International School in Nairobi while her father, David, did embassy duty in the East African nation.
"I loved it," McNevin said of her experience at the international school. "Meeting all those other people from different nations and cultures made going back to the States all that much harder. I hope to go back to Kenya for a visit at Christmas."
And it is the first time she has played on a team.
"I've always resisted being on a team because I don't like to let other people down or have them let me down," she said.
Even though she did not play on a team in Kenya, she had lots of competition and said her tennis didn't suffer.
"I've had many coaches," she said, "but my private coach in Kenya, Rosemary Owings, was the best. She's just a really, really good coach."
What Owings did best, McNevin said, was teach perseverance — in a roundabout way.
"She'd tell me, 'Even if you're losing 6-0, 6-0, make the match last an hour,'" McNevin laughed. "'That way, you've at least given your opponent a good hour's workout.'"
McNevin, who's been playing since she was 6, recalled taking that advice once, long ago, when she was being beaten at love.
"I just kept rallying," the baseliner said. "I'd hit the ball as high as I could for as long as I could. I made it to an hour."
McNevin won't be losing 6-0, 6-0 again anytime soon, especially if Fritz can implement some of the plans he has for her.
"I'm trying to get her to vary the placements of her serves," he said, "to do a little more targeting and add some more variety to her game."
Enough for a European title?
"I'm going to do the best I can," McNevin said.