A look back at 2009 in European high school sports
---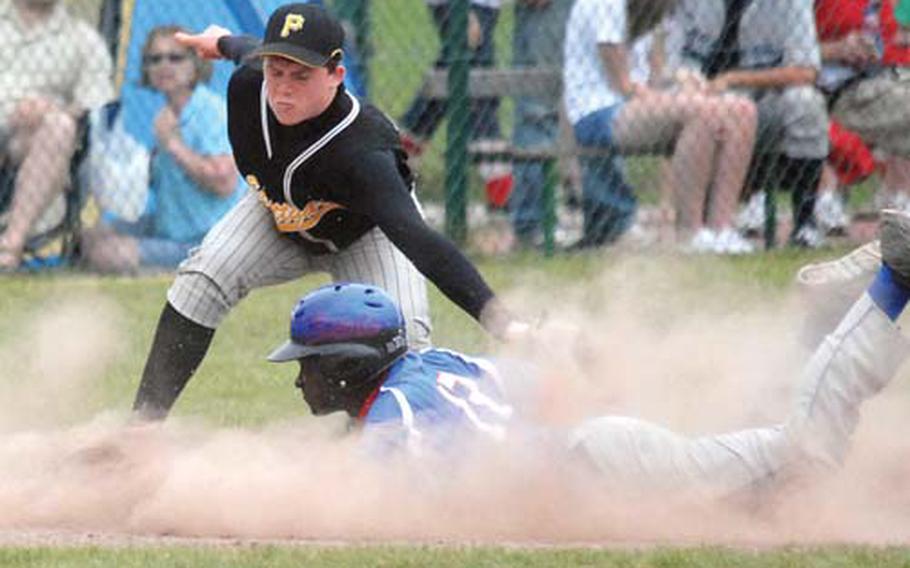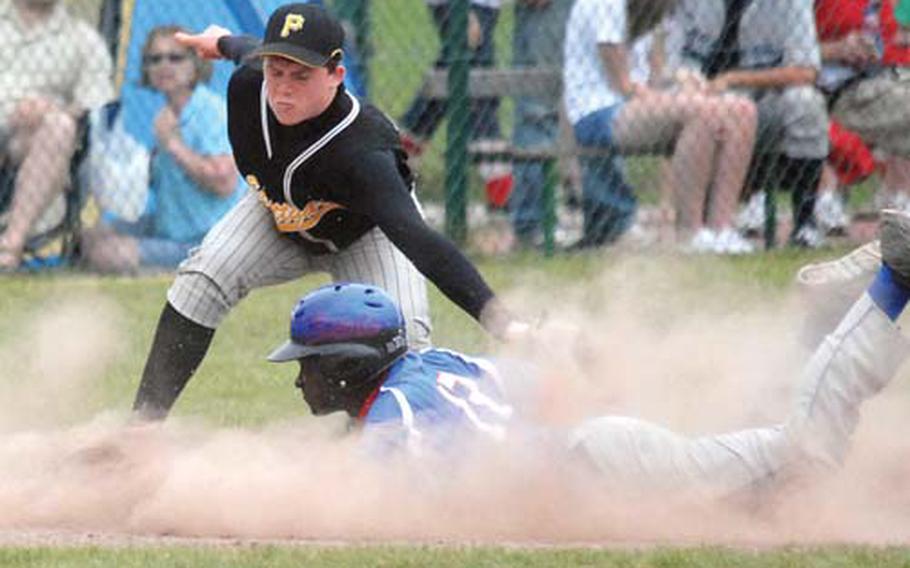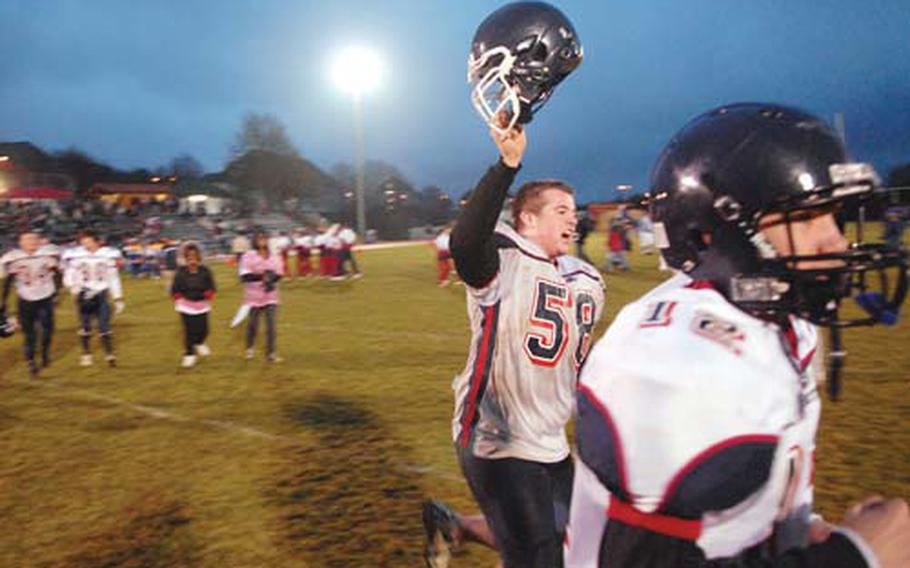 For high school sports in Europe, 2009 was the year the schools finally turned their fancy to baseball. It also was the year a football Goliath finally beat David, and an all-sports Goliath monopolized the championship hardware.
Adding baseball to the official DODDS-Europe sports calendar "was a direct result of the tireless efforts of many people pushing this up the chain of command," Wiesbaden coach Steve Jewell said. "The season had its share of issues … practice fields, travel procedures, time-limits and weather… but the most talked-about point was that we were finally having a DODDS championship."
In May, undefeated Ramstein, Bitburg and AFNORTH walked off with the first official baseball titles, topping the 19 teams that turned out for the inaugural season.
Perhaps the bigger achievement for Bitburg came five months later. On Nov. 7, the burly Barons, anchored by a trio of linemen who averaged just a biscuit or so under 285 pounds, downed three-time defending European champion Ansbach for the Division II football crown.
The 19-6 loss, which came on a wet field that helped neutralize the Cougars' misdirection plays, ended Ansbach's DODDS-Europe-record 31-game winning streak. Ansbach's David, averaging less than 200 pounds per man, had run out of pebbles.
Losses were rare in 2009 for Division I Ramstein, the Goliath of nearly all sports. Of the 17 European team titles available during the calendar year, the Royals and Lady Royals won 12 of the 16 they contested — Ramstein did not field a marksmanship team. Only the wrestlers, boys golfers, and girls track and field and basketball teams failed to bring home a championship trophy.
To the outsider, Ramstein's overwhelming success appears to be a case of "size matters." But even though the Royals enrolled 1,004 students this fall — compared to 655 at Kaiserslautern, 648 at Patch, 610 at Heidelberg and to fewer than 600 at Lakenheath and Vilseck and less than 500 at Wiesbaden — Ramstein football coach Carlos Amponin advised against jumping to conclusions.
"Ramstein sports teams never truly get credit for how hard they work to prepare for games," he wrote in an e-mail before the holidays, "because their efforts are always mitigated when the tag of 'largest school in DODDS-Europe' is attached to their achievements."
Far from being the largest was the undefeated 2009 Royals' football team, Amponin pointed out.
"The … team was the smallest in recent history in numbers (27), and in size (average offensive-line weight of 205 pounds)," he wrote. "No offensive lineman had ever started a game on the O-line prior to the Week 1 game at Heidelberg."
Ramstein won that game 7-2 and closed the season, for the fifth straight year, against Heidelberg. Ramstein won, 35-21, despite surrendering its first offensive touchdown of the season, and completed an Air Force football sweep. Bitburg won D-II and Alconbury D-III.
In contrast to Ramstein's four-figure enrollment, Brussels, with 94 high school students, did the most with the least in 2009 by claiming five D-III or D-IV crowns — boys and girls cross country, tennis, volleyball and wrestling.
In addition to Brussels, other small schools enjoyed big success in 2009, especially Alconbury, which downed Sigonella for the boys D-IV soccer title in May, then capped a rebound from an 0-4 start in football to win the D-III crown in November, 31-13 over Menwith Hill.
Sigonella's boys competed a masterful second semester last spring by adding the D-IV track title to the basketball crown they earned in February. The two crowns were the first won by male Sigonella teams in school history.
Among other highlights of 2009 were Patch's wrestling title and the end of another 31-game winning streak. Patch's mat crown was the first in D-I for the team that historically competed at the highest level in D-II. Baumholder's two-time defending European girls basketball champions joined Ansbach's football team at 31-and-out. Ironically, it was Ansbach that toppled Baumholder 55-19 on Dec. 4, leaving the Lady Bucs three short of the DODDS-Europe record 34 straight won by Ramstein's girls between 1998 and 2000.
In 2009, school system eliminated the Division IV it created for all its small schools in 2005. To accomplish the transformation, the D-IV schools became Division III, with most of the former D-III schools reassigned to D-II. The move put 15 schools, with enrollments ranging from 300-plus at Bamberg, Naples, Aviano and Bitburg to less than 200 at Baumholder, Hohenfels and Milan, in a new 15-team division.
Three-sports stars Chris Frazier of Heidelberg and Bethany Walcott of Rota, who led the Lady Admirals to basketball and soccer titles, became the faces of prep sports in 2009 when they were voted athletes of the year. Both stars graduated in May, leaving the field to this year's candidates.
And whoever emerges, count on them to continue the path of excellence DODDS-Europe athletes blazed in 2009.
DODDS European team champions(Divisional level in parentheses)
Baseball—Ramstein (I), Bitburg (II), AFNORTH (III-IV)
Boys basketball—Ramstein (I), Aviano (II), Baumholder (III), Sigonella (IV)
Girls basketball—Heidelberg (I), Aviano (II), Baumholder (III), Rota (IV)
Boys cross country—Ramstein (I), Naples (II), Brussels (III)
Girls cross country—Ramstein (I), Naples (II), Brussels (III)
Boys golf—Heidelberg
Girls golf—Ramstein
Football—Ramstein (I), Bitburg (II), Alconbury (III)
Marksmanship—Patch
Boys soccer—Ramstein (I), SHAPE (II), AFNORTH (III), Alconbury (IV)
Girls soccer—Ramstein (I), Black Forest Academy (II), Marymount International School of Rome (III), Rota (IV)
Softball—Ramstein (I), Naples (II), Hohenfels (III-IV)
Tennis—Ramstein (I), American Overseas School of Rome (II), Brussels (III)
Boys track and field—Ramstein (I), Ansbach (II), Bamberg (III), Sigonella (IV)
Girls track and field—Kaiserslautern (I), Ansbach (II), AFNORTH (III). No Division IV team scored points.
Volleyball—Ramstein (I), Black Forest Academy (II), Brussels (III)
Wrestling—Patch (I), Wiesbaden (II), AFNORTH (III), Brussels (IV)
---
---
---
---