A goal-oriented transition for Bamberg's Wonzina
---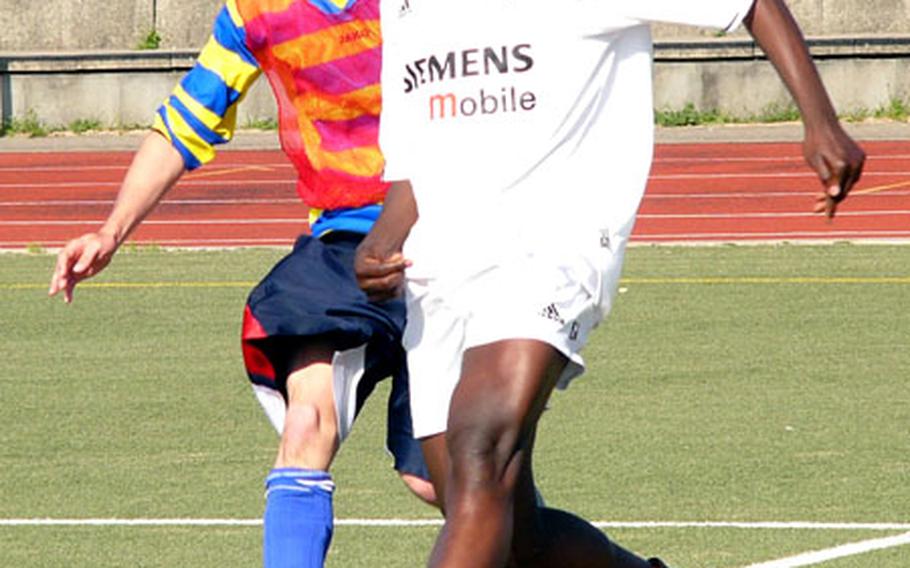 BAMBERG, Germany — When 16-year-old Collins Wonzina arrived in Bamberg three years ago from Sunyani, Ghana, everything was different from the life he had known in tropical West Africa.
All of a sudden, he was a teenager trying to learn two languages — English and German. He also had to become acquainted with a different culture, the American lifestyle at Bamberg American High School and the German way of doing things at his local soccer club, FC Bamberg.
"When Collins arrived here, he couldn't speak a word of English," said Bamberg soccer coach Wade Krauchi.
"He just stood and observed at first. Really, his language is soccer, and he realized that soccer was the way to make the things he would like to have happen, happen."
It has so far.
Wonzina had little trouble speaking English after a recent practice, but soccer is still the dominant voice in his life.
He has only played parts of four games this season for Bamberg and has 15 goals. Last season he had 20.
"The first time I got here it was difficult for me," he said. "My father went to the States [from Ghana] in 1990 and later joined the Army. When he was sent to Bamberg, my mother, [two] sisters and I joined him."
Wonzina's first eye-opener happened in school.
"It was very different," he said. "Here, the teachers had computers. In Ghana, they read you a book. Here, they show you the videotape."
Wonzina was also confronted with the chilly dampness common to much of Germany in the spring.
"Sometimes I miss Ghana," Wonzina said, "Really, it's hard to get warmed up here."
Things were different in German soccer, too.
"It's fun, but German soccer is a little bit hard," he said. "It's very technical."
And very intense. So intense, in fact, that Wonzina said he has progressed enough to try to play professionally, either in Germany or the States.
Volunteer coach Matthew Miller, a former goalkeeper at West Point, endorses that career path.
"There are some things you can't teach," Miller said after watching Wonzina effortlessly pinpoint a shot into an untended corner of the net during a scrimmage in practice. "He's just a great talent."
Wonzina has also helped hone the talents of his teammates, too, according to second-team All-Europe sweeper Christian Peel.
"He's helped me with German football," Peel said. "Playing against him in practice, I've learned that if you close too fast on a player with Wonzina's skills, he'll make you look like a fool."
Wonzina thinks the Barons can improve on last year's fourth-place finish in the European tournament. As proof, he points to the play of teammates such as Peel, Alex Hodge from St. Maarten in the West Indies, T'Andre Stuckey, a forward better known as a speedy and determined back on the Barons' football team, and Paul Maritz, a rugby player from South Africa.
"With players like Christian, Alex, T'Andre and Paul," Wonzina said, "I think we have a good chance."
---
---
---
---