3rd Marine Division captures Marine Forces Pacific title
by
Dave Ornauer
October 16, 2006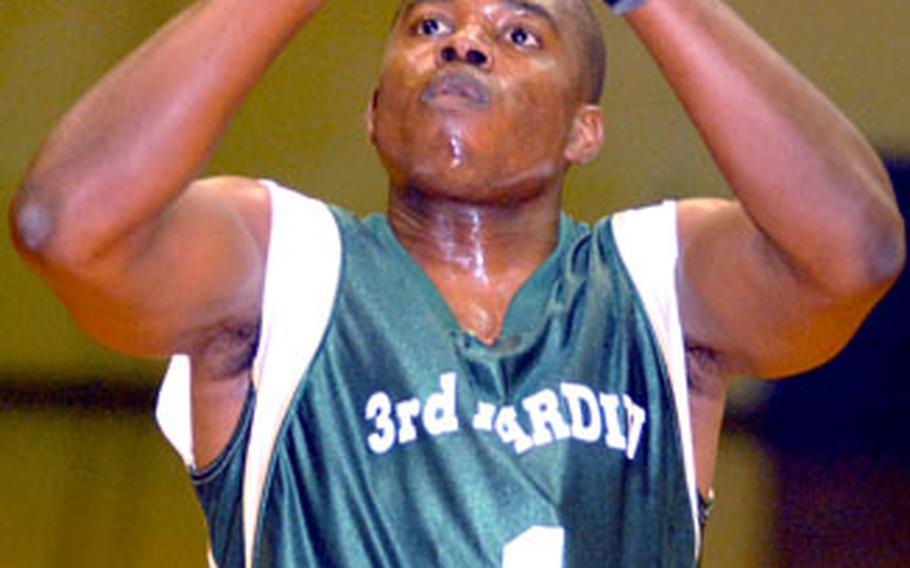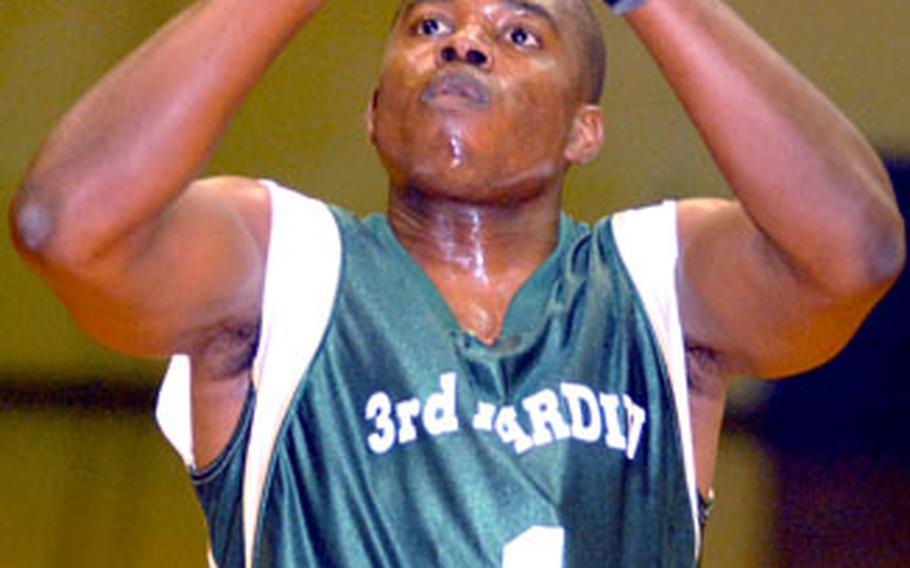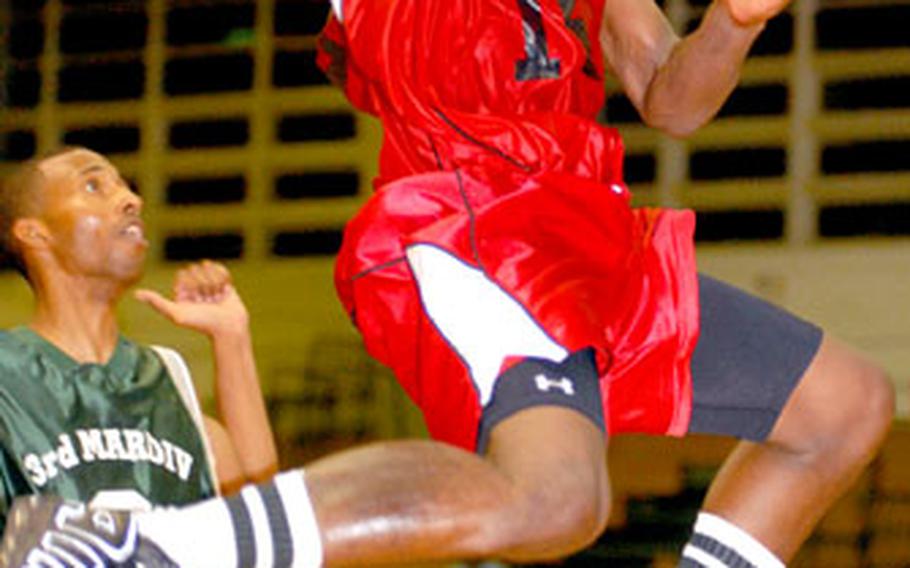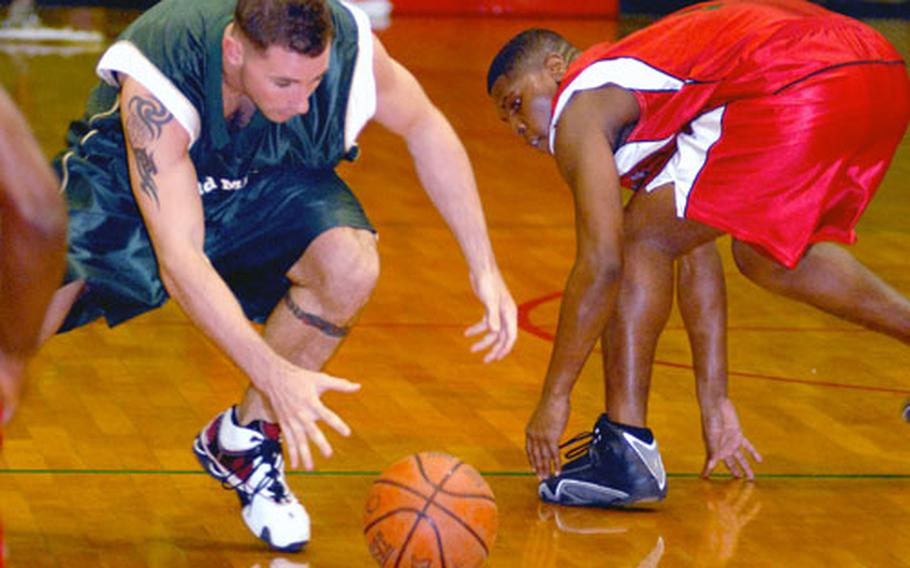 CAMP FOSTER, Okinawa — Weary of subpar performances in their previous few games, Trevor Highsmith and Kyle Scott kicked their shooting games into high gear Saturday night — and dethroned a two-time Marine Forces Pacific Regional Basketball Tournament champion.
Highsmith scored 35 points, including 21 in the first half plus five three-pointers. Scott poured in 18 of his 28 points in the second half as 3rd Marine Division/Expeditionary Force ended Marine Corps Base Camp S.D. Butler's title run 91-73 in Saturday's championship.
"You can't win it every year," said Yonnes Sanders of Base, former two-time tournament Most Valuable Player. "We lost to the better team tonight."
Division recaptured the championship it last won in 2002, when it beat 3rd Force Service Support Group 60-51.
The championship victory sharply reversed the outcome between the same teams two days earlier. In the round-robin finale, Base rallied from a four-point halftime deficit to down Division 72-67, a game in which Highsmith scored 21 points and Scott was held to 12.
Said Highsmith, who succeeded Sanders as tournament MVP: "We had a good start tonight. We came out strong and never let them get into it with our defense."
Said Scott: "We weren't aggressive" in the teams' Thursday encounter. "They like to slow it down. We played their game and lost. This time, we played our game. We like to push the ball. We played up-tempo and played better defense."
Added Sanders: "We missed a lot of shots we normally make and they made a lot more shots."
Saturday's final began as a see-saw battle. Scott's dunk put Division ahead 11-6 with 16 minutes left in the first half. Base rallied, with Sanders' baseline hook 7:30 before intermission making it 28-24 Base.
Then Division regained the lead and never lost it, as Highsmith hit two foul shots to make it 30-28 with 6:14 on the clock, part of a 17-4 run that put Division ahead 41-32.
Base hung around, scoring the last six points of the half to get within 47-41. Highsmith scored five straight points to push Division's lead to 70-53 with 11:20 left in the contest but Base didn't quit. Vincent White's three-point goal with 6:50 left cut it to 72-64.
Division then settled matters with eight straight points. Terrance Terrell's foul shot with 1:24 left gave Division its largest lead at 89-71.
Despite the defeat, Sanders said Base came further than most observers had expected, entering the tournament lacking much of the height that guided it to two straight titles.
"If you look at what we came in with," he said, "you'd have never known."
Division 91, Base 73Halftime: Division 47, Base 41. Leading scorers: Division, Trevor Highsmith 35 (21 first half, 12-for-13 FT, 5 three-point goals), Kyle Scott 28 (18 second half); Base, Robert Gibbons 28 (12-for-19 FT), Yonnes Sanders 27 (17 first half, 8-for-10 FT).
Tournament awardsMVP: Trevor Highsmith, 3rd Marine Division/Expeditionary Force.
All-Tournament coach: Kelvin Scott, 3rd Marine Division/Expeditionary Force.
All-Marine tryout camp selections: Trevor Highsmith, 3rd Marine Division/Expeditionary Force; Robert Gibbons, Vincent White, Marine Corps Base Camp S.D. Butler; Josh Reaser, Floyd Spears, Kenneth Carroll, 1st Marine Aircraft Wing.
All-Tournament team: Trevor Highsmith, Jimmy Wheeler, Kyle Scott, 3rd Marine Division/Expeditionary Force; Vincent White, Robert Gibbons, Marine Corps Base Camp S.D. Butler; Floyd Spears, Thomas Johnson, 1st Marine Aircraft Wing; Barry Celestine, 3rd Marine Logistics Group; Richard White, Iwakuni Air Station; Norris Cason, U.S. Naval Hospital Camp Lester.
2006 Marine Forces Pacific Regional Basketball Tournament
At Foster Field House, Foster Athletics Complex, Camp Foster, Okinawa
Single-elimination playoffs
Friday's games
3rd Marine Logistics Group, Okinawa, 44, U.S. Naval Hospital Camp Lester, Okinawa, 2
1st Marine Aircraft Wing, Okinawa, 78, Iwakuni Air Station, Japan, 68
Marine Corps Base Camp S.D. Butler, Okinawa, 89, 3rd Marine Logistics Group 65
3rd Marine Division/Expeditionary Force, Okinawa, 75, 1st Marine Aircraft Wing 74
Saturday's game
3rd Marine Division/Expeditionary Force 91, Marine Corps Base Camp S.D. Butler 73