2009 All-Europe Football: Star power to spare
---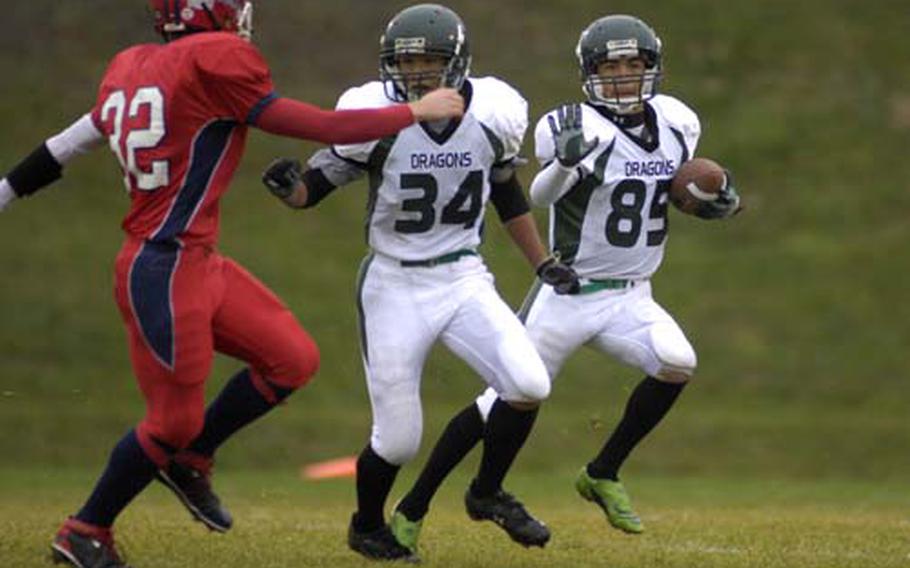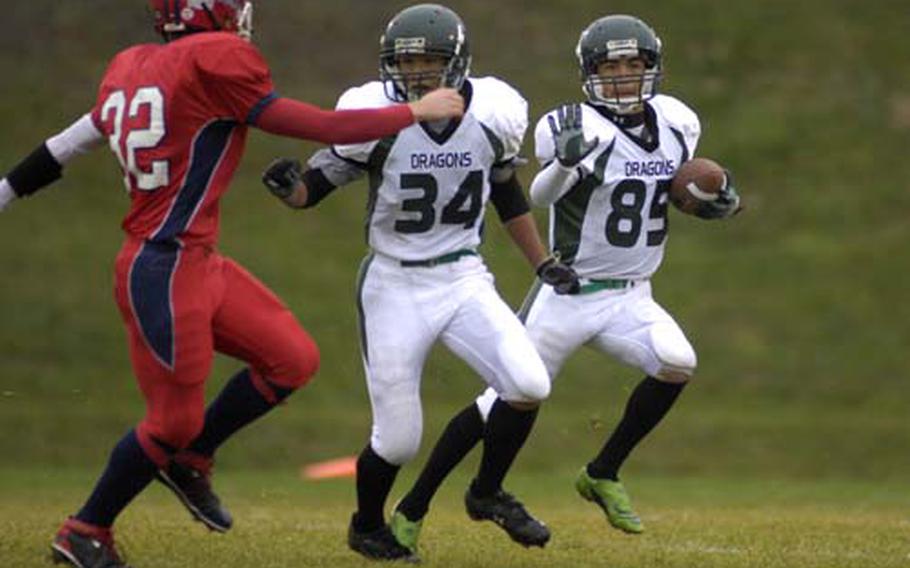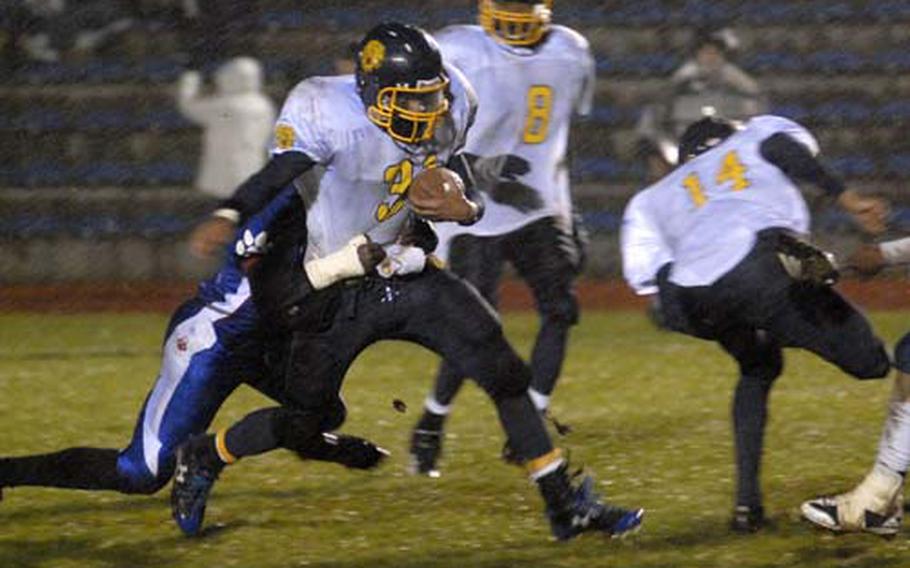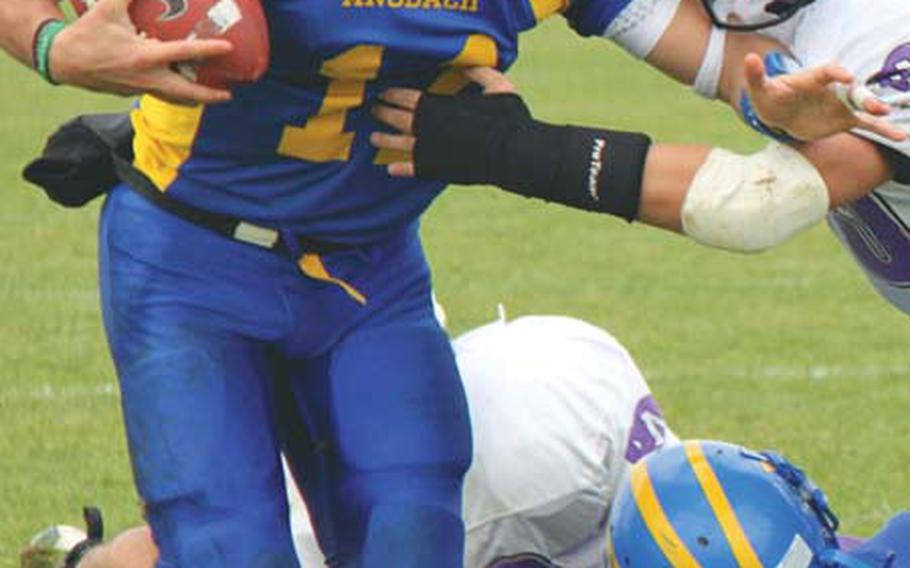 Superlatives are the norm for any all-star team, but the 2009 All-Europe high school football team takes them to extremes.
The team includes four 1,000-yard rushers, topped by repeat choice Devin Pryor of Alconbury. Playing in only the seven games scheduled for Division III schools, Pryor ran the ball through the wide-open spaces of nine-man football 154 times for 1,736 yards and 16 touchdowns. That's a per-carry average of 11.27 yards, a feat that led the Dragons from 0-4 to the European D-III crown three weeks and three victories later. For good measure, Pryor caught seven passes for 230 yards and a TD.
For TD totals, however, give the ball to Gino Culotta of the International School of Brussels. Culotta, one of the 2009 team's seven two-way selectees, scored 20 touchdowns during a season in which he carried the ball 147 times for 1,342 yards.
Culotta, a 6-foot-1, 190-pounder, also made the team as a linebacker in recognition of his 41 solo tackles.
"We were tempted to try to be nice and pick other players when someone had already made the team," selector Marcus George of Ansbach said. "But when we started picking linebackers, the guy you'd want to start with was Culotta, so why pick someone else? We wanted the best player at each position."
It was a philosophy that helped quarterback-defensive back Michael Wallace of Ramstein nail down two spots on the 2009 squad. It didn't help him as much, however, as the season Wallace put together in leading the Royals (7-0) to their 10th European D-I crown.
"If we picked a player of the year, he'd be it," George said of the 5-11, 185-pound senior who had 95 carries for 1,097 yards and 15 rushing TDs, and was 36-for-63 passing for 640 yards and eight TDs. "He's like a smaller Malcolm Lane," the former Hanau three-sport star who went on to a D-I college career as a wide receiver at the University of Hawaii.
George's praise becomes even more impressive in light of the accomplishments of his quarterback, Dominic Barrale, a two-way selectee at QB and linebacker for the second straight season.
"Dom's a great player, but no one's as good when you get him out into space as Wallace is," George said of his senior, who completed his career with a 23-1 record as a starter.
Still, Barrale's pretty darned good. A European wrestling champion, Barrale rushed 45 times for 303 yards and completed 51 of 89 passes for 703 yards and seven TDs. Moreover, Barrale put those numbers up while sitting out large portions of games as the Cougars tried to avoid courtesy-ruling its first seven foes of the season.
George is second to none in appreciating the job Barrale did for his Cougars.
"He is one of the top two quarterbacks I've had in 35 years of coaching," George wrote in nominating Barrale to his second All-Europe team. "He is like having a coach on the field."
In addition to Wallace, Barrale and Culotta, Heidelberg running back-linebacker Thomas Hogue, Ramstein offensive lineman-linebacker P.J. Sullivan, and the Bitburg duo of running back and defensive lineman Derek Waters and Pat Williams, a 275-pound anchor of both Baron lines, were chosen on both sides of the ball.
The 41 players receiving All-Europe plaques came from 13 schools, led by D-II champion Bitburg. The Barons, who ended Ansbach's three-year European title reign and record 31-game winning streak 19-6 in the title game, placed eight on the squad. Ramstein landed seven on the team, and runners-up Heidelberg of D-I and Ansbach of D-II had six each.
In addition to Barrale, two other Cougars were holdovers from 2008 — defensive lineman Tim Abel and linebacker Carter Gunn. Wide receiver Jamal Tuck and defensive lineman Aaron Black of AFNORTH join the three Cougars and Pryor as repeat choices.
Just six sophomores made the team, which features 26 seniors and nine juniors. One of the precocious half-dozen is the team's fourth 1,000-yard rusher, Wiesbaden's 6-0, 185-pound Daniel Harris. He amassed 1,002 yards on 132 carries in making the team at its toughest position.
"It's hardest to pick running backs and linebackers," Heidelberg's Brad Shahan said, "because that's where most teams put their best athletes."
On this team, however, the best athletes occupy every position.
---
---
---
---