2004 Pacific football preview: Yokota Panthers
by
Dave Ornauer
September 3, 2004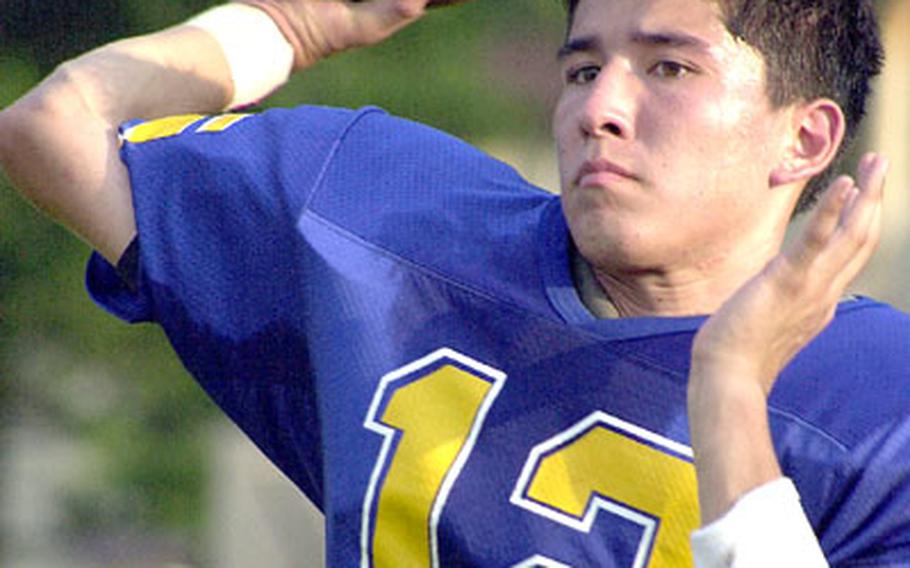 Two numbers loom large as the Yokota Panthers prepare to open the 2004 Japan Football League season:
40: A victory Saturday over Robert D. Edgren would give Yokota its Pacific-record 40th straight triumph on the field, breaking the Panthers' own record set from 1983-90. The only blemishes on their record during the streak are two forfeits during the 2002 season for using an ineligible player.
5: Or "one for the thumb," as Panthers assistant Matt Grant likes to say. Should Yokota capture the JFL title, its sixth straight since coach Tim Pujol took over the team in 1999, the Panthers would host the Rising Sun Bowl All-Japan championship, which they've won four straight years.
But much remains to be done before Yokota can even think of record-making feats.
"We've got so much work in front of us with this group. Our focus is on preparing for the first game being the start of a new season," Pujol said.
Though Yokota is long on skill-position players, with senior quarterback Shawn Novak back at the controls and speedy, shifty senior Chris Roach in the backfield, Pujol's team must rebuild its offensive and defensive lines, decimated by graduation.
"You have to walk before you can run," Pujol said.
Yokota begins that run as the JFL and Kanto Plain Association of Secondary Schools kick off the 2004 season this weekend.
Friday's opener for both leagues sees Zama American at Nile C. Kinnick, in a battle of two teams that tied for second on both circuits a season ago. Zama, Kinnick, Edgren and Yokota will play a double round-robin schedule, with the JFL winner to host the Rising Sun Bowl Nov. 13.
American School In Japan, the only non-Department of Defense Dependents Schools entity on the block, plays only for Kanto bragging rights and is not eligible for the Rising Sun Bowl.
One reason for Yokota optimism came Aug. 21, when the Panthers shut out Seibo-gakuen, a Japanese high school team, 41-0 in a preseason scrimmage.
"We were most encouraged by the performance of our defense," Pujol said. "They did a nice job of playing both run and pass. We made some mistakes on offense, to be expected. But it was a time of discovery for us to see what we were working with, see if people were in the right positions."
Pujol's team has some returning players who posted gaudy numbers last season.
Novak went 31-for-53 for 620 yards and nine touchdowns; Roach picked up 951 all-purpose yards and nine touchdowns while intercepting six passes on defense. Roach inherits the featured-back role played last season by his brother, Roy, who ran for a JFL-record 1,891 yards.
But, Pujol said, "Our No. 1 need for improvement is the offensive line," a unit that returns just two starters, seniors Mike Herron and Joe Saffold.
"We have six new guys trying to get the job done. In the backfield, we have a lot more experience; they're a little bit ahead in terms of understanding than the line is."
Though the defense shined on Aug. 21, "our run stoppers have to be better at reading their keys, reacting properly and pursuing well," Pujol said.
That may become even more of a challenge against Kinnick, which boasts returning senior all-purpose back Leonard Lynce (1,385 total yards, 17 touchdowns) and is continuing a turnaround from a two-win season in 2001 to seven last year.
"Hopefully, we can at least contend like we did last year, hopefully better," coach Robert Stovall said. "But that means we have to knock out Yokota."
How do you do that?
"Of course, you have to stop their running game," Stovall said. "A team with good athletes, organized, good coach and a winning tradition, it's hard to stop."
Despite losing seven two-way starters to graduation and moving most of the jayvee up to varsity this season, Zama American third-year coach Ron Geist refuses to relegate his Trojans to an underdog role against Yokota.
"If we execute and play intelligent football for four quarters," he said, "we have a shot at beating them."
Pujol said he hopes the team can focus on playing ball first and letting the rest — including its shot at the record books — take care of itself.
"It's out there. Everybody's aware of it," Pujol said. "It would be great to start out with a win, especially that kind of win."