Mike Wholley: 'You get really close'
---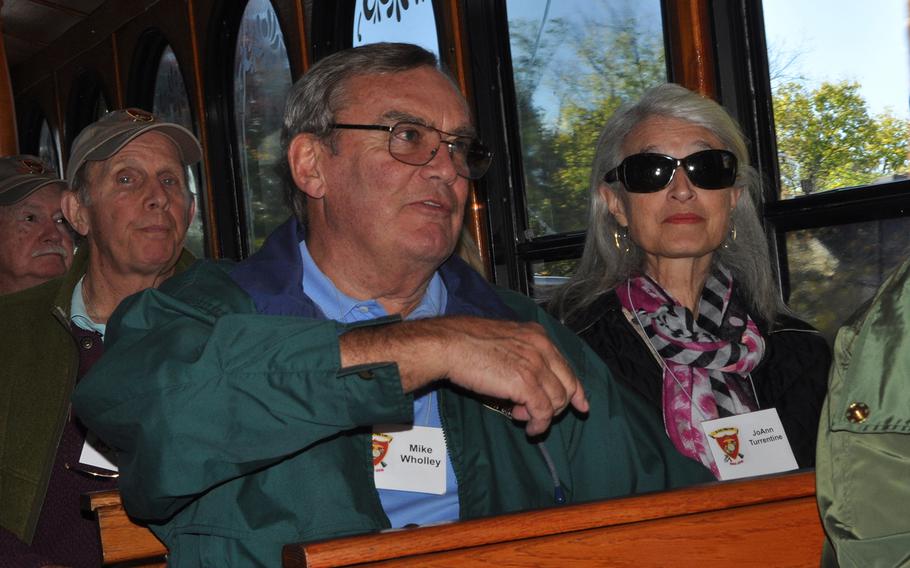 The odd thing about retired Brig. Gen. Mike Wholley's career is that no one expected it -- least of all him.
He wanted to go to law school and become a politician. He told everyone he was only in the Marines to fly fighters, do his time and get out.
He had been in ROTC as a Harvard University undergrad and was accepted into Harvard law school. But the Marine Corps would not give him a full deferment and the war was heating up. So he went to The Basic School.
He loved the camaraderie -- "When you've been through that kind of crucible with a bunch of guys, you get really close" -- and for the next three decades, the opportunities kept coming.
After Vietnam, the Marine Corps offered him an exchange with the Royal Air Force -- a dream deployment -- and gave him time to go to law school. After climbing the ranks as a legal counsel, the Marine Corps sent him to school for judges, and later to get a master of laws degree in land use management and environmental law. He later served as chief judge and staff judge advocate for the Marine Corps. He rose to general, was appointed general counsel for NASA and directed a charity.
Still, he said, it was those early days at The Basic School and in Vietnam that shaped his life.
"You just learn how responsibility is supposed to work," he said. "That's the secret for how to succeed in life."
After TBS, Wholley went to flight school, then went to train on the F-4 Phantom -- then the premier fighter jet in the world, he said.
In 1969, he rotated into Vietnam, flying out of Chu Lai, just south of Da Nang. It was a great gig, flying in support of troops, ducking rocket attacks on base and learning how to "pull Gs" during low-flying bombing runs to avoid enemy fire in North Vietnam and on the Ho Chi Minh trail.
He was heading back to base one day during monsoon season, when a storm diverted him and changed his life.
He couldn't land on base, so he headed south about 100 miles to Phu Cat Air Base, where he knew they had strobe lights on the runway. He wasn't sure he'd be able to see them, but it was his best chance to land in the deluge.
Air control at Phu Cat told him the runway was closed due to the weather, but Wholley's fuel tank said zero. He had no choice.
The rain was blinding and he couldn't see the ground. He asked the Air Force sergeant on the radio to describe the ground -- tell him which side of the runway was most built up and to watch the radar to see if Wholley appeared to be aligned. Against protocol, the sergeant agreed.
Wholley came down banking and straightened up at the very last minute. In the pitch black, Wholley promised God he would be a better person. Then, with the information from that voice on the radio, he managed to land.
As he did, the last bit of gas gave way. He could hear the boost pumps sucking air instead of gasoline, and his plane went dark.
The controllers thought they'd lost him.
After they towed in the plane, the sergeant told Wholley that he was facing administrative punishment for helping the pilot land.
Wholley told him not to worry and sent a four-page letter to his commander about how that sergeant saved his life.
In the early 2000s, Wholley got a call from that sergeant's son. He said that his father had passed away.
"My dad saved your letter and would pull it out and read it to us," the son told him. "He said the proudest moment of his career was the night he saved a Marine's life."
---
---
---
---