Hon Lee: 'I wouldn't trade it for the world'
---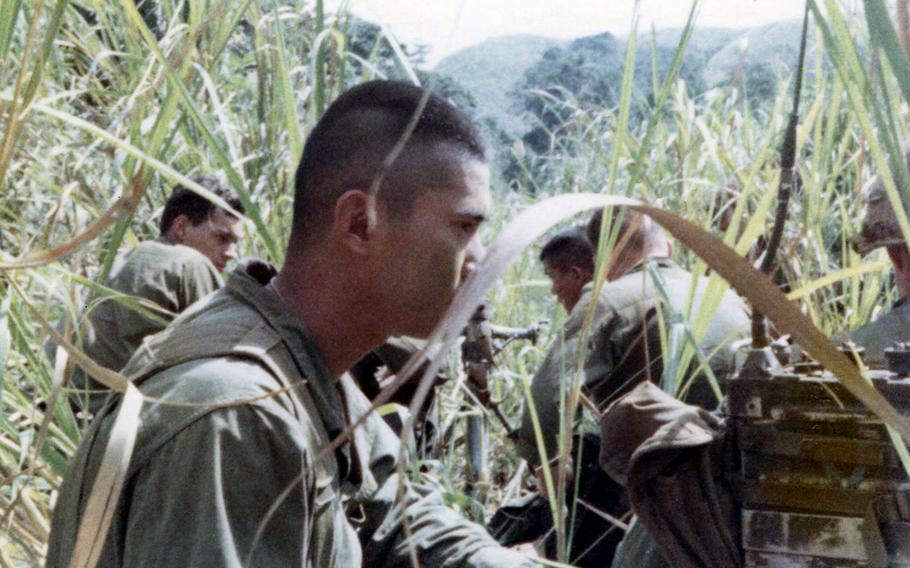 Hon Lee grew up in New York City's Chinatown, a scrawny kid in an immigrant family who got bullied until he learned to throw a good punch. He joined the Marines to prove himself.
His chance came in 1967, when the young artillery platoon leader was sent to the front lines. He was attached to D Company of the 1st Battalion, 26th Marine Regiment, at Khe Sanh as leader of a four-man artillery forward observer team.
The Marine base at the mouth of the North Vietnamese supply line was a tethered target for swarms of enemy fighters. Carrying heavy loads, the team hiked the dense, thick and sometimes slippery terrain, trying to avoid enemy fire and bees, leeches and water buffalo that were just as likely to attack.
They went out on infantry patrols to scout the enemy's location — a dangerous job that killed his predecessor and would also kill his successor. They hunkered down in a bunker on Hill 881 South, guarding a key northern approach to Khe Sanh, often in the path of incoming and friendly artillery fire.
But Lee was lucky. He rotated out of Khe Sanh just before the siege at the beginning of 1968 and spent 11 weeks – the same 77 days Khe Sanh was under deadly siege — with an artillery unit along the DMZ before returning to Khe Sanh. The fierce fighting marked the launch of the Tet Offensive, one of the largest campaigns of the war.
Lee took command of a self-propelled artillery platoon that rolled back in when the siege ended, facing heavy artillery with the enemy dug into the mountainside. His men operated self-propelled 8-inch Howitzers and long-range guns that they fired "directly into the mouth of the mountain," he said.
There were secondary explosions, so they knew they had hit their targets. "But it was never enough to silence the guns," Lee said. As their convoy left, it was hit again, "like they were giving us the middle finger."
"I vowed then and there that if I ever returned to the world, I would dig a hole every year, fill it with mud and lie in it, just to remind myself to be grateful," he said.
He began reflecting on the futility of the war. The Americans were sitting ducks, sent to lure the enemy out of its nest. But the enemy never stopped coming.
"We didn't really lose any of the tactical battles, like Khe Sanh, the Tet Offensive or Hue. But we lost strategic battles," he said. "The Tet Offensive was a turning point because the public lost a taste for a continuation of the war."
Lee returned home to anti-war fervor and decided to leave the Marine Corps, accepting a job at Ross Perot's computer data company.
When he got an unmarked envelope with a letter asking him to fill out a 20-page CIA questionnaire, he put it in the junk pile.
But the CIA persisted. He got a call from "Bob Smith"; they met in the lobby of a San Diego hotel. Smith offered Lee a free trip to Washington, where he met with the head of the division that installs listening devices.
"I can't tell you what you will be doing, but I promise you this," the official told him. "It's going to be a challenge."
For Lee, those were magic words.
After the war, Lee hungered for something that made more sense to him. As an operative, he'd be on the front lines of gathering intelligence, helping to shape U.S. global polices and avoid the mistakes of Vietnam.
After a few years as a technical operative, he became a clandestine overseas operations officer for nearly three decades.
In 2000, Lee again looked to his past for inspiration on his future. He went back to that mud hole he never dug – the reminder of how good life can be -- and remembered Chinese herbal medicine remedies he'd inherited. His dream as a young man was to make good in the world. He opened an acupuncture and Chinese medicine practice and now works to heal people.
"I saw a lot of combat, saw men wounded and killed," he said. "but I wouldn't trade it for the world. When I'd come back from combat, my radio operator thought I was crazy because I'd hum a (happy) tune. … Just to be alive to fight another day.
"I am always an optimist," he said. "I think it's the New Yorker in me."
---
---
---
---