JROTC helps seniors prepare for next step
by
Mark Patton
June 4, 2010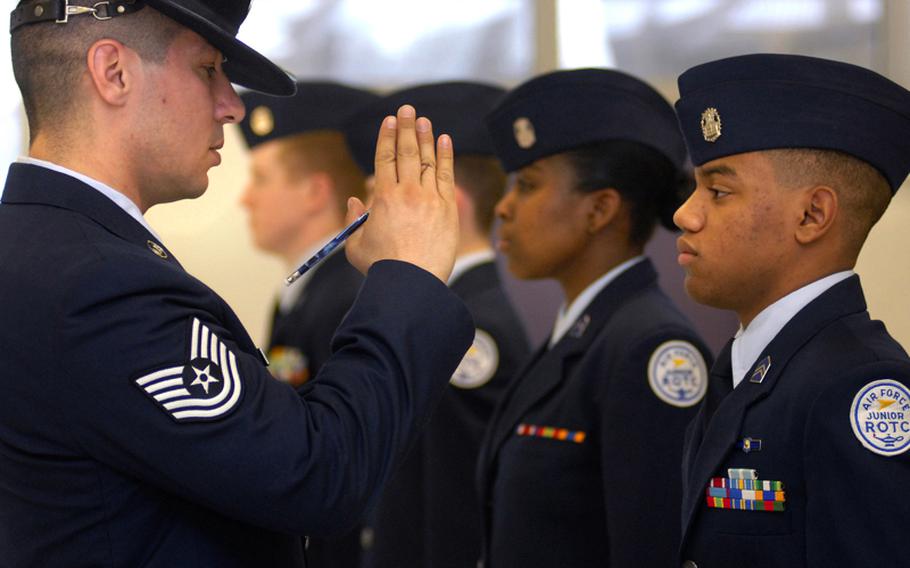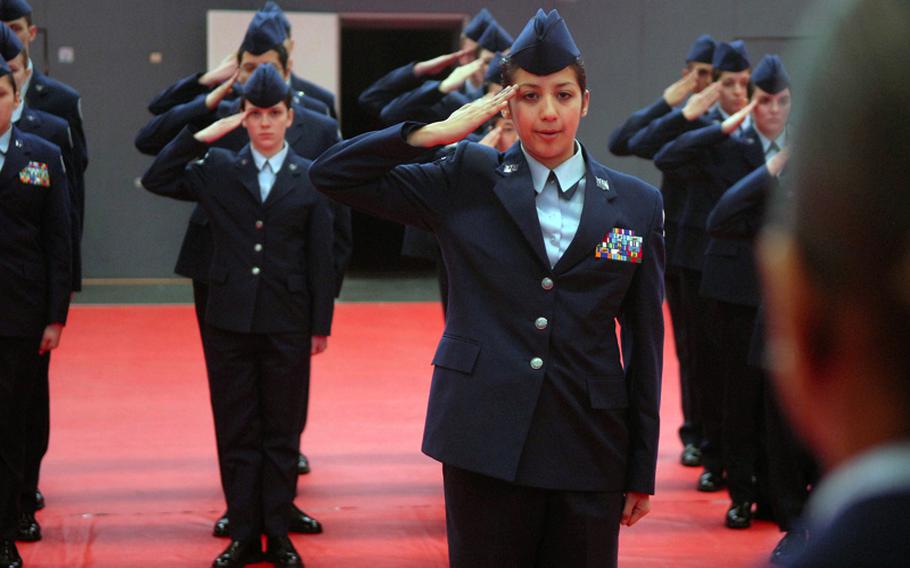 WIESBADEN, Germany -- More than 1,700 students at Department of Defense Dependents Schools in Europe participated in the Junior Reserve Officers Training Corps this school year, and many seniors are even cashing in on their experience.
"It's like a mini-Army, it gives you a basic entrance into Army life," said Ansbach High School senior Dominic Barrale, 18, who was part of the school's Army JROTC and received a Reserve Officer Training Corps scholarship to Wheaton College in Illinois.
Barrale, who wants to pursue an Army medical career, said he is also being recruited by the college to join its football team as a strong safety. "I plan to be career military. I think the JROTC will be an advantage for me," he said.
Since its inception in 1916, the JROTC program has continued to grow. Twenty-one JROTC programs are offered at DODDS-Europe schools alone. The Army and Air Force each have programs in nine DODDS schools in Europe, with 800 and 750 cadets respectively. There are also three Navy programs with 175 cadets.
Retired Army Maj. Bob Hase, the director of Army instruction for DODDS-Europe JROTC, said the program is the best character-development and leadership-enhancement program available to DODDS students.
"Students join JROTC because they want to be challenged ... they want to be part of a positive, goal-oriented program that has relevance to their lives and develop life skills that will serve them well regardless of which path they follow after graduation," Hase said.
The college scholarship money available to cadets is another perk that's hard to ignore.
Although the figures aren't yet available for the current class, last year's total scholarship money connected with military academies and college ROTC programs is impressive.
According to a report published by the Department of Defense Education Activity, last year's DODDS-Europe senior class accepted $6.9 million in ROTC scholarships and $3.7 million in military academy scholarship money, roughly 59 percent of all scholarship money accepted from DODDS-Europe seniors.
DODDS-Europe spokeswoman Maggie Menzies said 63 seniors accepted ROTC scholarships and 12 seniors accepted military academy scholarship money last year.
Bitburg High School senior Aaron Santa Agueda was a cadet for four years at the school's Air Force JROTC and was recently awarded an ROTC scholarship to attend Franciscan University of Steubenville, Ohio, to study mathematics and later become an Air Force officer.
Santa Agueda, 18, said the JROTC taught him a lot about leadership, and he especially enjoyed his tenure on the drill team.
"You get to go out and march, but the best thing is you get to go out and mess with those weapons," he said.
Alexandra Scotti, an 18-year-old senior and cadet at Ansbach's Army JROTC, recently accepted an ROTC scholarship to Seton Hall University in New Jersey, where she plans to study nursing. Although neither of her parents serves in the military, she said "they think it will do me good."
"It (JROTC) teaches you how to be a leader and how to focus and reach your goals," Scotti said. "I'm disciplined ... ROTC in college will help me, too."
pattonm@estripes.osd.mil
---
---
---
---