OPINION
Why Princeton Battlefield is sacred to vets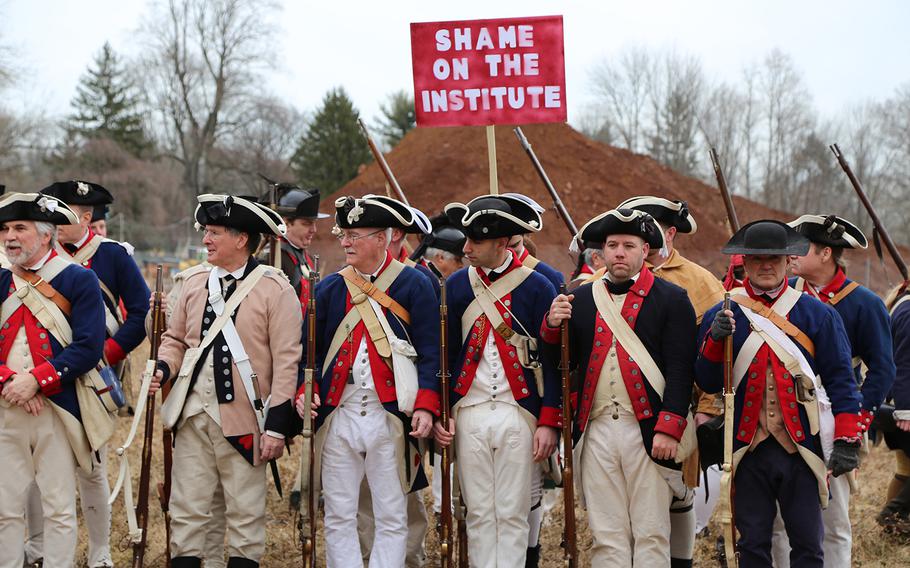 During my career in the U.S. Marine Corps, I have walked and studied the ground of many historic battlefields in the United States, large and small, with a perspective that comes from personal knowledge of the extreme trial of armed combat. It is a sobering and emotional experience because, as a veteran, I identify with the soldiers who fought on these lands and the hardships they endured. And I always pay my silent respects, especially for those who died.
Earlier this year, I visited the Princeton battlefield, where after months of defeat and failure Gen. George Washington and our Continental Army finally defeated British regulars for the first time. Washington's army had been routed at Long Island, lost New York City, lost at White Plains and suffered a devastating defeat at Fort Washington, where 3,000 patriots were captured. Four colonies had been occupied by the Redcoats.
I was filled with patriotic pride as I thought of the incredible sacrifices these Continental soldiers made for our country on the morning of Jan. 3, 1777. And yet, as I stood in Princeton Battlefield State Park in New Jersey, my eyes could not avoid the heartbreaking sight just a few hundred feet away. Heavy machinery sat on raw, scraped earth being prepared for a housing development, on ground that is the most historic, most significant piece of the entire battlefield.
It is especially distressing that the developer bent on destroying this hallowed ground is the Institute for Advanced Study, a renowned institution in the academic and intellectual world and the home of Albert Einstein in his final years. I think it's an absolute travesty that anyone, much less the Institute, could think of erecting homes on this sacred ground when other options exist.
Yes, provide the housing, but do it where the land hasn't been consecrated by the blood of American fighting men. Because it's the place itself — the hallowed ground of a battlefield — where you can truly honor those first soldiers who fought to win freedom for this great, emerging experiment in democracy that became the United States of America.
I put myself in the worn shoes of the Marine or the Continental soldier who fought in Princeton 239 years ago in the frigid heart of winter. The casualties of that battle consecrated this ground, including some of the first Marines in American history to die in combat. They were a few good men who decided to tough it out and keep fighting when Washington's army was on the brink of annihilation and the entire Revolution hung in the balance.
Combat was only one of their hardships. In January 1777, they spent day after cold, miserable day marching and camping on frozen ground. I could imagine myself lying on that frigid ground at 2 in the morning, hungry, shivering and sleeping little as I worried about my future and ached for warmth — the warmth of home and family far away.
These young volunteer soldiers needed food. They needed ammunition. They needed a warm fire. But most of all, they needed hope and self-confidence. Because that's what makes a winning fighting force. You can train them, you can put uniforms on them, you can deploy them to the field, but if they don't believe in what they are fighting for, they won't win.
The land now being ravaged exemplifies American courage and leadership perhaps better than any piece of land in the United States. At Princeton, Washington's left wing had been crushed. The other American commander, Gen. Hugh Mercer, had been mortally wounded. The whole line was starting to quiver. The battle hung in the balance.
Washington did what great leaders do; he moved to the front. He led from the front, coming within 30 yards of the British line on a bucking, terrified white horse. He led the charge that won the battle. And after seeing the world's finest soldiers turn tail, after seeing the backs of British regulars, these Continental soldiers were once again filled with self-confidence and hope. They knew they could win. After the Battle of Princeton, the Revolution slowly turned in America's favor.
Walking the battlefield at Princeton, I felt the honor of representing millions of American veterans who have fought for this country, not only my fellow veterans of Iraq and Afghanistan, but the endless line of soldiers, sailors, airmen and Marines who came before me.
So many veterans like myself look over our shoulders for inspiration from past triumphs on past battlefields. More importantly, it is crucial that we take our young people to these battlefields. Only then can they really get a feel for our history. The battlefield, as an outdoor classroom, reveals its subtle dips and depressions, places that provided mere inches of life-saving cover during an enemy volley. Only on a preserved battlefield itself can you walk the walk. That's why it's so important to save hallowed ground.
Princeton was a small battle compared to the conflicts of the 20th century. But it doesn't matter. Patriots died at this site for something bigger than themselves. They sacrificed their tomorrows for the tomorrow of this country.
I urge every lover of American history to join the fight to save Princeton battlefield. The sacrifices made here by our great-great grandfathers must not be forgotten. This ill-conceived housing development, first proposed by the Institute decades ago and opposed by preservationists ever since, must be stopped. This hallowed shrine of American military history must be preserved.
Richard P. Mills is a retired lieutenant general who served 40 years in the U.S. Marine Corps. He held senior leadership positions during combat operations in Afghanistan and Iraq, and was the first Marine Corps general officer to command NATO forces in combat. He is president of the Marine Corps University Foundation in Quantico, Va.