OPINION
In this setting, vets can write what they feel
---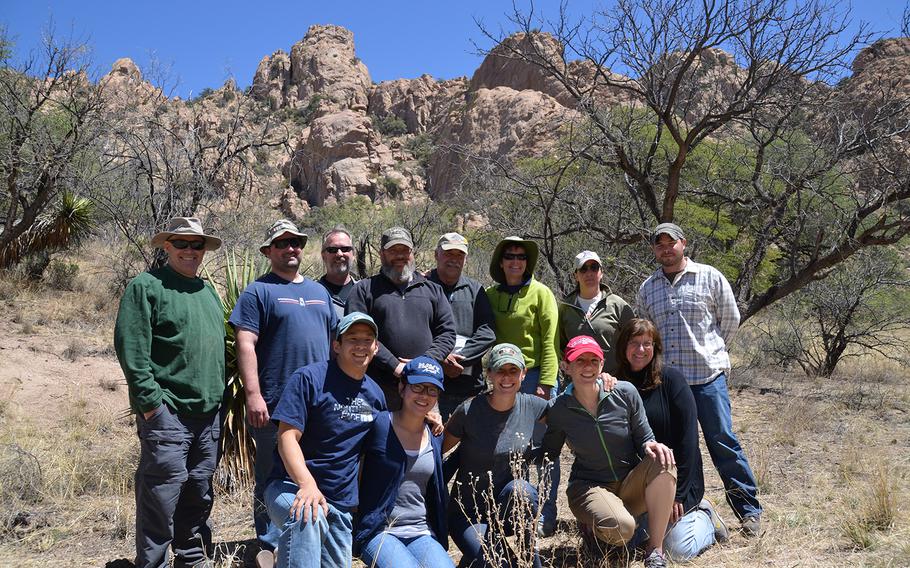 When American servicemen and women serve our country, they are fighting to preserve our ideals, our freedoms and our collective heritage. Our American wilderness and protected public lands are an important part of that collective heritage. Indeed, veterans often report that it is the memory of a favorite trout stream, or desert hike, or mountain forest that keeps them centered and going while deployed and that these places help them reintegrate upon returning home.
Veterans often carry other memories — difficult, confusing, traumatic memories. Turning those memories into stories is a way of making sense of them, examining them, controlling them. American wilderness can facilitate the healing and storytelling processes.
Research shows that time spent in the natural environment helps us build resiliency and calmness. Studies also show that the arts can be a valuable therapeutic tool in controlling traumatic memories. We combined the two.
This past spring, the Veterans Writing Project and The Wilderness Society partnered to offer a veterans wilderness writing workshop in the beautiful wildlands of southern Arizona. The Veterans Writing Project provided instruction in the craft of writing — by veterans for veterans. The Wilderness Society provided the camp logistics and context. America's great outdoors provided the rest — literally making the space for creativity, learning and sharing to occur.
The values that wilderness provides us — quiet focus, connection to place, a resource of resiliency — can be particularly helpful to returning veterans and their families. There's a long history (see Earl Shaffer, Ernest Hemingway and Doug Peacock, among others) of veterans returning from combat and seeking solace and recovery in America's outdoors.
Twenty of us made camp in a grove of oak trees at the base of rugged granite cliffs in the Dragoon Mountains — across the San Pedro River from Fort Huachuca and a short drive from Tucson's Davis-Monthan Air Force Base. We were a range of Americans: men and women, younger and older, infantry vets from Vietnam, Air Force and Naval Academy graduates, soldiers and Marines who served in Iraq and Afghanistan. Participants came from Arizona, of course, but also from California, Wyoming, Nevada and as far away as Iowa. On the Coronado National Forest we learned, we healed, we united. During the day we practiced the craft of writing and hiked the nearby hills; in the evenings we bonded with campfire talk. You can read a narrative about the weekend and see photos on The Wilderness Society's website.
There is a historic tradition of returning veterans telling their stories to the larger society at home. When Odysseus and his warriors returned from the Trojan War, their villages and towns convened to hear a report of what the war experience had been for those sent to fight. In this way, the society that sends its young men and women to battle gets a debriefing that informs its collective thinking and decision-making; the returning warriors get to tell their experiences — marking a reintegration and a sharing of the experience with their fellow citizens.
Throughout the weekend, staff and volunteers from The Wilderness Society heard stories — funny, courageous, powerful, some horrible — stories to which we might not otherwise have had access. America's wilderness and a campfire provide a perfect setting in which to share these stories — and through our natural heritage discover opportunities to learn, grow, and come together as Americans.
The Veterans Writing Project publishes a regular literary journal, O-Dark-Thirty, where the essays, poems, narratives and other artwork created from the workshops are compiled and shared with publicly. The Wilderness Society is planning to expand the partnership with Veterans Writing Project and offer more of these outdoor experiences around the country. If you like what you see and want to be advised of future opportunities, please contact us at vetinfo@tws.org.
In the meantime, remember that favorite trout stream, desert hike or mountain forest and be proud and comforted. Thanks to America's heritage of protected public lands — and your defense of them as an American servicemember — those wild places are still there. And they will be there for you when you need them.
Ron Capps is the founder of the Veterans Writing Project, a 501(c)(3) nonprofit based in Washington. Mike Quigley is the Arizona state director for The Wilderness Society, based in Tucson.
---
---
---
---