OPINION
In monuments, nature is free to nurture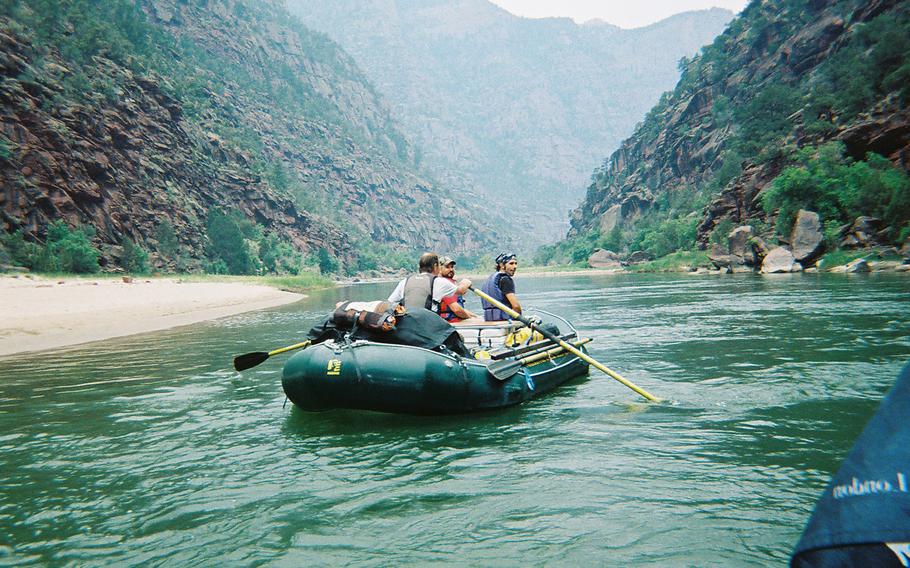 Monuments often recognize a famous military leader in American history, or honor the fallen heroes in our communities in tribute to the men and women who have served this nation. There are other monuments that also resonate with American veterans and their families — natural and cultural sites nationwide that conserve open space and provide places to find peace among the trees or solace in the desert. National monuments like the Organ Mountains-Desert Peaks in New Mexico, Browns Canyon in Colorado and the brand-new Basin and Range National Monument in Nevada resonate for different reasons.
Basin and Range National Monument, two hours north of Las Vegas, offers hiking, hunting, camping and other forms of outdoor recreation. It protects our public land from development and ensures access for all of us to some of the most beautiful lands in the American West.
The new monument protects mountains and valleys unfragmented by roads and sprawling housing developments; critical sagebrush habitat for mule deer and the greater sage grouse; and thousands of years of human history in Nevada, from Native American petroglyphs to mining sites. It also surrounds an enormous modern art installation, City, which at a mile long may be the world's largest example of landscape art. It is now in the middle of an unspoiled desert landscape.
It is no coincidence that several of the world's major religions have a spiritual and historical connection to the desert. Spending time in such a place can be very powerful. For veterans returning from conflicts overseas, places like Basin and Range offer physical challenges and unmatched tranquility — focusing and quietening the unsettled mind. Protected public lands also offer opportunities to reconnect with family and friends — be it via rafting, horseback riding, hiking, picnicking, fishing, hunting or some other activity.
Although Sen. Harry Reid, D-Nev., had worked for some time to protect the Basin and Range region, it was President Barack Obama who stepped in to conserve these public lands when legislation stalled in Congress. He used the 100-year-old Antiquities Act to do so. This is the same tool that 15 other U.S. presidents, including Theodore Roosevelt, Calvin Coolidge (he designated the Statue of Liberty!), Dwight D. Eisenhower and George W. Bush have used to offer permanent protection to America's diverse history and culture, marine habitat and natural landscapes on existing public land.
The Antiquities Act has been used numerous times over the last 100 years to also protect U.S. military history. Today, Americans can visit sites including Fort Ord in California; Castillo de San Marcos and Fort Matanzas in Florida; Forts Frederica and Pulaski in Georgia; Honouliuli in Hawaii; Fort McHenry in Maryland; Little Bighorn Battlefield in Montana; Organ Mountains-Desert Peaks and Fort Union in New Mexico; Fort Stanwix and Governors Island in New York; the Charles Young Buffalo Soldiers National Monument in Ohio; World War II Valor in the Pacific (9 sites in 3 states); Fort Sumter in South Carolina; Fort Monroe and George Washington's Birthplace in Virginia; and President Lincoln's Cottage in Washington, D.C. — all thanks to the foresight of Republican and Democratic presidents and their decisive use of the Antiquities Act.
Despite strong public support and a bipartisan tradition of use it, the Antiquities Act continues to face ongoing attacks by some members of Congress who have introduced legislation aimed at limiting the president's authority. We can expect these misguided efforts to intensify in light of the recent designations.
Although some politicians might feel otherwise, it is important that the president retains and exercises this authority to take swift action to protect significant historic, cultural and scenic places. In his use of the Antiquities Act, Obama has significantly expanded the diversity of the stories told and people honored in our system of public lands — ensuring that all young people can find inspiration and opportunity in our Great Outdoors. And now in Nevada, he has protected Basin and Range National Monument so that the local active and retired military community and all Americans can find respite from the chaos of daily life and reconnect with themselves, and loved ones.
Beyond anything, our national monuments are a gift to future generations — a reminder of what we value as a nation. It is important that we uphold this American tradition.
Pamela Alfred served with the Marine Corps during the Vietnam War. She lives in Spring Creek, Nev., and is an avid hiker, nature photographer and conservationist. She is a member of Vet Voice Foundation, a nonprofit organization dedicated to mobilizing veterans to become leaders in our nation's democracy through participation in the civic and democratic process.