OPINION
Helping vets with career goals is rewarding work
---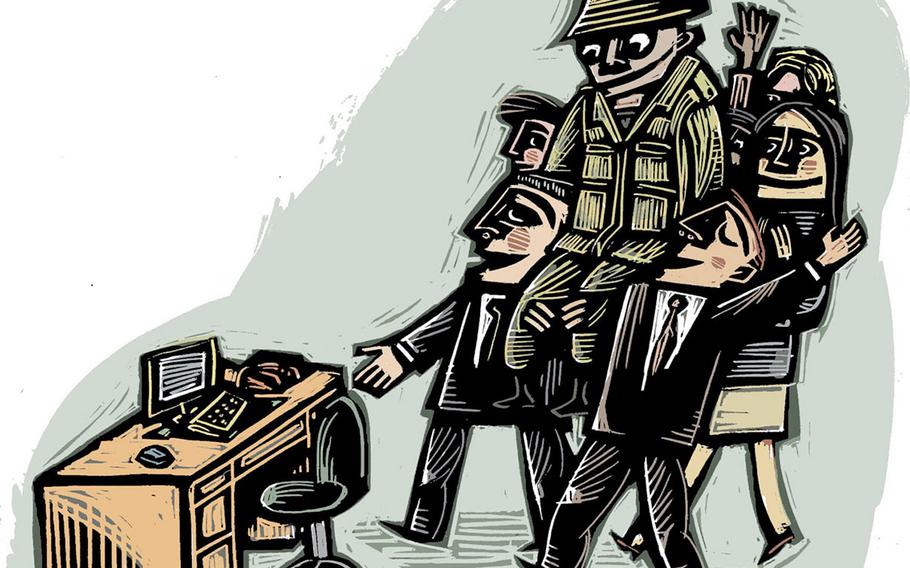 With this stormy election season over, there was one issue that seemed to resonate across both campaigns — the importance of supporting our veterans. I don't know about you, but I welcome the opportunity to come together in celebrating the amazing men and women who have served our country.
When I think about the potential of our veterans to ignite the economy and revitalize our country, I think first about their numbers. More than half of the 40 million military personnel who have served this nation since the Revolution are living with us, right now. That's 21 million men and women, nearly 1 in 10 U.S. adults.
Next, I think about their unparalleled experience, training, leadership and strength of character. From Fortune 500 CEOs to working professionals, veterans bring a dynamic, industrious mindset to the workplace.
Employers cannot afford to overlook this bounty of talent. We honor veterans' service and dedication on Veterans Day, but we also can better support their transition to the workforce every day.
Positive change can only come through a better understanding of the veteran experience. That's why Ernst & Young LLP recently surveyed 1,000 employed veterans in the U.S. to learn about their challenges, their transferable military skills, and how employers can best engage with and support them. They told us of their successes and pain points, as well as the quality of employer support.
Almost overwhelmingly, we found that veterans are satisfied at work and deeply grateful for their military experience. Eighty percent of the veterans we spoke to believe that the military prepared them well for their jobs.
By significant margins, veterans felt they were well equipped to interview, lead teams and adapt to change.
"You can drop us into any situation, no matter how chaotic, and we'll figure things out very quickly," said Ben Bing, a senior consultant at EY and a Navy Reserve lieutenant commander.
But it's clear that the transition to work life poses meaningful challenges. Skills that go underdeveloped in some military roles can feel sorely missed:
 Nearly half of the veterans draft written communications in their current job, but only 23 percent believe their service prepared them to do so.
 Overwhelmingly, respondents said they get along with peers and supervisors yet feel uncomfortable advocating for themselves.
 Less than a third felt prepared to negotiate for a promotion; less than a quarter said they felt prepared to negotiating a raise.
Employers can help by making a commitment to hire veterans and putting support mechanisms in place to ensure an enriching work experience.
Four years ago, EY joined the Veteran Jobs Mission, a coalition of 230 companies committed to employing 1 million veterans nationwide. Coalition members share performance and retention strategies geared specifically toward veterans. We gain access to tools and resources that help veteran employees better adapt to work situations. And we learn how to build our commitment to veterans into company-wide programs that motivate and engage our entire workforce.
Once employed, veterans need support. Eighty percent of our survey respondents found in-office programs or special assistance for former military personnel to be beneficial. Yet only 32 percent of respondents had access to them. As one example, we launched the EY Veterans Network to help veterans ease their transition to civilian life and build meaningful careers. With 800 participants in 50 cities, the network is truly inclusive, representing each branch of service — Army, Marine Corps, Navy, Air Force and Coast Guard.
Signing the Employer Support of the Guard and Reserve lets employers gain the cooperation of reserve components of the armed forces. This Department of Defense program offers employers and veterans alike support and guidance as both parties change and adapt to their new working relationship.
Ultimately, it comes down to an organization's culture and values. At EY, our deep teaming culture is a perfect fit for veterans. We believe teams thrive when members bring diverse perspectives and backgrounds to the table. One person's armed services experience can enrich the entire team, propelling them toward better outcomes for our clients. It's a win all the way around.
Veterans often experience an arduous, uneven reorientation to work life. They may need special care for physical injuries sustained during active duty, or help with post-traumatic stress disorder. But the decision to hire is rewarded with great loyalty. Nearly a third of veterans we surveyed have been in their jobs for 15 years or more.
Let's honor the men and women who keep us safe with a renewed commitment to hiring and nurturing talent from our armed forces. It will help our veterans, our businesses and our nation.
Stephen R. Howe Jr. is U.S. chairman of the business management consultant firm Ernst & Young LLP and EY Americas managing partner.
---
---
---
---