President wraps up South Korea visit by thanking troops and those who support them
---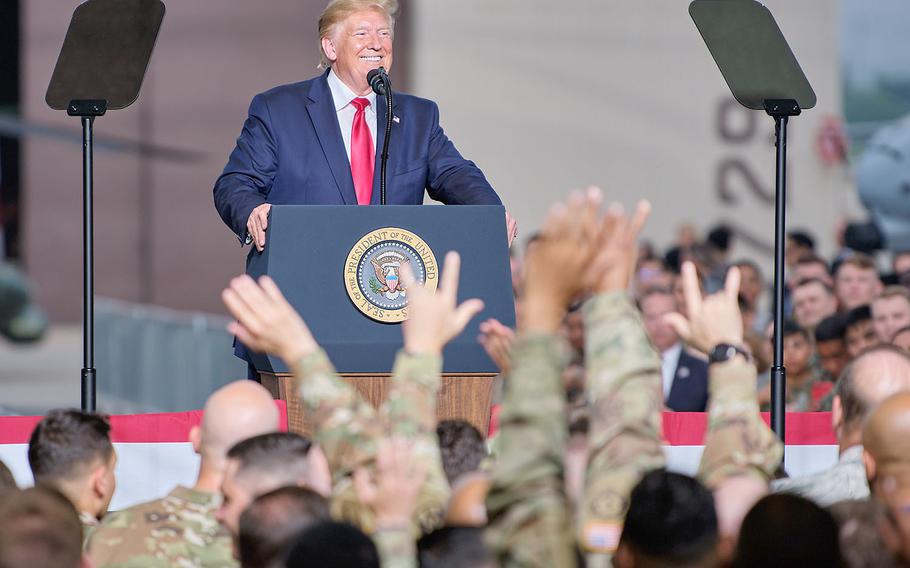 OSAN AIR BASE, South Korea – With the backdrop of a giant American flag, President Donald Trump thanked American troops and the families who support them on Sunday after his historic meeting with North Korean leader Kim Jong Un.
Trump flew to Osan Air Base, south of Seoul, directly from the Demilitarized Zone, where he held an extended talk with Kim.
He exited his Marine One presidential helicopter to cheers as he walked to the podium to address hundreds of troops assembled from all four branches in an Air Force hangar.
Organizers said more than 2,000 people were in the audience, including 25 specially selected participants from each branch of service who sat in reserved bleachers behind the president.
"To all of the servicemembers from U.S. Forces Korea, today I'm here to tell you that 330 million American hearts beat with the gratitude for your selfless acts," Trump said in his final appearance on the divided peninsula before flying home.
"We're also joined by many amazing military spouses and families. Those families and those spouses they keep you going. You wouldn't be the same without them. We know that," he added. "America is forever grateful for your service and for your devotion."
Many troops said Trump appeared very personable and expressed excitement about meeting their commander-in-chief.
"I was feeling very privileged," said Army Sgt. Mary Gian Barnes, 25, of San Diego, who immigrated to the United States from the Philippines.
"It's nice to see him up there and talking to us directly," she said.
"Sometimes it's hard for us to connect to them, but when they're at eye level, it's nice to know that they understand us and they feel for us."
Barnes, who is assigned to the 194th Combat Sustainment Support Battalion based at Camp Humphreys, said she welcomed the news that Trump had met with Kim at the DMZ's Joint Security Area.
She said she recently had taken a tour of the area and stepped into North Korea while inside one of the blue conference buildings that straddle the border.
"I don't necessarily have a big opinion about it, but I'm always a big believer in peace," she said, adding she agrees with Trump that "it's great to have a fantastic and strong Army but it's best to not have to use it."
Trump apologized for keeping the servicemembers waiting due to his meeting with Kim, which lasted nearly an hour instead of the few minutes that had been expected. The two leaders agreed on the need to restart stalled talks over the North's nuclear weapons program.
"We had a great meeting because we're all in this together," Trump said. "We want to get this thing solved."
He also called on his daughter, Ivanka Trump, and Secretary of State Mike Pompeo to take the stage.
Ivanka Trump add her thanks for the military families. "We are so very grateful to you and to your loved ones, who serve our nation out of uniform," she said.
Trump noted he was ready to go home but said he wouldn't cut his speech short. He went on to highlight the stories of several servicemembers sitting in the bleachers.
Those included Cole and Jaime Waterbury, who met while on active duty. Jaime Waterbury now volunteers for the Red Cross and was recently awarded the presidential lifetime achievement award for 4,000 hours of volunteer work on behalf of the military community.
"Jaime, you embody the greatness of America's military families and I want to thank you," Trump said.
He also singled out Air Force Master Sgt. Hunter Lindblad, 34, of Jamestown, N.Y., who had been adopted from Korea by an American family when he was a baby.
"Hunter, your story exemplifies the enduring bonds between the American and South Korean people," Trump said. "I will say this, the folks here … respect you a lot and they respect what you've done."
Lindblad, who is assigned to the 7th Air Force and has served three tours in South Korea since 2010, later told Stars and Stripes that he was honored to be mentioned.
"I know a lot of people have similar stories to that but it was definitely nice to be able to be recognized for continuously coming back here to Korea. It's a home away from home," he said.
Lindblad said he searched for his biological mother during his second assignment on the divided peninsula in 2013 but discovered she had died two years beforehand.
Maj. Willian Ronel Gooding III, who goes by Ron, also welcomed the president's support for families and service.
Gooding, 49, of Moncks Corner, S.C., founded a nonprofit organization called Hunting With A Hero to help veterans suffering from post-traumatic stress disorder. His wife, Stephanie, is a Yellow Rose of Texas recipient for her volunteer efforts.
"It was awesome to see the president of the United States for the first time," Gooding said in an interview. "It was awesome to see him look us in the eye and say thank you person-to-person and appreciate the military for our sacrifices, and especially to mention our spouses and their sacrifices."
Some 28,500 American servicemembers are stationed in South Korea, which remains technically at war with the North after their 1950-53 conflict ended in an armistice instead of a peace treaty.gamel.kim@stripes.com Twitter: @kimgamel
---
---
---
---