Analysis
North Koreans wrap up whirlwind of Olympic diplomacy
---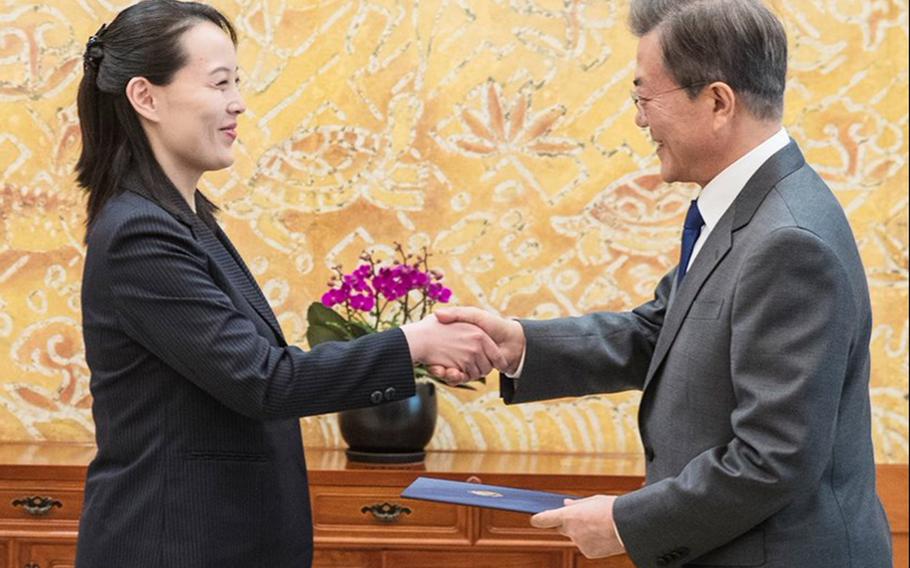 SEOUL, South Korea – North Korean leader Kim Jong Un's sister joined South Korea's president at a concert Sunday as she wound up a whirlwind round of Olympic diplomacy capped by an invitation to hold the first summit between the two adversaries in more than a decade.
While the two Koreas were all smiles during meetings on the sidelines of the Winter Games, Vice President Mike Pence vowed to maintain the administration's policy of "maximum diplomatic and economic pressure" against the North.
He also insisted that Washington was on the same page with its allies, saying "there is no daylight between the United States, the Republic of Korea, and Japan on the need to continue to isolate North Korea economically and diplomatically until they abandon their nuclear ballistic missile program."
But his tough talk was largely overshadowed by the powerful image of athletes from both Koreas marching together under a unified flag and North Korean cheerleaders rooting for a combined women's hockey team, even though it was routed 8-0 by Switzerland in its first game on Saturday.
Many observers agreed the North had won this round in the propaganda battle, but many hurdles lie ahead before a lasting solution is reached.
Summit invitation Kim Yo Jong, the North Korean leader's younger sister, and the other North Korean delegates, led by the 90-year-old head of state Kim Yong Nam, were feted at a lunch with South Korea's prime minister on Sunday before sitting next to South Korean President Moon Jae-in at the concert by North Korea's Samjiyon Orchestra in Gangneung, a city that is co-hosting the Olympics.
The North Koreans were to fly back to Pyongyang later Sunday on a private jet, wrapping up a three-day trip.
Kim Yo Jong delivered a letter from her brother during a meeting with Moon on Saturday. She said her brother would like to meet Moon "in the near future and would like to ask President Moon to visit North Korea at his earliest convenience," according to the Blue House.
Moon responded by saying he hopes the right environment will be created so the meeting between the two leaders could occur, an apparent reference to demands by the U.S. and other allies that the North abandon its nuclear weapons program.
He also called on the North to resume dialogue with the United States, but the behavior of the North Koreans and the Americans toward each other at the Olympics opening ceremony Friday in Pyeongchang illustrated the difficulties that lie ahead.
North Korea has a track record of reaching out in talks following previous crises on the divided peninsula only to pull out after wresting concessions and aid from the West and analysts cautioned the rapprochement with the South may be short-lived.
The communist state has test-fired numerous missiles, including three ICBMs in recent months, and conducted its sixth and most powerful nuclear test Sept. 3, prompting the U.N. Security Council to impose its toughest sanctions yet in a bid to get the North to stop.
President Donald Trump, meanwhile, has stepped up his rhetoric against the North, calling Kim Jong Un "little rocket man" and promising to "totally destroy" North Korea if needed to defend the United States and its allies.
Pence kept up the pressure in the days ahead of the Olympics, frequently denouncing the North's record of human rights abuses to counter what he called Pyongyang's "propaganda charade."
Long road ahead White House officials and other critics believe North Korea is trying to use the international stage to gain sympathy and ease punishing economic sanctions and diplomatic pressure that are beginning to bite.
Pence, who left South Korea on Saturday, told reporters traveling with him that Moon had informed him about the meeting with North Korean officials.
"Both of us reiterated to each other tonight that we will continue to stand strong and work in a coordinated way to bring maximum economic and diplomatic pressure to bear on North Korea," he said.
But the summit invitation offered a diplomatic opening that may prove too hard to resist for Moon, a liberal leader who took office in May promising to seek a peaceful resolution with the North.
Kim announced his nuclear program, which the communist state claims is needed for self-defense, was complete even as he extended an olive branch to the South in his New Year's address by agreeing to participate in the Olympics.
Moon has expressed hope the détente could lead to a broader dialogue with the United States. But the two sides rebuffed his efforts to organize a meeting between them during the games.
Instead, Pence arrived late to a reception for delegation leaders Friday and stayed for just five minutes - without interacting with the North Koreans. He then was stone-faced as he sat to the left of Moon in the VIP box at the opening ceremony while Kim Yo Jong smiled a row behind him, just a few feet away.
The two Koreas, which remain technically at war since their 1950-53 conflict ended in an armistice instead of a peace treaty, have only had two previous summits.
The most recent was in 2007 when then South Korean President Roh Moo-hyun traveled to Pyongyang to meet with Kim Jong Il, the current leader's father.
South Korea's former leader Kim Dae-jung, who won a Nobel Prize for what was dubbed a "sunshine policy" with the North, held the first summit with Kim Jong Il in 2000 in Pyongyang.
gamel.kim@stripes.com Twitter: @kimgamel
---
---
---
---