RV rib shack conceals hidden culinary treasure in Heidelberg
by
J.P. Lawrence and Chad Garland
Stars and Stripes
May 31, 2018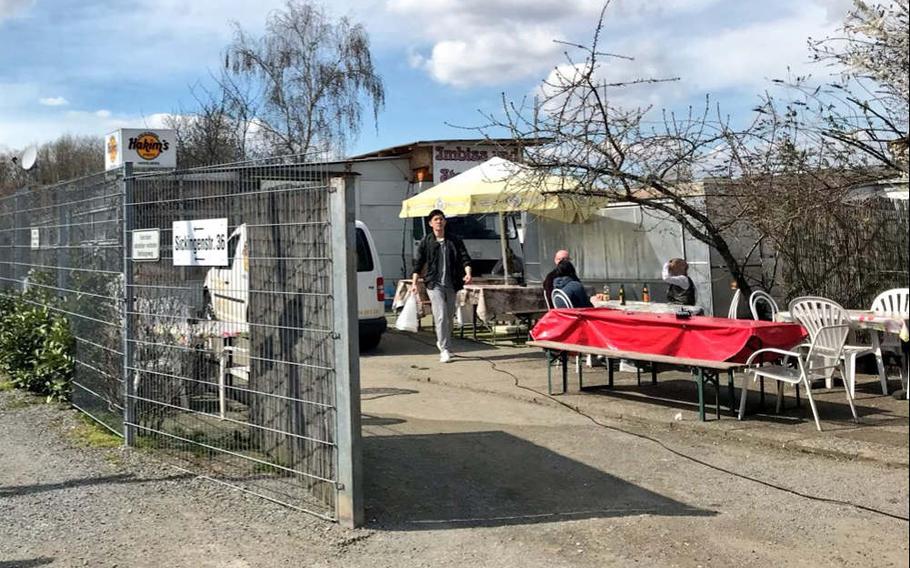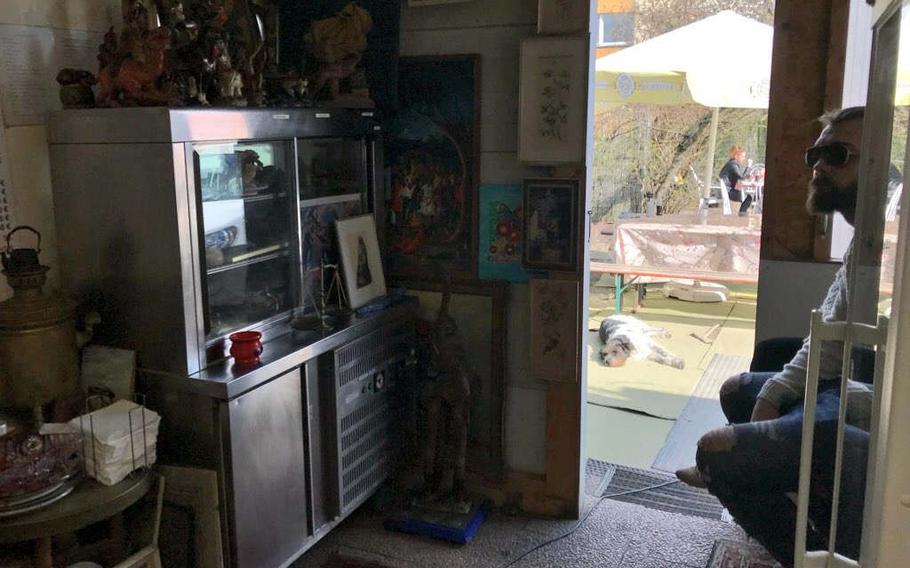 Tempted by online reviews promising "the best ribs in Germany," two Stars and Stripes reporters recently trekked to Heidelberg to visit Hakim's Imbiss and Steak House.
The aroma of grilled meat wafted from the restaurant's kitchen, which was inside a Mercedes Recreational Vehicle, with a shack-like dining room built around it. As we sat outside in the courtyard and waited for our order of spareribs and home fries, a lazy dog sitting in the RV's wheel hub gazed at us suspiciously.
Seating is limited both indoor and out. A few picnic tables outside have room for groups of about four to eight people. Inside the eclectically decorated dining room, there are a couple of large tables and a mishmash of smaller seating arrangements. But a lot of people seem to take their ribs to go.
Tender and fatty, the ribs did not disappoint. The meat fell nearly clean off the bone, with just the right amount of spice. The seemingly store-bought sauce (on the side) was the only misstep — we would have preferred something a little more unique. The fries, meanwhile, were a revelation: fluffy inside, almost like mashed potatoes, with an outside that remained satisfyingly crisp.
Also on the menu are German dishes such as Currywurst and Frikadellen, but almost all of the roughly two dozen patrons on the day of our visit were eating the ribs.
Owner Hakim Mossa says the ribs are the culmination of a journey that began almost 40 years ago, when he came to Germany after the Soviet invasion of his home country, Afghanistan.
He worked a few factory and restaurant jobs but wanted to start his own eatery. He opened Hakim's Imbiss in the early 1990s next to the old Campbell Barracks, former home of U.S. Army Europe and the 7th Army.
After the Sept. 11 terrorist attacks, he reached out to the Americans. Wanting to show that "not all trees in Afghanistan grow crooked," he offered leftover spareribs to soldiers on guard.
The troops are long gone and the base is shuttered, but Mossa still has a steady clientele, now mostly Chinese tourists. His spices are secret, but he said his method of making ribs involves boiling them in water before grilling them over flames. The potatoes, too, are boiled to make them fluffy inside before frying. The dishes take a while to cook — this is not fast food, he says.
As he gets older, Mossa said, he thinks about moving on. Perhaps he'll retire or move to Beijing, where he said his Chinese fans have invited him to set up shop. Sometimes he thinks about moving his hidden treasure of a rib shack to Kaiserslautern.
We fully endorse this proposal.
lawrence.j.p@stripes.com Twitter: @JpLawrence3 garland.chad@stripes.com Twitter: @chadgarland
Location: Sickingenstrasse 36, Heidelberg, Germany
Hours: 11 a.m. to 9 p.m., Tuesdays-Sundays
Food: Ribs, Currywurst, Frikadellen and other meat dishes
Dress: Whatever's weather-appropriate
Prices: Ribs are 7-11 euros ($8.20-13), fries 3 euros, Currywurst and Frikadellen 3-7 euros
Drinks: Beer, soft drinks 2-5 euros