Zakimi Castle witnessed intrigue in Okinawa's Ryukyu kingdom
by
Matthew M. Burke and Chiyomi Sumida
March 22, 2017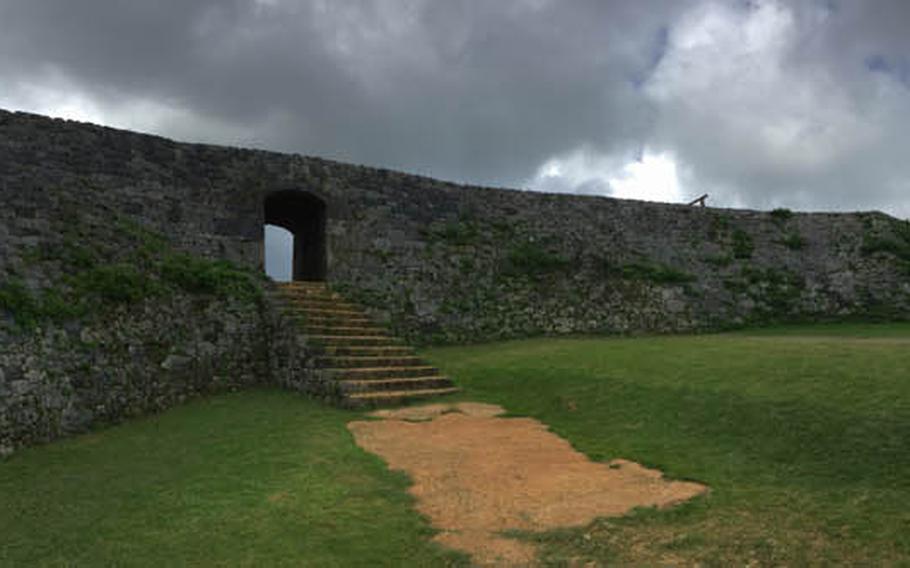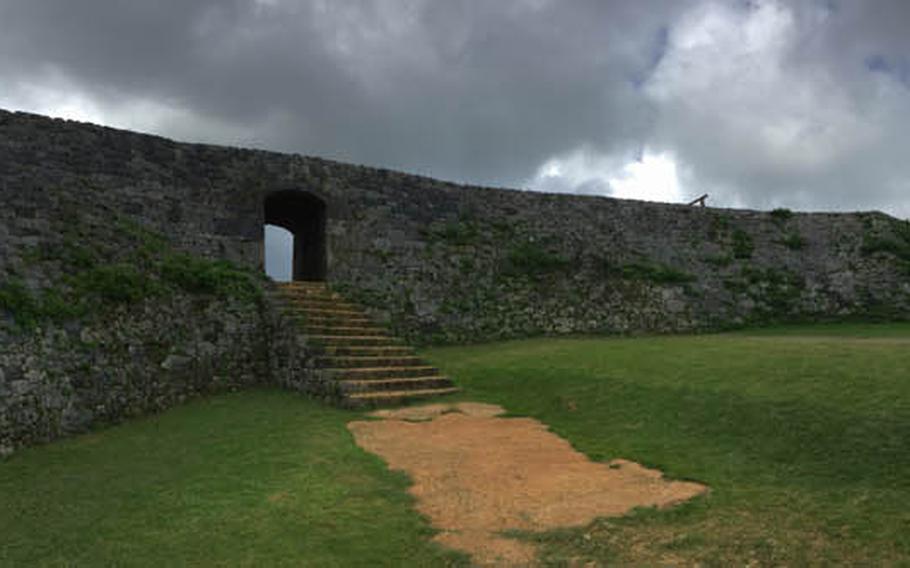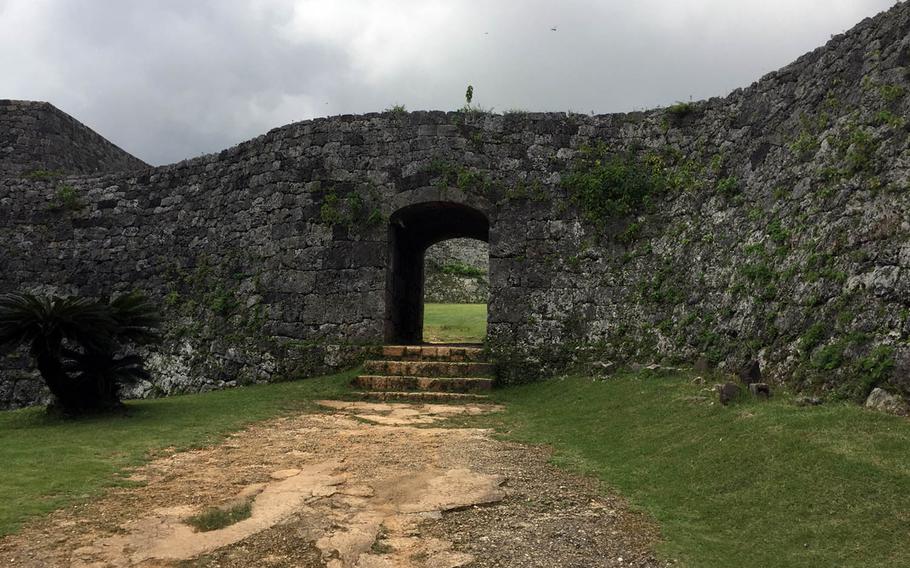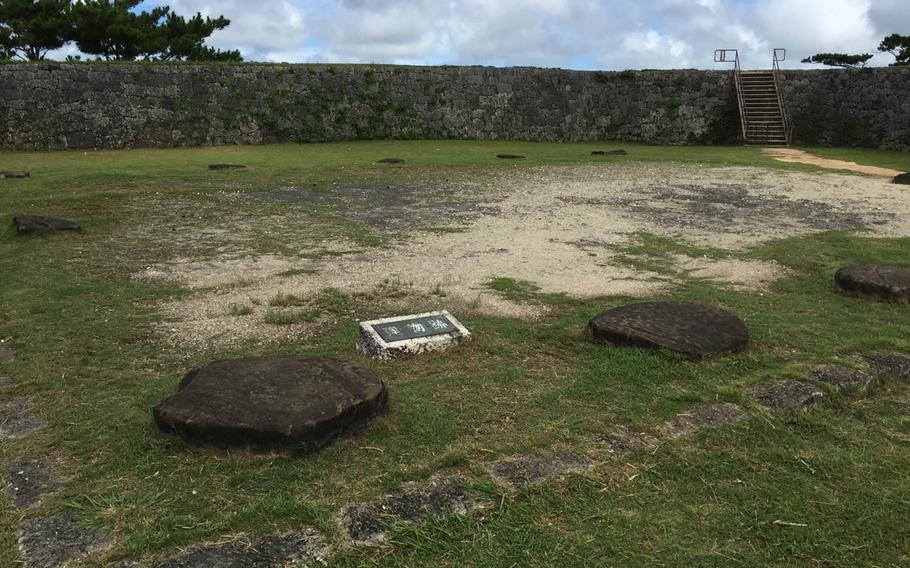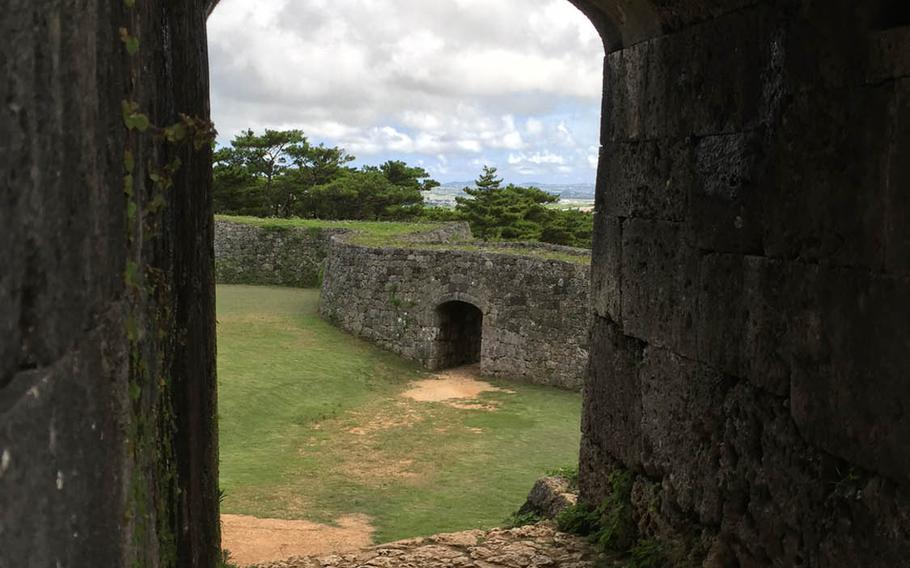 The ruins of Zakimi Castle in Yomitan, with its grass-covered outer and inner kakus, or wards, and arched entryways, are picturesque and idyllic; its Ryukyuan limestone ramparts curve with the beauty of a sleek indigenous snake lazing by a jungle stream.
The ruins consist only of walls that might look unremarkable. At one time, though, they bore witness to an operatic tale of war, honor, love, betrayal and death so great it continues to captivate Okinawan people and stir their emotions.
Zakimi might be a great place for family or wedding photos, a picnic, to read a book or just for solemn reflection, but it is much more than that. It is the story of Okinawa and its people.
"Zakimi castle is regarded as a sacred place," said Yuya Obara of Yomitan village's cultural asset department and a specialist in archaeology. "All year around, the castle site receives many residents who come to offer prayers at four sacred spots there."
The site is a spiritual seat for locals, but during the week, visitors are likely to find it empty and peaceful.
Construction began around 1420 at the behest of famed Ryukyuan general Gosamaru, according to researchers from the Gosamaru History Museum and Library of Nakagusuku Village.
Gosamaru was born around 1390, the third son of the lord of Yamada in Onna. He was a warrior who played a critical role in helping Sho Hashi, the first king of the Ryukyu kingdom, unify Okinawa.
Gosamaru and Sho Hashi laid siege to the island's last bastion of resistance in Hokuzan in 1416. Their victory established the First Sho Dynasty. Gosamaru went on to serve six kings in the line.
After their victory in battle at Hokuzan, Gosamaru remained there for four years to supervise the region. It was around this time that he began to build Zakimi Castle.
Gosamaru was so popular that people began to flock to Zakimi from as far away as the remote islands, museum officials said. Gosamaru encouraged his people to cultivate rice and promoted trade with other Asian nations.
He lived in Zakimi Castle for 18 years.
In 1440, Sho Taikyu transferred Gosamaru to Nakagusuku Castle because it was too far from his seat of power in Shuri, making it hard for the men to keep in contact. Historians believe Gosamaru was also moved to keep tabs on a growing power, Amawari, lord of Katsuren.
In 1458, Gosamaru discovered that Amawari was plotting to overthrow the king by attacking Shuri. He began to ready his troops.
Amawari caught wind, and in a secret meeting told the king it was Gosamaru who planned to overthrow him. King Sho did not believe Amawari and dispatched messengers to Nakagusuku. There, they witnessed Gosamaru's army preparing for battle. King Sho told Amawari to attack Gosamaru.
Amawari led the king's forces on Nakagusuku. Rather than fight his king, to whom he remained loyal, Gosamaru ordered his army to surrender and he committed suicide, along with his wife and their two sons. An infant son was smuggled out to Kuniyoshi village in Itoman by a nanny.
Legend says Gosamaru put a note in his mouth alleging Amawari's treachery, knowing that Amawari would bring his head to the king. The king discovered the note and had Amawari killed. However, museum officials said Amawari tried to take Shuri.
His wife, Momoto Fumiagari, happened to be the king's daughter and granddaughter of Gosamaru. She fled with Kenyu Oshiro, a faithful servant to the king. She told her father of the coming rebellion. Oshiro was ordered to attack Amawari and to kill him. This happened that same year.
Zakimi is Gosamaru's chosen home and the place where it all began.
Some have theorized that the king plotted to have both Gosamaru and Amawari killed because of their popularity and strength.
Descendants of both men passionately defend their ancestors, much like the Hatfields and the McCoys back in the United States.
Gosamaru's tomb was built in the 1680s near Nakagusuku Castle. His kamekobaka, or turtle-back tomb, is said to be the oldest on Okinawa.
The child who escaped the battle, Morichika, became a high-ranking official in the kingdom, according to museum curator Makoto Toguchi. His children and their descendants prospered and spread. They were one of the five prestigious families to serve in key posts with the Second Sho Dynasty, including a position much like prime minister. It is said that their descendants number over 100,000 on Okinawa today. Toguchi is one of them.
Zakimi sat in ruins for years. During the Battle of Okinawa, the Imperial Japanese Army used the site as an anti-aircraft gun emplacement, Obara said. Then it became a U.S. military radar site. Both militaries caused further damage, but much of the original walls remained in the southern half of the site. It was restored in the 1970s and '80s, he said. In 2000, it was named a World Heritage Site.
Zakimi Castle DIRECTIONS
904-0301 Okinawa-ken, Nakagami-gun, Yomitan-son, Zakimi, 708-6. Take Route 58 north toward Nago. Keep left and continue through Kadena Circle. Turn left onto Route 12 toward Zakimi Castle Ruins. Follow the road for 1.7 kilometers, then turn right up a steep hill, then take a right into the parking lot.
TIMES
The ruins are always open. The museum is open 9 a.m. to 5 p.m. daily except Mondays and Japanese holidays.
COSTS
The ruins are free to visit. The museum charges a 200-yen (about $1.78) entry fee.
FOOD
None available at the ruins, though there are restaurants nearby.
INFORMATION
Phone 098-958-3141; website: www.tinyurl.com/m2qg3rf.