When dinosaurs roamed Japan
---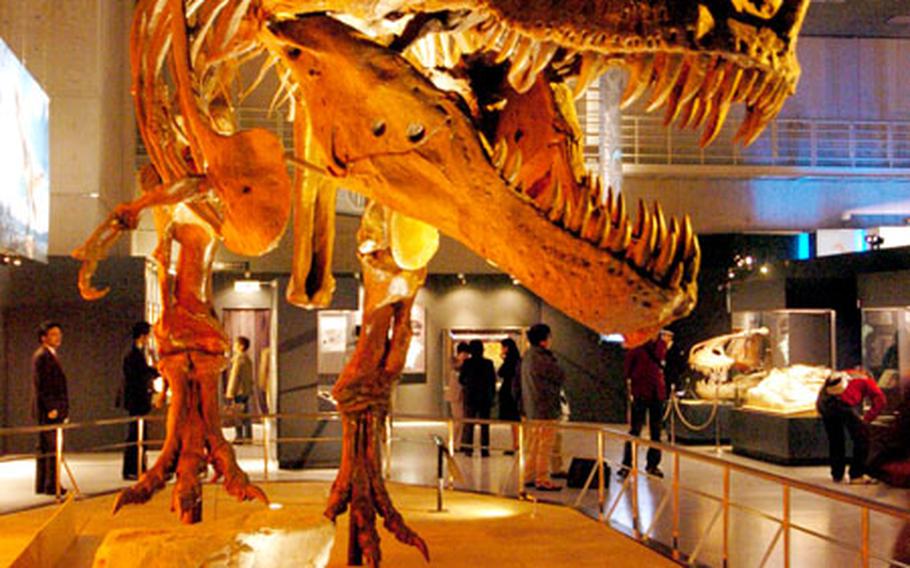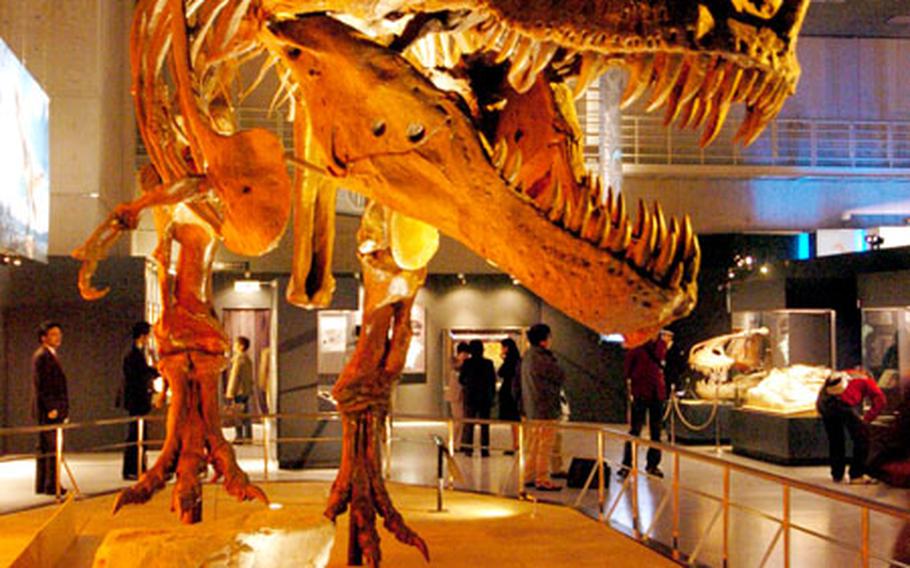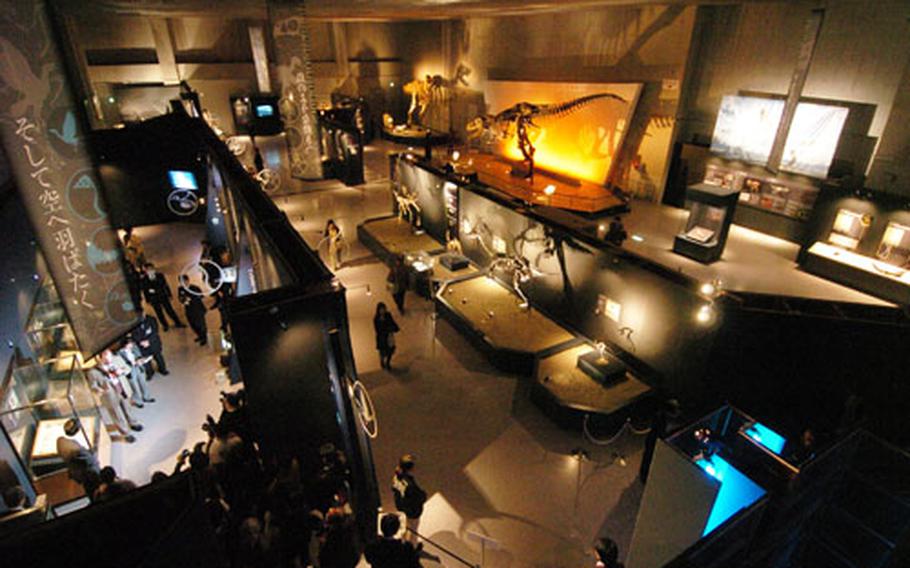 Sue, the Tyrannosaurus rex, is blowing Tokyoites away on her first trip to Japan.
A full-size replica of the largest and most complete Tyrannosaurus rex ever found is the crown jewel of the National Science Museum's "The Dinosaur Expo 2005: Evolution of Dinosaurs from their origin to birds," in Tokyo.
Also on display is Sue's actual bone fossil, which never before had left its home in Chicago's Field Museum.
Sue stands 13 feet high at the hips, is 42 feet long and weighs seven tons. Her skull alone weighs 600 pounds and is 5 feet long. She was discovered near Faith, S.D., in 1990 by a fossil hunter, Susan Hendrickson. The discovery was a rare one in that approximately 90 percent of the dinosaur's bones were found, and they were well-preserved.
The Field Museum and other institutions purchased it together for almost $8.4 million, the most ever paid for a dinosaur fossil, at a 1997 public auction.
Because the find was well preserved, scholars were able to see where Sue's muscles, tendons and other soft tissues rested against or attached to the bones. Sue had a wishbone or furcula, which also can be found on birds.
The exhibit uses these valuable findings, along with more than 80 dinosaur fossils and specimens from 10 countries, to explore the theory that birds evolved from dinosaurs.
"The connection between dinosaurs and birds is a diligently studied topic among the researchers," said Dr. Yukimitsu Tomida, a curator of vertebrate paleontology at the science museum.
The museum spent about two and a half years preparing the exhibit. "The planning part was easy," Tomida said. "Gathering specimens from all over the world was difficult."
The exhibit has many rare items being shown for the first time in Japan. For instance, making its world debut is Mei, a primitive type of of Troodontidae, found curled up with its head bent backward and resting on its back, like a bird. Scientists have said it might show that dinosaurs were starting to evolve into warm-blooded species.
Another being displayed for the first time anywhere is a full-scale Majungatholus replica discovered on Madagascar. The teeth marks on its tail, from the same kind of dinosaur, suggest that Majungatholus was cannibalistic, scientists say.
The exhibit is laid out like a genealogical chart, following the theory that dinosaurs evolved into birds. As visitors enter, they are drawn into the world of dinosaurs, but as the exhibit progresses, it returns them to today's world, ending with today's birds.
If they don't take a wrong turn, that is: The route through the exhibit branches off occasionally and dead-ends at walls, representing species that have died out.
Although the exhibit's descriptions are written in Japanese, pictures displayed at each section represent the evolution of dinosaurs.
"It's all right to just simply look at the dinosaur fossils," Tomida said. But he also would like people to see beyond them: "We wanted to show people what was discovered from the fossils."
If you go ...
Exhibit: "The Dinosaur Expo 2005: Evolution of Dinosaurs from their origin to birds"
Where: At the National Science Museum until July 3. Address: 7-20 Ueno Koen, Taito-ku, Tokyo 110-8718. Phone: 03-5777-8600.
Hours: 9 a.m. to 5 p.m. Tuesdays through Thursdays; 9 a.m. to 8 p.m. Fridays; 9 a.m. to 6 p.m. Saturdays, Sundays and holidays; Last admission 30 minutes before closing. Closed Mondays.
Admission price: Adults and college students: 1,400 yen (about $14); high school, junior high and elementary school students, 600 yen (about $6). For groups of more than 20 people, rates are: Adults and college students, 1,100 yen (about $10); high school, junior high and elementary school students, 350 yen (about $3.50).
To get there: The museum is a five-minute walk from the Ueno Koen exit of JR Ueno Station on the Yamanote line, or a 10-minute walk from Ueno Station on the Ginza, Hibiya and Keisei subway lines.
Exhibit's travels: It will be at Sasashima Museum in Nagoya July 16 to Sept. 25, Osaka Natural History Museum in Osaka Oct. 8 to Nov. 27 and Kitakyushu Museum of Natural History at Kitakyushu Dec. 23 to March 31, 2006.
For more information: Visit the National Science Museum online. To learn more about Sue, the Tyrannosaurus rex, visit Field Museum's Web site.
— Hana Kusumoto
---
---
---
---