2011-12 ski season
What's new at Edelweiss Lodge & Resort
---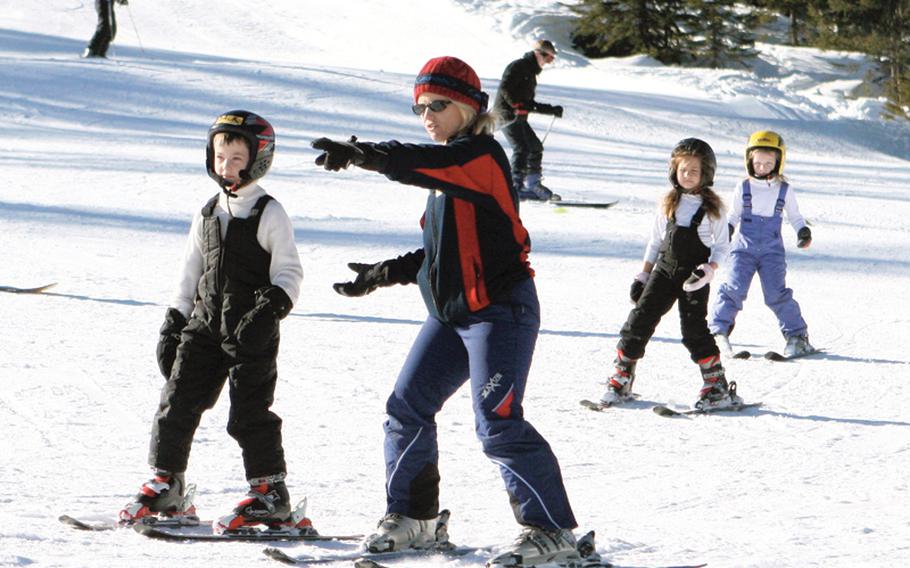 Night sledding is being added to the line-up of winter activities at the Edelweiss Lodge and Resort in Garmisch-Partenkirchen, Germany.
The Edelweiss, an Armed Forces Recreation Center, will take participants to Ehrwald, Austria, to sled down illuminated slopes.
Brad Hays, a spokesman for the lodge, said that after enjoying food, drink and live music at the top of the slope, sledders can reach speeds of 15-20 mph on the way down. The program, which costs $39, starts in December and will be available until March.
Garmisch is a popular resort town and former Olympic venue that attracts lovers of all winter sports, especially skiers. It is near the Zugspitze, a magnet for skiers since it is the tallest peak in the German Alps. Hays said those new to the sport can also take on the famed peak because it has a beginners slope.
"Even though it's the tallest mountain, the slopes are gentle and gradual," Hays said.
Hays noted that snow is already on the mountains surrounding Garmisch. With snow cannons available to spray a layer of powder on the slopes if necessary, Edelweiss will ensure the runs are ready for skiers throughout the season, he said.
Veteran skiers to Garmisch will notice improvements to the town's skiing infrastructure that include new high-speed, four-person lifts with heated seats; new ski runs and enhanced snow-making capacity. The upgrades were made in preparation for the International Ski Federation's Alpine World Ski Championships, held in February.
In addition to the numerous slopes in and around Garmisch, Edelweiss offers its guests the use of its private slope at the Hausberg Sport Lodge, which will open during Thanksgiving weekend.
"The slope goes right down in front of the [sport lodge's] restaurant," Hays said. "It's what we call our backyard."
Edelweiss serves Department of Defense personnel and their families and is the only ski school licensed by the Professional Ski Instructors of America.
Ski programs are offered as two-, four- and five-day packages, Hays said, but guests can choose to do one-day lessons any time throughout their stay, with beginner specials starting at $99. It also has a ski program for children as young as 5 years old.
Parents can take advantage of the resort's Kids Night Out program every Tuesday, Thursday and Saturday. Children ages 5-12 are entertained from 6-9 p.m. while parents are free to enjoy their own night out. The evening costs $25 for the first child and $20 for each additional child.
Edelweiss is offering a 25 percent discount on room rates, including breakfast, from Jan. 8-31, except during the Dr. Martin Luther King Jr. holiday weekend. Room prices vary, depending on military or civilian rank and disabled-veteran status.
The lodge features 330 rooms and suites, conference center, multiple restaurants, indoor pool, wellness center, guided recreation, tours, video game rooms, Internet lounge, underground parking and campgrounds.
Ski and snowboard packages are available all season at Edelweiss Lodge and Resort, www.edelweisslodgeandresort.com. They include professional instruction, transportation, lift passes and equipment rental. Room and meals are extra. • Five-day program: Adults $419, youths and children $329.• Four-day program: Adults $349, youths and children $269.• Two-day program: Adults $189, youths and children $169.
rogersbd@estripes.osd.mil
---
---
---
---