Welcome home 172nd Infantry Brigade: With Iraq violence down, 2-28 focused on training, rebuilding
---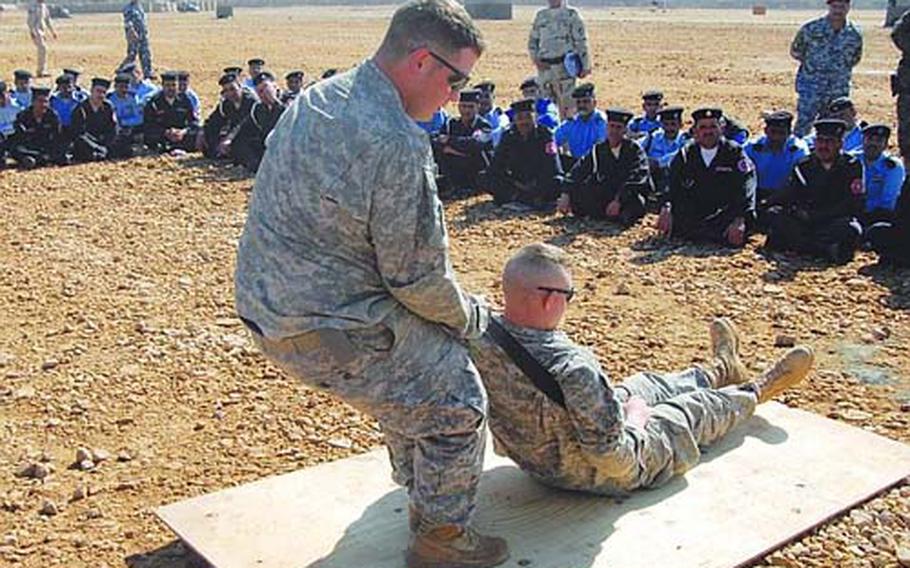 Editor's note: Lt. Col. John Reynolds, commander of Task Force 2-28, was the only battalion commander from the 172nd who did not provide an interview to Stars and Stripes for the Welcome Home publication. The remarks by Reynolds in this article were made during an interview in June while he was deployed.
GRAFENWÖHR, Germany — A drastic fall in violence meant soldiers from Task Force 2nd Battalion, 28th Infantry Regiment — when they weren't training local security forces — spent much of their yearlong mission to Iraq supporting U.S. civilian experts who were helping rebuild the country.
The civilians, who included experts from various U.S. government agencies such as the State Department, U.S. Agency for International Development and the Department of Agriculture, worked in provincial reconstruction teams.
Jeff Daigle, public diplomacy officer with the Babil PRT, which worked with 2-28 and was based in the town of Hillah, said in June that the PRTs' function was to assist with reconstruction of the provinces.
"They provide technical assistance and advice (to Iraqi authorities), use American aid money to fund projects and focus on governance, rule of law and economic development," he said.
The Babil PRT included dozens of civilian personnel on one-year deployments and a handful of U.S. military staff. It was involved in projects ranging from building farmers markets to road construction, such as the refurbishment of the main street in the provincial capital of Hillah, Daigle said.
The PRT set up a pilot project to establish computer laboratories in primary schools, worked with beekeepers to process honey to international standards and brought 250,000 fingerling carp from Hungary to stock local fish farms, he said.
Lt. Col. John Reynolds, commander of Task Force 2-28, and his 1,200 soldiers supported PRTs in Babil and Karbala provinces.
Reynolds, who has five university degrees and is as comfortable talking about black holes and time travel as he is discussing infantry tactics, set up task force headquarters at an old hotel in Hillah shared by the PRT.
The two provinces that Task Force 2-28 was "responsible" for used to fall under three brigades, he said during an interview in June.
"What does responsibility mean? We have the responsibility for assisting two provinces' security forces and two provinces' worth of PRTs," Reynolds said at the time.
The task force provided the PRTs with security when members moved throughout the provinces. It also provided them with links to the Iraqi security forces, he said.
Reconstruction projects were dictated by what Iraqi security leaders and the Iraqi government wanted, he said.
"It might be nice to create a school on every block, but that's not what the locals want," Reynolds said at the time. "They want to focus on electricity. They want transformers."
Task Force 2-28 included soldiers with civil affairs skills who could help with the sort of reconstruction projects that PRTs were involved in. Medical personnel assigned to the task force held clinics for their Iraqi counterparts, Reynolds said.
"They taught emergency care techniques over five days at Babil hospital … and at Karbala hospital," he said.
The work of the PRT paid dividends in improved security, he said.
"This is the most stable this country has been since 2003," he said. "I can eat ice cream at the shops or sit and drink tea and talk politics with the Iraqis without my battle rattle."
Iraqis have dealt with Americans for more than five years, Reynolds added.
"The population here knows us. They understand our culture and we understand theirs," he said.
Capt. Nicholas Sinclair, who commanded Company C, 2-28 in Iraq, said PRT projects were a big part of his mission near the town of Mahawil in Babil province.
All the PRT projects in the company's area of operations involved soldiers from the unit, who ran missions to transport the PRT civilians to sites outside the wire, he said.
The projects were an important factor in security, added the 28-year-old East Point, Mich., native.
"When a school goes up or a market opens, the Iraqi people need to see that Captain Sinclair, Company C, 2-28, U.S. Army was instrumental in bringing us this. As long as the environment stays safe, you will see these projects," Sinclair said in June.
Company C helped the PRT restore a run-down neighborhood, improve dairy farming techniques and clean up irrigation canals, he said.
The projects typically involved members of the Babil Provincial Council, local tribal leaders and members of the Iraqi Security Forces, he said.
When the 2-28 soldiers weren't working with the PRTs they were training Iraqi security forces in places such as Karbala, one of Shiite Islam's holiest cities.
Sgt. Raul Moncada, a Task Force 2-28 soldier, was killed in action April 13 in an explosively formed penetrator attack in Karbala.
First Lt. Sean Eidsness, of the 563rd Military Police Company, which fell under 2-28 in Karbala, said Moncada was one of several soldiers injured in the attack that took place as soldiers were heading to conduct training at a local police academy.
The soldiers were traveling in a heavily armored Mine Resistant Ambush Protected vehicle in a rural area surrounded by palm groves east of Karbala, said the 36-year-old Brookings, S.D., native, who was on the patrol.
"We think there were five to seven EFPs in the device. It was hidden in a dirt mound," he said.
The EFPs penetrated the thick armor of the MRAP and sent shrapnel ricocheting around inside shattering a female soldier's hand and damaging one of her eyes. Shrapnel pelted other soldiers' backs and legs, leaving one of the wounded with a severe concussion, Eidsness said.
After the blast, Iraqis came out of nearby houses on both sides of the street to see what had happened, he said.
Soldiers didn't know if the bomb was detonated by wire or a radio controller, Eidsness said, adding: "We never saw the trigger man."
Related stories:
1-77 brought the big guns, but rarely fired them
Bringing back Balad Ruz: Area swept of al-Qaida in grueling battle
1-2 soldiers tasked with getting Iraqis autonomy
Despite new restrictions, battalion kept traveling to supply troops
With Iraq violence down, 2-28 focused on training, rebuilding
---
---
---
---