Welcome home 172nd Infantry Brigade: Despite new restrictions, battalion kept traveling to supply troops
---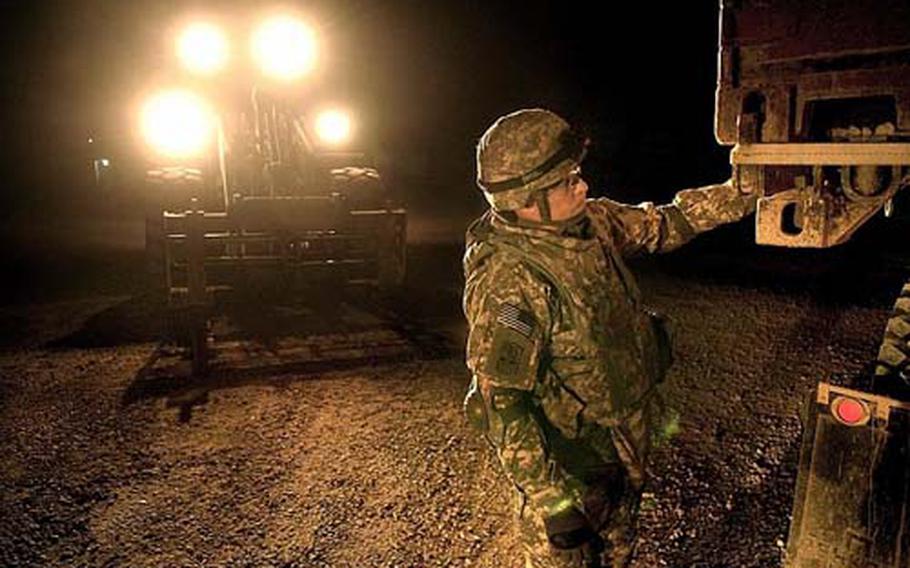 GRAFENWÖHR, Germany — While many soldiers found themselves restricted to U.S. bases as Iraqis took the lead in securing their nation, personnel from the 172nd Support Battalion carried on business as usual, moving supplies for thousands of soldiers across five Iraqi provinces.
The battalion commander, Lt. Col. Kenneth Kelley, 42, of Nashville, Tenn., said 430 soldiers in the unit were spread among the Kalsu, Delta and Echo forward operating bases; Joint Base Balad; Baghdad International Airport and facilities in Kuwait during a yearlong mission.
The 172nd Infantry Brigade began its deployment with an area of operations that took in only a part of Babil province, south of Baghdad. The brigade eventually took responsibility for five provinces covering more than 24,700 square miles.
While many members of the brigade found themselves training Iraqi soldiers and police on post, support battalion soldiers continued missions outside the wire, Kelley said.
"Even though we are a support unit, we were the first guys who had engagements," he said in October shortly before the unit was scheduled to leave Iraq. "We are still doing our war zone missions."
The support battalion conducted more than 250 combat logistics patrols covering more than 64,000 miles on the road. Toward the end of the deployment, the unit helped push a vast quantity of equipment out of Iraq as the U.S. prepares to withdraw combat forces from the country, Kelley said.
"We have processed and are moving south 33,000 different pieces of equipment," he said.
The battalion's convoys supplied soldiers with food, water, repair parts and ammunition, although there was far less ammunition used than on previous deployments, he said.
Kelley took over as battalion commander part way through the mission, after his predecessor was called home following the death of a family member inSchweinfurt, Germany. The tragedy affected many members of the unit, but it didn't affect the mission, Kelley said.
"There was a lot of work by the families to get closure back in Schweinfurt and deal with that loss. It was probably harder on them than the guys (downrange)," he said.
In addition to the convoys, support battalion mechanics completed 8,100 maintenance jobs and its medical company treated 1,500 patients, he said.
In August, the battalion lost its first soldier in combat when Pfc. William Z. Van Osdol was killed by indirect fire on his quarters in Diwaniyah.
Kelley, who has deployed to Iraq four times, said support battalion convoys were struck two or three times each month by roadside bombs but that the level of violence was well down from past deployments.
Of those earlier deployments, he recalled, "We were getting hit two or three times a night in Baghdad."
Spc. Candice Witherington, 35, of Wilmington, N.C., a mortuary affairs specialist with the support battalion, said that in the aftermath of Hurricane Katrina in New Orleans she helped process hundreds of bodies and expected to deal with dozens on her first deployment to Iraq.
However, because there were only a few casualties, she didn't deal with any remains. She did, however, help send personal effects back home, she said.
"It's an emotional process, [but] our creed is dignity, reverence and respect," she said.
Spc. Victoria Waltho, 21, a support battalion member from Menomonee Falls, Wis., worked as a health care specialist at a medical facility on FOB Kalsu.
Waltho said the most memorable patient she helped treat was an Iraqi schoolboy with head injuries from a vehicle accident.
"We tried very hard in our care of the patient," she said. "I was proud of what we had done. We were able to save his life and move him quickly onto a more advanced care facility. … The last I heard he survived and is recovering very well," she said.
Kelley said the fact that the unit saw so little combat downrange was frustrating for some battalion members.
"For some soldiers it had resulted in boredom," he said. " 'I'm here in a combat zone but I'm not really in combat.'
"I think that's a good thing."
Related stories:
1-77 brought the big guns, but rarely fired them
Bringing back Balad Ruz: Area swept of al-Qaida in grueling battle
1-2 soldiers tasked with getting Iraqis autonomy
Despite new restrictions, battalion kept traveling to supply troops
With Iraq violence down, 2-28 focused on training, rebuilding
---
---
---
---