Weissenstein Palace: A fine museum near Bamberg
by
Dan Blottenberger
June 28, 2010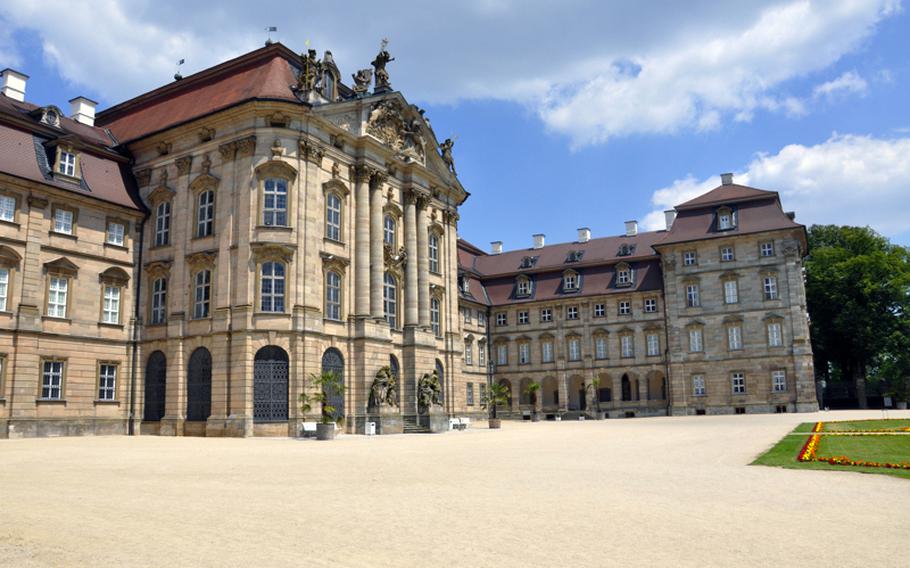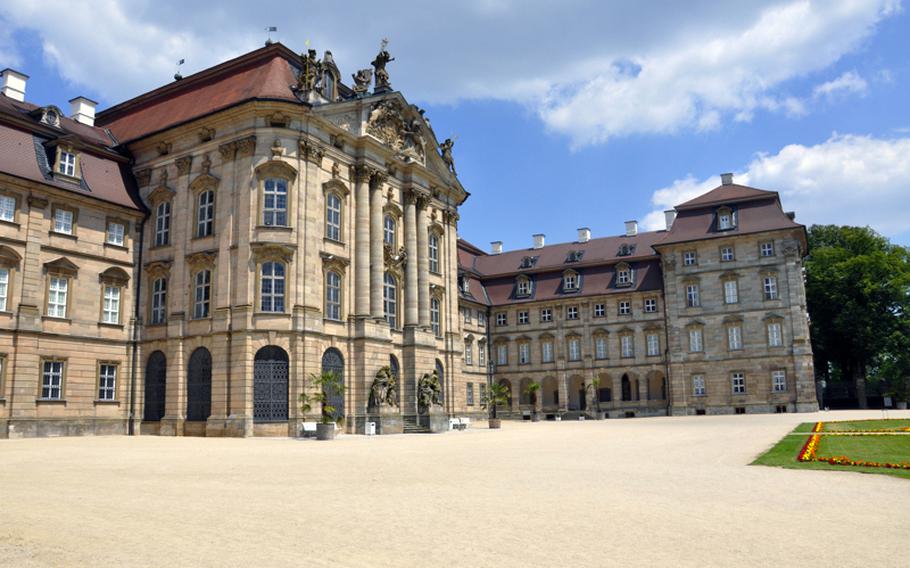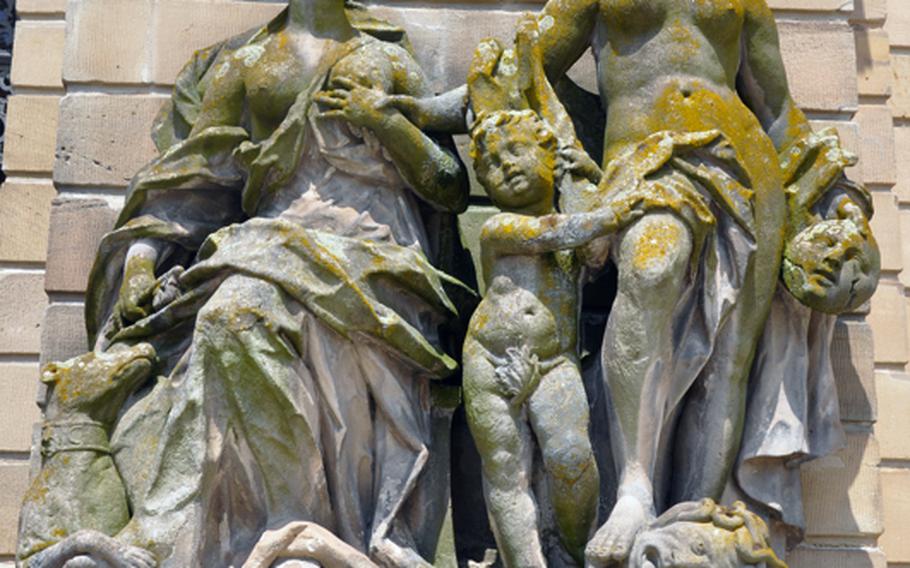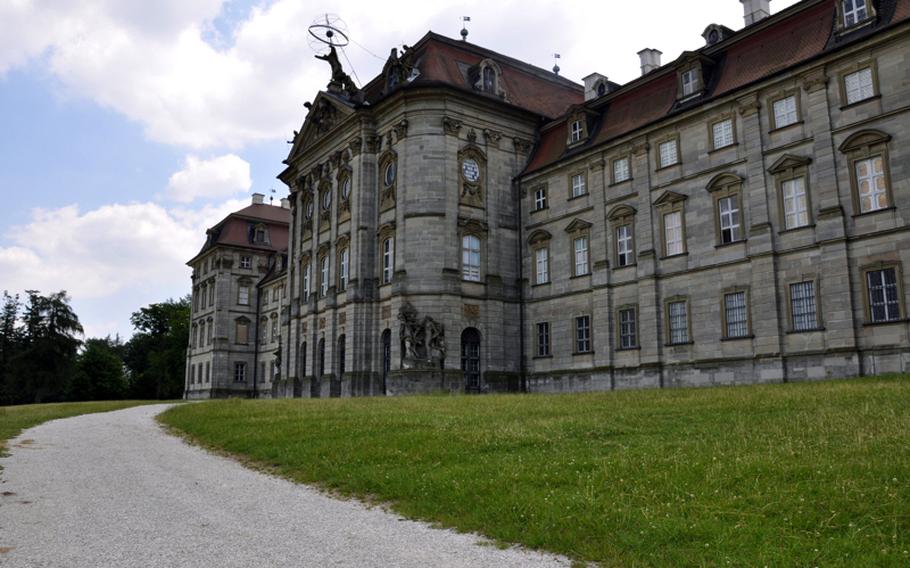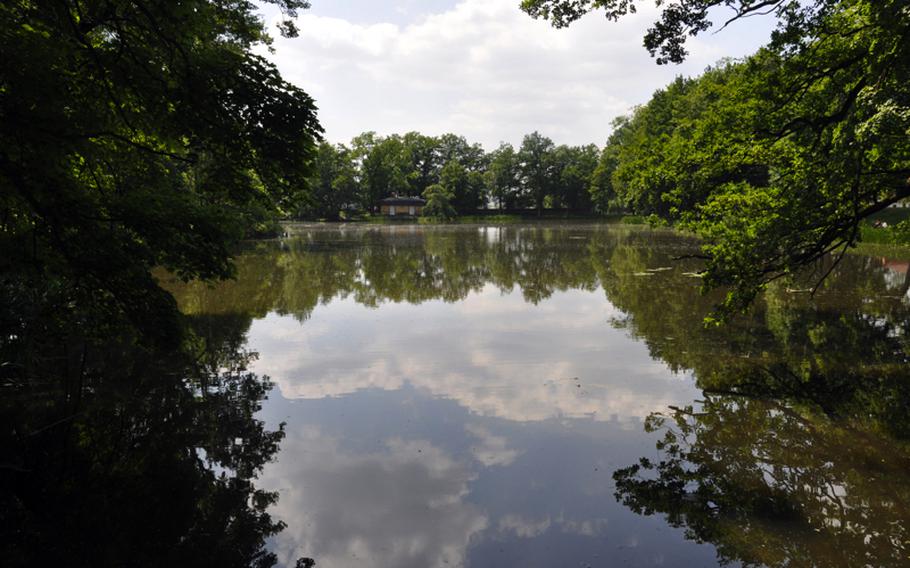 Motorists driving on the Würzburg-Nuremberg roadway might have noticed in the distance the monster building known as Weissenstein Palace.
But despite its enormous size, this palace is no monster. It is a majestic piece of art from the Franconian baroque period that holds many smaller works of art.
The palace was built between 1711 and 1718 for Lothar Franz von Schönborn, archbishop of Mainz and prince bishop of Bamberg from 1693 until 1729. He had several residences — in other words, this guy was filthy rich — and this one served as a summer residence.
During his youth, Lothar Franz traveled extensively. In each place he stopped, he would examine the art and architecture of that land, and brought some of it home with him. Samples of that art are on display at the palace, locted about a half-hour from Bamberg.
The palace must be seen as part of a tour, which takes about one hour. It is a little rushed, but with all the rooms the guide has to get through, that is understandable. Photographs are not allowed inside.
Lothar Franz had more than 2,000 paintings hanging from the walls in each room, including more than 600 from the baroque period — late 16th century to the early 18th century — giving it the claim of the largest private baroque art collection in Germany. The paintings combined with the building's fascinating architecture will have you gasping with amazement as you enter each of the score of rooms on the tour.
The tour guide will say that to understand the art of the palace, you will first have to understand Lothar Franz.
The bishop was well-liked because he was extremely kind and had a great humor and spirit. Both can be seen through the many paintings showing either religious stories or chubby half-naked cherubs and people celebrating in some way or another.
There are several statues and pictures of Lothar Franz himself throughout the palace. He can be distinguished by his double chin and a cross hanging from a necklace he wore symbolizing that he was a Catholic.
Many of the larger rooms in the palace reminded me of cathedrals with the vast ceilings shooting straight up to the sky. You will have to remember to do some neck stretches prior to entering each room to prepare yourself for the long stares upward.
The palace is a piece of art in itself and must have made for an exceptional summer home. It includes an outdoor courtyard that now holds a flower garden and cafe that encourages vistors to dine and relax amid the years of German history surrounding them.
The palace grounds also have a nature park where deer graze in abundance. A few will play games and chase one amother throughout the park while you are enjoying the peaceful scenery.
Lothar Franz died in 1729 at age 74, yet as you stand in front of his large palace, you can almost sense him looking down on you, pleased in your amazement of his masterpiece.
Direcitons: Weissenstein Palace is near the village of Pommersfelden, about a 30-minute drive from Warner Barracks in Bamberg. Take B22 toward Coburg and exit toward Würzburg. Stay on this road for about 11 miles before you see the sign for Schloss Weissenstein. Follow the signs down a country road until the massive palace appears. There are two parking lots; usually you can skip the first at the bottom of the hill and park right in front of the palace, saving you a small walk.
Times: The palace is open 9:30 a.m. to 5 p.m. daily from April to November.
Costs: The tour of the inside of the palace costs 6 euros for adults, free for children 6 and younger; there is also a family package for two adults and one child younger than 18 for 16 euros. The nature park costs 1 euro for adults and 50 cents for children. It is free to walk around the courtyard.
Food: The cafe in the courtyard serves food and beverages. There is also a cheaper restaurant across the street.
Information: Tours are in German, but written guides that you can read as you follow the tour group are also available. Tours in English can be arranged by calling ahead; there must be at least 20 in your group, and they will be charge 5 euros each. Photos are not allowed inside the palace during the tour, but can be taken from the outside and in the nature park. Telephone 09548-98180 or email: info@schloss-weissenstein.de.
---
---
---
---