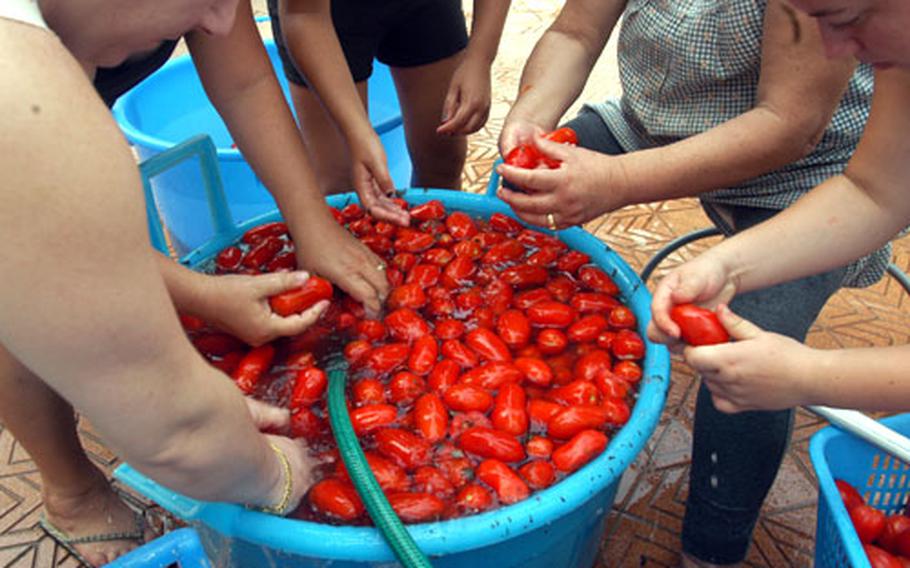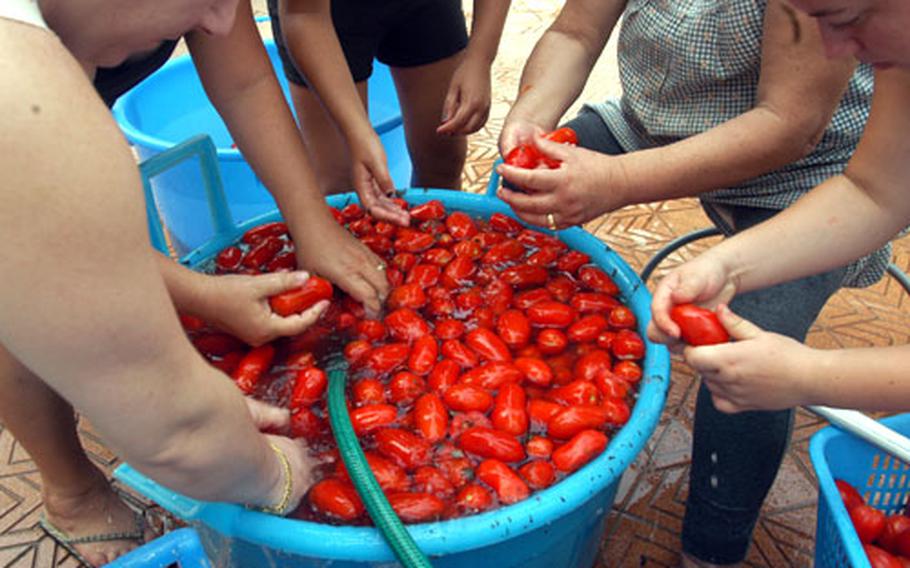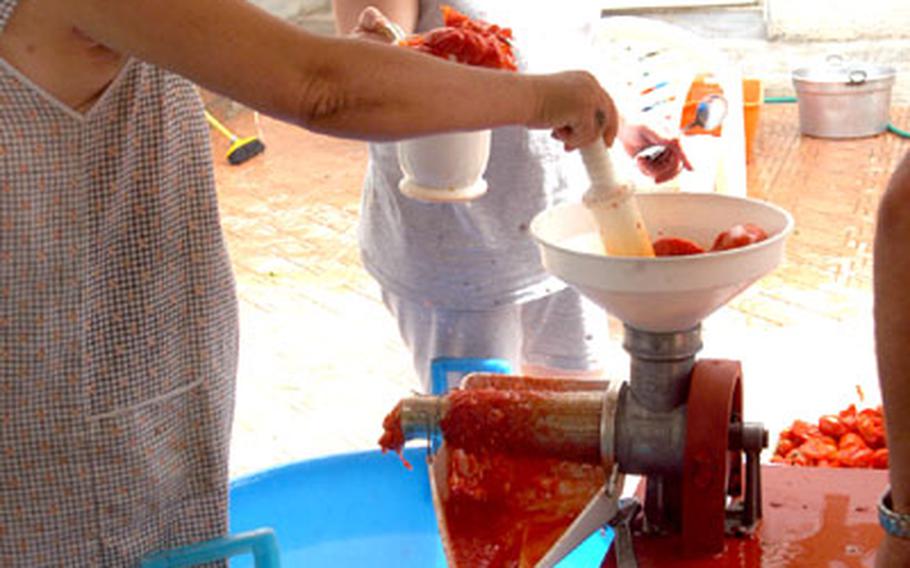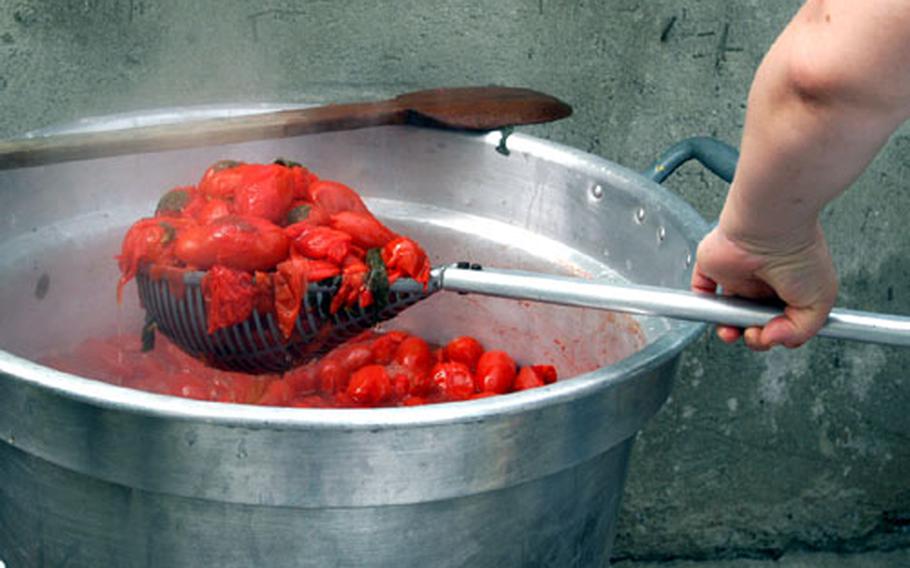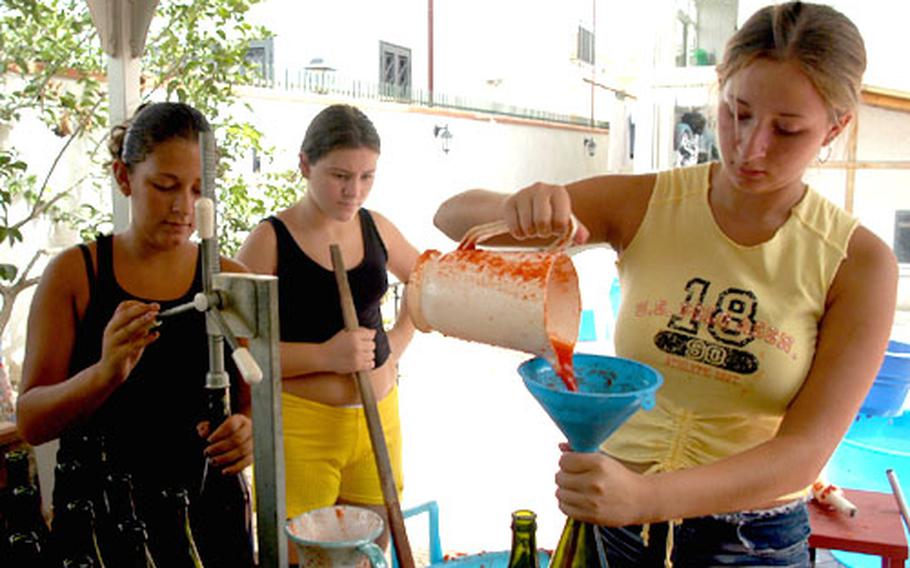 NAPLES, Italy — When an Italian family bottles tomato sauce, they don't waste any time in the kitchen.
There just isn't any room. It's definitely a job for outdoors.
On a recent morning, nine of us stood before an imposing 16 crates (about 650 pounds) of San Marzano tomatoes and a few crates of smaller ciliegio tomatoes.
The elongated San Marzano tomatoes were to be used for 140 wine bottles of passata di pomodoro, tomato sauce for pasta, pizza and soup. The ciliegio (cherry) tomatoes were destined for 80 Mason jars of pelati, a chunky mixture used in pasta and fish.
Laborers for the day were Italians and Americans ranging in age from 12-year-old Caterina Pollio to her grandmother, Caterina Palumbo, 63.
The nonna, grandmother, has made homemade passata and pelati since childhood.
"It's something people who live in the country do," Caterina Palumbo said. "It's more fresh and there are no preservatives."
The popularity of tomatoes in the Italian cuisine dates from the 1800s. The first recipe for pasta with tomato sauce reportedly appeared in Naples in 1839.
The tomatoes of choice for the best flavored, smooth sauce are the San Marzano variety, in season in August and September.
Chefs and Web sites praise the plum tomatoes, grown in the shadow of Mount Vesuvius. Their lower acidity results in a taste so rich there is no need to add sugar. Drier than round tomatoes, they are firm and meaty with few seeds.
Preparing the 300 kilograms of tomatoes for the passata was the most tiresome part. It's an important step, though, as one bad tomato can ruin the bottle. Any bruised spots or white areas that smell like vinegar must be cut out.
As we sorted through the bright-red tomatoes in a back yard outside of Naples, a few bugs crawled out of the crates. Pesticides aren't used on the crops, so the produce is very natural.
Everyone gathered around the tubs, rinsing off the tomatoes. And they had a bit of fun during the repeated washings, giggling as they squirted each other with the hose.
One of Caterina Palumbo's daughters, Carmela Pollio, 36, lugged the tomatoes to a large vat, piling on fresh basil leaves and salt and putting enough water in the bottom to boil. Using a 3-foot-long wooden spoon, she occasionally stirred the mixture. The aroma of cooked tomatoes and basil filled the air, attracting the family dogs, which were repeatedly shooed away.
After the mixture boiled 10 minutes, the mushy tomatoes had released a lot of juice. Pollio strained them and set them aside until a couple of hours later, all the San Marzanos were cooked.
The squishy tomatoes were a bit too tempting for the kids, and red goo smacked a few in the face in a mini food fight.
The cooked tomatoes were pressed into a tomato crusher that spit out sauce on one side and skins on the other. The sauce was funneled into wine bottles and sealed.
Next up was the pelati, a much easier task. After the overly wrinkled and mushy ciliegio tomatoes were tossed out, the remaining ones were rinsed well. We poured them into Mason jars after dropping a large fresh basil leaf in the bottom of each jar. The jars were sealed after an inch of passata sauce was poured in.
The 140 wine bottles and 80 Mason jars were boiled for two hours to cook and seal the sauce.
The supply should last Caterina Palumbo and her nine children and their families for a year. The bottling experience is not only a fun family get-together passed down through generations, but the results are worth the day's work, she said.
"It's original and it's good."
Passata di pomodoro
This tomato sauce is for pasta, pizza and soup.Fresh San Marzano tomatoesFresh basil leavesSalt, to tasteWine bottlesCut out the tomatoes' bad parts (any dark bruising or white spots that smell like vinegar) and rinse well. Put in a pot and add the basil and salt. Add enough water to boil at the bottom. Once it starts boiling, cook uncovered for 10 minutes, stirring occasionally.
Drain the tomatoes and put them through a tomato press that spits out sauce on one side and the skins on another. Put the skins through twice more to get as much sauce as possible. At this point, if you want to use the sauce immediately, cook for 10 minutes with onions and spices.
If you want to use it later, funnel the sauce into wine bottles, leaving about an inch at the top. Seal with a bottle sealer.
Cover the bottom of a large pot with a cloth and stack the bottles lengthwise inside, putting cloth between every few layers of bottles. Fill pot with water and cover. Boil for two hours. Let the water chill completely before removing the bottles. Store in a cool place. Sauce will keep for more than a year.
Note: 10 kilograms of tomatoes yields about 5 liters of sauce. For every 10 kilograms, use one big bunch of basil (about 50 leaves) and 100 grams of salt. San Marzano tomatoes are native to southern Italy. They are similar to roma tomatoes but have a different taste. Experiment with different types of tomatoes until you find one you like.
Uses: For pasta and pizza sauce, cook with onions and spices.
Bolognese for four people: Sauté 1 chopped white onion in extra virgin olive oil. Add 1 chopped carrot and ½ stalk celery, cook for a few minutes. Add about a pound of ground beef. Fry it all together until cooked. Add 1½ wine bottles of passata and cook for 20 minutes. Pour on penne, sprinkle with Parmesan cheese.
Ragu for four people: Sauté 1 chopped onion and 1 clove of garlic. Add large chunks of beef and pork, and a bit of white wine. Cook until light brown. Add two bottles of passata and cook on low for an hour. Pour on rigatoni, add Parmesan and ricotta cheese.
Pelati
The tomato chunks and sauce are good for pasta and fish.Fresh ciliegio tomatoesFresh basil leavesPassata di pomodoroMason jarsPut a large basil leaf in the bottom of a Mason jar, fill with tomatoes and another small basil leaf. Add about an inch of passata sauce. Tightly seal. Follow the same steps as above for boiling the jars.
Note: Cherry tomatoes in the States may be too sweet for this, compared with the ciliegio tomatoes in Italy.
Uses: Sauté garlic, add pelati and pour on fish, or use on pasta with spices.
Penne all'arrabiata for four people: Sauté 2 cloves of garlic in extra virgin olive oil. Add slices of cut-up pancetta (similar to bacon). Sauté together until garlic and pancetta are very light brown. Add hot peppers, pelati and salt to taste. Cook on low heat for 10 minutes. Pour on penne. Add Parmesan and basil, if desired.
---
---
---
---