Tokyo Game Show 2009 shows visitors a good time, but not much that's new
by
Hana Kusumoto
October 4, 2009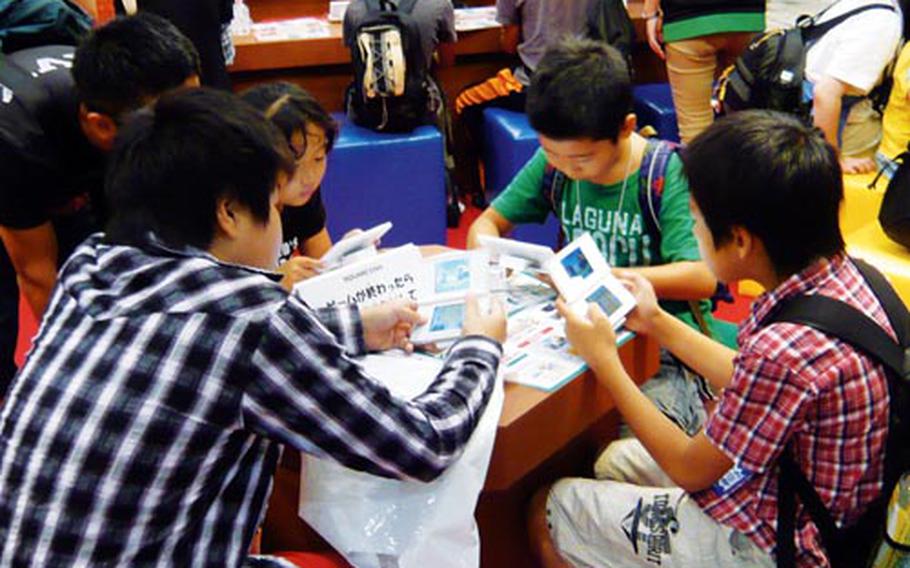 More than 150,000 gaming enthusiasts flocked to the largest video gaming event in the world Sept. 24-27 to check out the latest offerings.
Tokyo Game Show 2009, held at Chiba Prefecture's Makuhari Messe convention center, featured 180 exhibitors from around the world displaying 758 games.
The show had fewer exhibitors and large-scale displays than in previous years. Big industry announcements are often made at the shows, but there were no surprises this year.
Sony Computer Entertainment chief executive Kazuo Hirai gave a keynote speech on Thursday emphasizing the success of the company's PlayStation consoles. He also showed off the PlayStation 3 motion controller to be released in March. The motion controller will be used with a USB camera, PlayStation Eye, which detects the movement by the players and shows it on the television screen.
"There's not much coming out of this convention," said Marco Reumann, a gamer visiting from Germany. "I thought they would save some of their secrets for this. That said, it's a lot of fun."
"It's a lot less packed than last year," said Senior Airman Michael Koble from Yokota Air Base outside Tokyo, making his second trip to the event. "This year, there are a lot less games to look forward to."
But that didn't stop people from waiting more than an hour to try their hand at the industry's newest attractions.
The Tokyo Game Show highlighted many sequels of top-selling video games.
Among titles that drew a crowd were "Final Fantasy XIII" by Square Enix and Microsoft's "Halo 3: ODST."
Stars and Stripes reporters Hana Kusumoto, Grant Okubo and Tim Wightman checked out some of the games at the this year's show. Here's their take:
Final Fantasy XIIIPublisher: Square EnixPlatforms: PlayStation 3, Xbox 360Genre: Role-playing gameRelease: Dec. 17 in Japan; spring 2010 in the U.S.
In its first appearance on current-generation consoles, this popular role-playing game will not disappoint longtime fans of the series. The game features its trademark cinematic openings and shows off an immense level of detail. Fans will be blown away when they see how intricate the characters and backdrop are.
In this latest version, players will have a chance to follow the adventures of gun/sword-toting heroine Lightning and her merry mix of misfits as they set off on a journey through the world of Cocoon and Pulse.
Players will notice some differences in the game play of this current adaptation. The battle system has been slightly tweaked. Players may or may not like the fact that they will only be able to control one character at a time. In past games, players controlled the entire party in battle. In any event, "Final Fantasy XIII" is a monster of a game.
— Grant Okubo
Tekken 6Publisher: Namco BandaiPlatforms: PS3, Xbox 360Genre: FightingRelease: Oct. 27Xbox 360 owners have something to cheer about as this one-time Sony exclusive title makes its way to both game systems.
Players will have access to the game's full library of 40 characters, which is its largest yet. The characters and the backgrounds in the game look great. The stage for the game is bigger as fighters can now break down walls to reveal new fighting areas. The gameplay remains relatively similar to previous versions.
Players can play in the game's "Scenario Campaign," which is an alternate mode that allows players to move freely on the screen between fights until encountering the group of enemies. Personally, I found the alternate mode to be unnecessary and preferred sticking to playing it as the pure fighting game that it is.
— Grant Okubo
Forza Motorsports 3Publisher: MicrosoftPlatforms: Xbox 360Genre: RacingRelease: Oct. 27
If you like sleek cars and realistic handling, perhaps this is the racing simulation game for you.
For many Xbox users, the Forza series has quickly raced its way near the top and stacks up well against the likes of "Gran Turismo 5."
The game offers more than 400 vehicles to race and 100 real-world tracks and exotic locations from around the world. The cars themselves outshined the overall background. The cars really looked like the real thing. The tracks seemed pretty standard, and the one I got to race on was fairly simple to navigate. The game captured the realism of driving and drifting the track as well. Playing on the large three-monitor station armed with its very own hydraulic seats certainly added to the enjoyment.
— Grant Okubo
God of War IIIPublisher: Sony Computer EntertainmentPlatforms: PS3Genre: ActionRelease: March 2010
Kratos, the god-smiting antihero, is at it again toting his Blades of Chaos, which I took pleasure in wielding as I thrashed my enemies. In this single-player game, Kratos sets out to take out the Greek gods.
This game is definitely not for children or the faint of heart as it delivers the game's trademark action and violence. There is plenty of blood to go around, and the action can get quite engrossing.
The controls are relatively easy to use, and I found many effortless ways to kill the enemies. You'll be able to trash your enemies, shoot flaming arrows from your crossbows or glide across a ravine on tattered wings. All of which make this game an enjoyable one.
— Grant Okubo
Lost Planet 2Publisher: CapcomPlatforms: Xbox 360, PS3, PCGenre: Third-person shooterRelease: December
All who played "Lost Planet 2" spent their 10 minutes fighting the same giant salamander with orange spikes, crawling around in circles as they and three others emptied round after round into whatever part of it they could hit. The thing would not die. Not only that, but your life meter dwindled by the second and it wasn't clear (to me at least) exactly how or why that was happening.
This was the only glimpse into Planet that gamers had. Granted, the crystal-clear graphics and rich blues and purples were terrific. And maneuvering around the beast for a better shot gave you a lot of time to take in the terrain. You half expected the tall blades of grass on the flat screen to cut your real-life arms. And the beast itself is officially the coolest video game monster I've ever seen. They clearly picked the right scene for gamers to get killed over and over in.
The sequel to "Lost Planet: Extreme Conditions," the third-person shooter, allows for hundreds of different options to customize your character and weapons. It also features a reward system for assisting teammates as well as rankings for online play.
— Tim Wightman