'Tiger Woods PGA Tour 11' above par again
by
Dan Crabtree
June 9, 2010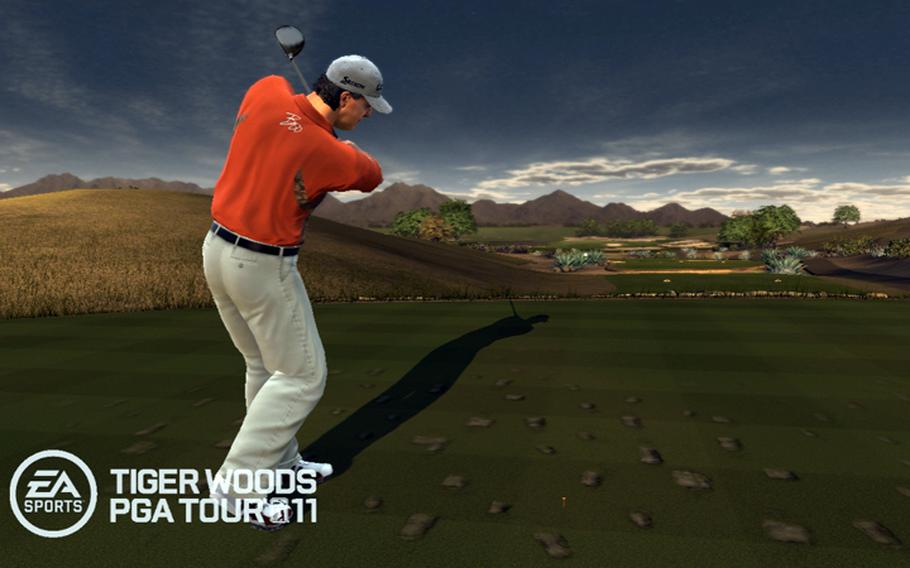 Not all golf simulations are created equal, and "Tiger Woods PGA Tour 11" proves it.
Without reinventing golfing video games or sports title athlete progression systems, it manages to upgrade the already solid experience of previous games in the series and add a few shining touches, such as improved graphics and experience upgrades, which combine to offer a rightfully challenging and rewarding virtual duffer's dream.
Not to overstate the obvious, but "Tiger Woods PGA Tour 11" is a golf game. That means if you are going to enjoy this title, you have to exercise the patience necessary to play a golf game, which in this case is fairly substantial. With "11," not only the graphics have been sharpened (including some new lighting and hair effects), but the somewhat difficult nature of playing golf to begin with has also become more realistic. Even turning the difficulty down to the easiest setting doesn't eliminate the inherent need for some deft skill with the left joystick, which functions as your club throughout. Shots are hit by pulling the stick down for a backswing, then timing the push up for the desired power of the forward swing. It's fairly simple to swing at 100 percent the majority of the time, but anything less becomes a trial in precise degrees, and one that takes a long time and a steep learning curve to master. Putting can also offer a tough up-front challenge in that a deep familiarity with the game's greens physics is required to pull off successful medium- to long-range putts, which will undoubtedly make up the majority of putts at first.
Noting the steep difficulty, "11" also rewards players for rising to the challenge in the form of experience points. These points will apply to your create-a-golfer, who can be customized for appearance as well as equipment and skills. Unlike previous titles, there aren't multiple currency systems. Instead, doing just about anything ranging from landing a tee shot on the fairway to taking 32nd place in a PGA Tournament Event will net your golfer some experience that will likely go toward beefing up his/her miserable starting stats. Don't be surprised if it takes this character a while to really get going. Practice makes perfect, right?
The focus of this Tiger Woods game, despite what the title may allude to, is actually the Ryder Cup, an age-old battle for prowess between British and American golfers. Players can choose which side to play for, though with a few of the most stacked players (statistically) being on the American side, the choice is practically already made. This tournament will take place on the scenic Celtic Manor course, on which, as with all the other fairways, greens, sandtraps and roughs are authentically reproduced along with some interesting wind and water effects.
Two new elements in the stroke mechanics are the True Aim and Focus systems. True Aim basically just makes the game a little tougher by giving the player only the view that the average golfer would have: from eye level where his/her ball lies. While a map can be pulled out to show yardage on the hole, this is a far less interactive and more authentic way to approach virtual golf, if a bit trying. It's a fun mode to try out, but with the surprising difficulty of this game, regular aiming and viewing mode is probably the best choice. The Focus system can best be compared to a stamina bar, where points are expended for performing augments to the shot. These augments include increasing accuracy, affecting ball-spin, powering up a hit, or the costly putt preview. These are all balanced based on the difficulty, so beginners will be able to use a fair number of putt previews, whereas amateurs and pros really have to make some tough decisions about where to spend their hard-earned stamina.
"Tiger Woods PGA Tour 11" also sports a great online system that allows for daily posted player challenges and in-game point accumulation that adds to a total online score. Players can get together for intense 24-person team golf rounds, or just shoot the breeze on a relaxing 18. The point is, whatever can be done offline, aside from the skill challenges (a side objective-based game), can be done online and with friends.
And aside from a few freezes here and a graphical glitch or two there, the experience is nearly flawless.
EA Sports has clubbed up with this iteration of the series, and brought the world of video game golfing to a new level of excitement, challenge and realism that sets the standard for the genre.
Platforms: Xbox 360 (tested), PlayStation 3, Wii
On the Web: http://tigerwoodspgatour.easports.com/home.action
---
---
---
---