The Red Baron: Germany's greatest ace is honored by friend and foe
by
Peter Jaeger
October 10, 2004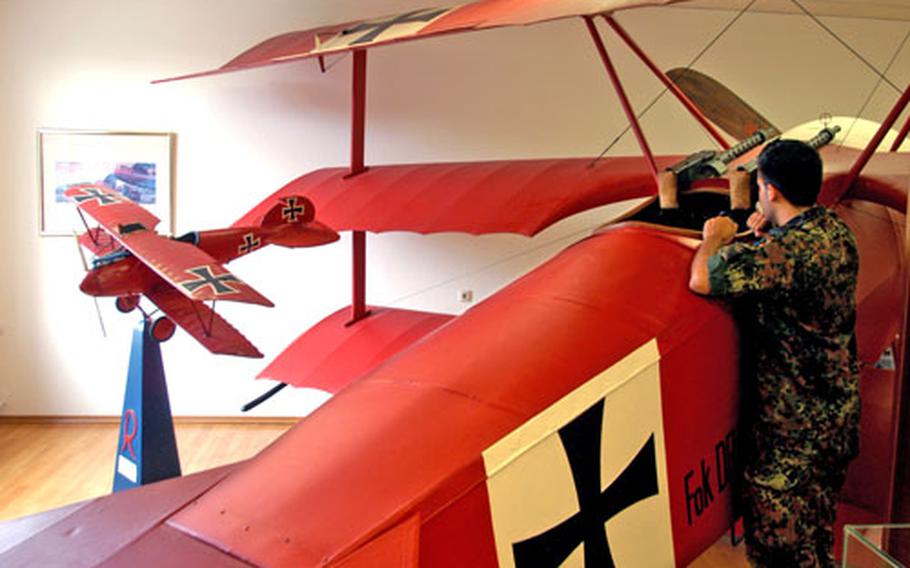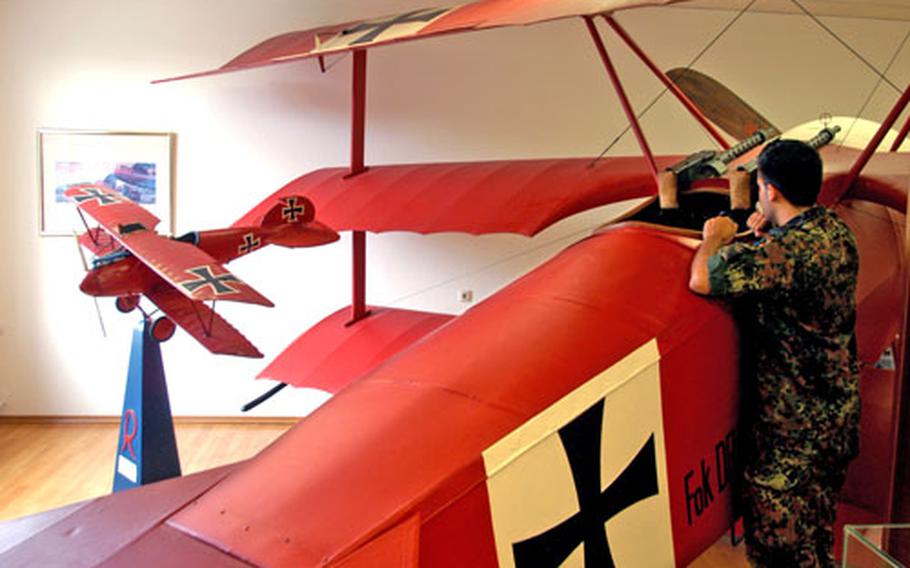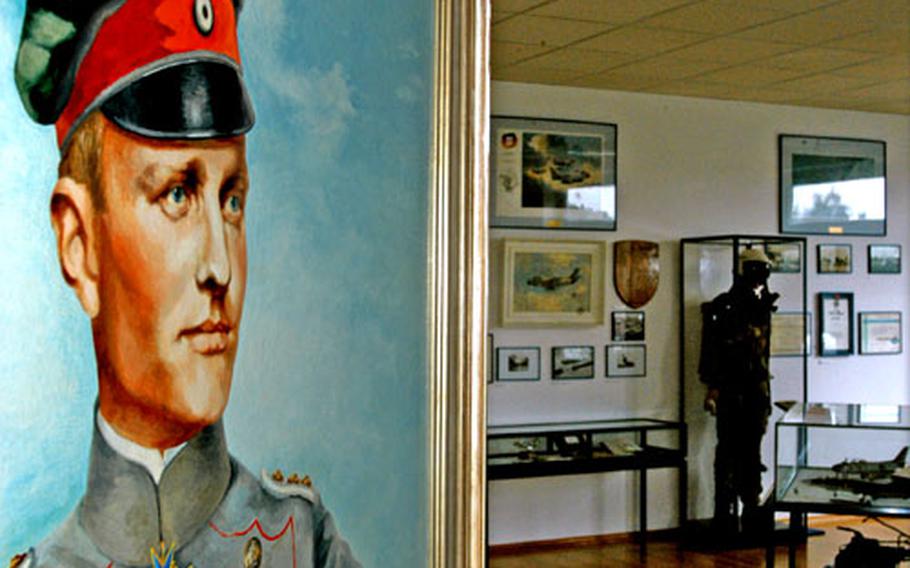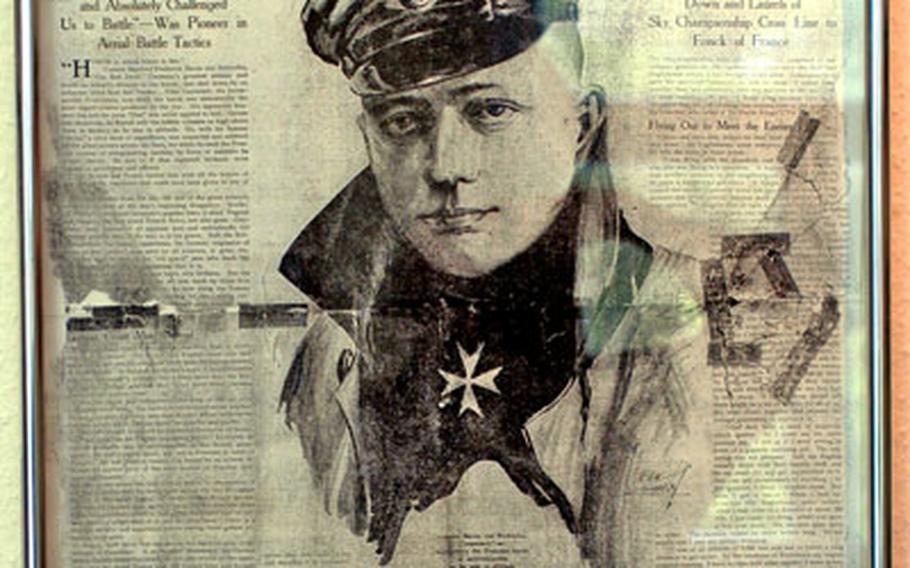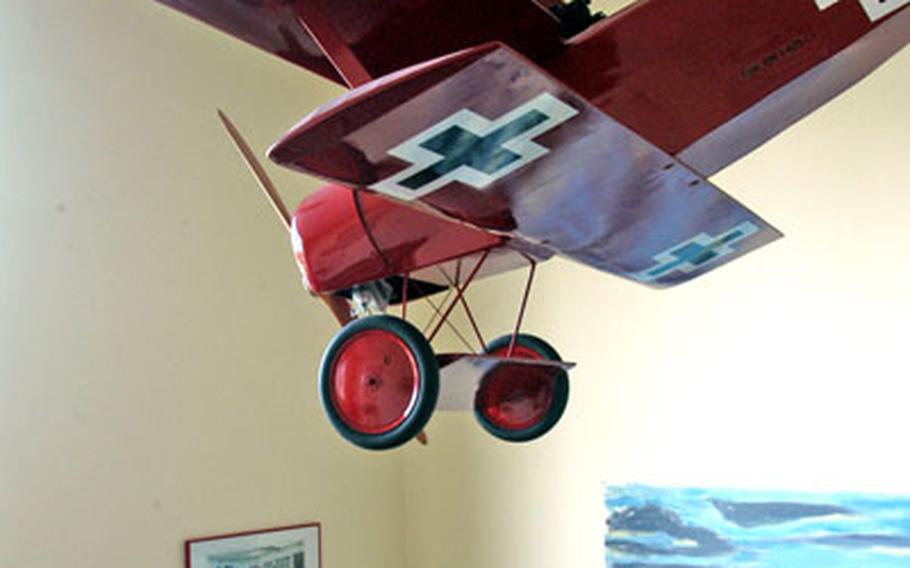 "Curse you, Red Baron!"
Admirers of the comic strip "Peanuts" remember their favorite beagle playing a World War I flying ace as he sat on his doghouse that was riddled with bullets by the famous German pilot, whom he never could best.
The full name of the "Red Baron" was Manfred Freiherr von Richthofen, the most successful pilot of all World War I aviators, with 80 air victories, according to the many books about the Red Baron.
The Richthofen family is still present in Germany. One family member works as a Lufthansa German Airlines pilot, said Heinz Nowak, a retired colonel and former commodore of the Richthofen Jagdgeschwader 71 (Fighter Wing 71) in Wittmund, Germany.
"He always gets a tremendous laugh when he addresses the passengers before a flight: 'This is your captain speaking. My name is Manfred Freiherr von Richthofen!' " said Nowak who was fighter wing commodore from 1989 to '93.
The "Red Baron" recalled his life and military accomplishments in his 1917 autobiography "Der rote Kampfflieger" ("The Red Battle Flier"). Born on May 2, 1892, of an aristocratic Prussian family in Breslau, Germany (now Wroclaw, Poland), Richthofen said he inherited an open and independent character. He described himself as loving to ride and hunt as a boy and he received numerous prizes for his riding ability.
His book goes on to highlight the beginnings of his military career: He entered the Prussian cadet corps and became a lieutenant in a cavalry regiment in 1911. When the Great War started in 1914, Richthofen first saw action as the leader of a reconnaissance platoon. But when the cavalry was seen as being obsolete, Richthofen turned to the Flying Corps.
In 1916 he met Oswald Boelke, at that time Germany's most successful fighter pilot, decorated with the Pour le Mérite for bravery, Germany's highest war medal and better known as the "Blue Max." Boelke not only was a flying ace, he was the commander of a flying squadron and a teacher of air tactics and fighting skills.
According to Richthofen's account, Boelke was so impressed with the young aviator's attitude, that Boelke had Richthofen transferred to his unit. Soon, Richthofen was his favorite student.
Staying close to Boelke in the air, Richthofen studied and adopted Boelke's flying and fighting techniques.
Flying an Albatross D II biplane on Sept. 17, 1916, Richthofen earned his first confirmed air victory over Cambrai, France. Later that year, on Nov. 23, he shot down the British ace Lanoe Hawker, often referred to as "Britain's Boelke." Hawker became Richthofen's 11th victim.
After 40 air victories, Richthofen's idol, Boelke, died in a collision during an air battle. Richthofen assumed command of Hunting Squadron 11, which included some of Germany's best pilots. He scored his 18th air victory in Jan. 1917 and received the "Blue Max."
He was promoted to Rittmeister (cavalry captain) and led his new unit to overwhelming success against the British Flying Corps. During April 1917, known as "Bloody April," the British lost 912 pilots.
Richthofen shot down four enemy planes in one day and scored 21 victories during that period, bringing his total to 52 confirmed victories. He was the new German idol, the ace of aces, the famed Roter Kampfflieger, as he was called in Germany after the title of his autobiography. While on a propaganda tour, he met with generals, society celebrities and even Kaiser Wilhelm II, and gave speeches to veteran clubs and school classes.
"He had the status of today's pop stars," Nowak said.
After returning to the front, he got his nickname "Red Baron" from the British, because he had painted his plane flaming red to emphasize his leading role in the squadron and to be easily recognized by his pilots. When it was rumored that the British had put a reward on the pilot of the red biplane, Richthofen's pilots also painted their planes red to protect their leader in air battles.
"Richthofen's Flying Circus" was born.
The title was given to the squadron not only because of its colorful appearance, but also because of its speed in showing up at hot spots on the Western front, rapidly moving its tents and planes to meet its battle needs.
While attacking several British planes in July 1917, Richthofen suffered a head wound that almost killed him, he wrote in his autobiography. He temporarily lost his eyesight and his plane dived toward earth. He managed to land the plane safely, but was hospitalized for several weeks. He suffered severe headaches for the rest of his life.
Richthofen noted in his biography that he became so popular that generals were afraid of losing him in air combat — they feared it would be a blow to German morale at the front and at home. He noted that they tried to order him into retirement and offered him a high position at the home front. Richthofen defiantly objected: "As long as the normal infantry man, the poor soul, suffers in the mud and danger of the trenches of the front, me the now famous and decorated individual cannot stay safe at home. I would feel lousy," he wrote.
He was determined to return to the front.
On Sep. 1, 1917, Richthofen scored his 60th victory, the first in the new Fokker Dr.1 triplane. This is the famous plane, painted blood red from nose to tail, that the Red Baron is commonly associated with.
In that plane, Richthofen achieved victories 78 and 79 in April 1918.
But Richthofen's mood had changed. His hunting spirit — full of energy, as portrayed in his autobiography — seemed to have died. He became depressed, and he wrote in his diary: "When I read my own book (the autobiography) I see myself grinning back rude and brash. Now I don't feel brash at all. After each air battle I feel miserable and when I touch the ground, I hide between my own four walls and I don't want to talk or hear anything. The people back at home think of the war as being battle cries and hurrahs, but it is not like this at all! Much more grim and serious."
On April 21, 1918, at Cappy at the Somme River, Richthofen climbed into his triplane and headed for the front.
Meeting some British Sopwith Camel planes, Richthofen attacked the plane of Canadian pilot Lt. Wilfrid May, a greenhorn in air war, chasing him over the Somme near Vaux-s.-Somme. Unaware that another Canadian plane, piloted by Capt. Arthur "Roy" Brown, was zooming in to help May, the Red Baron chased May at a low level over the Somme.
Richthofen continued to fire at May, while Brown sent a burst of machine-gun fire into the red triplane. Also shooting at the Red Baron from the ground were anti-aircraft gunners of the Australian Imperial Force. One bullet hit Richthofen and traveled through his chest and heart. The red plane came to rest behind Allied lines.
While Brown was credited with the defeat of the famous German pilot, many others believed it was ground fire that downed Richthofen. The controversy continues, even 86 years after his death. Richthofen was 25 years old when he fell.
Full of respect for the "Red Baron," the British Royal Flying Corps gave him a funeral with full military honors.
And Richthofen's mother, Freifrau Kunigunde von Richthofen, wrote in her diary: "Manfred is dead, my boy is dead."
---
---
---