The menu at Mo cua so in Okinawa City changes to capture the freshest ingredients
by
Matthew M. Burke
May 25, 2017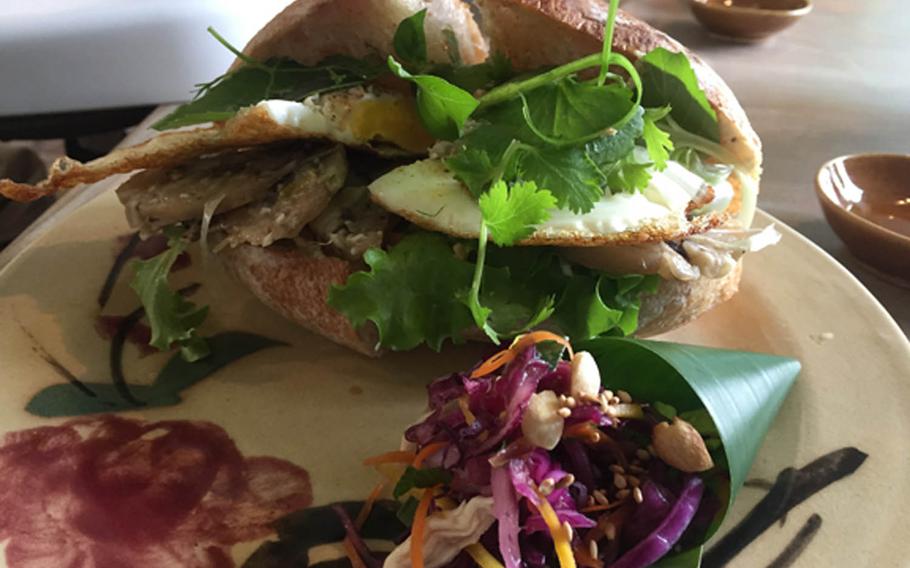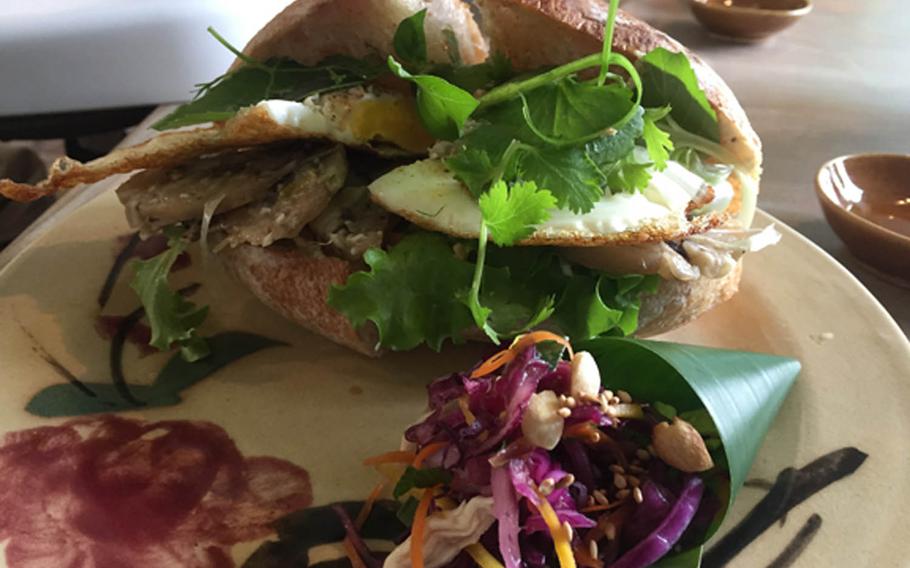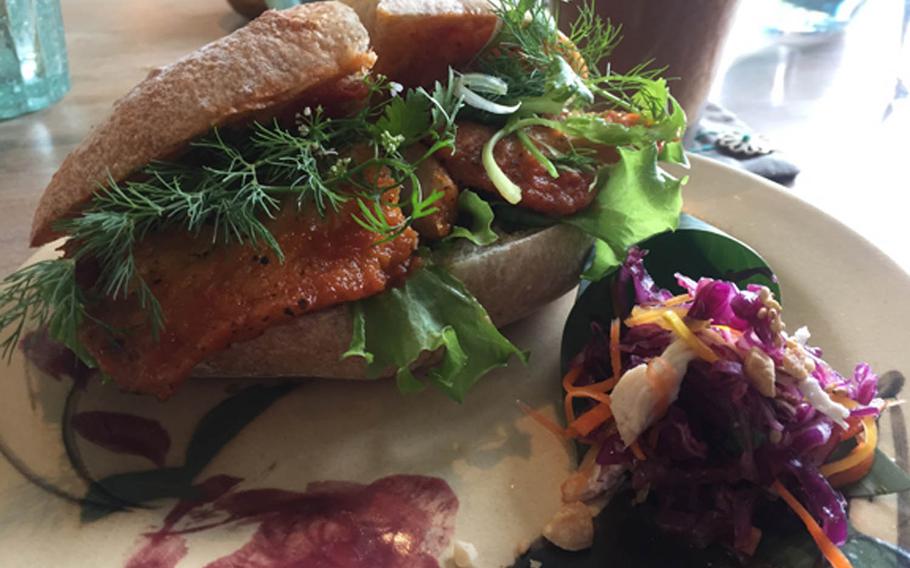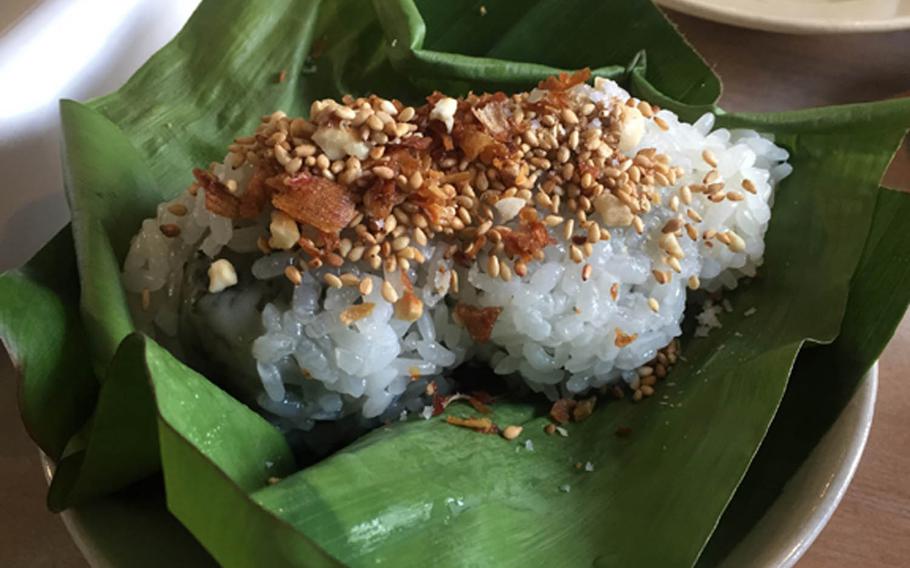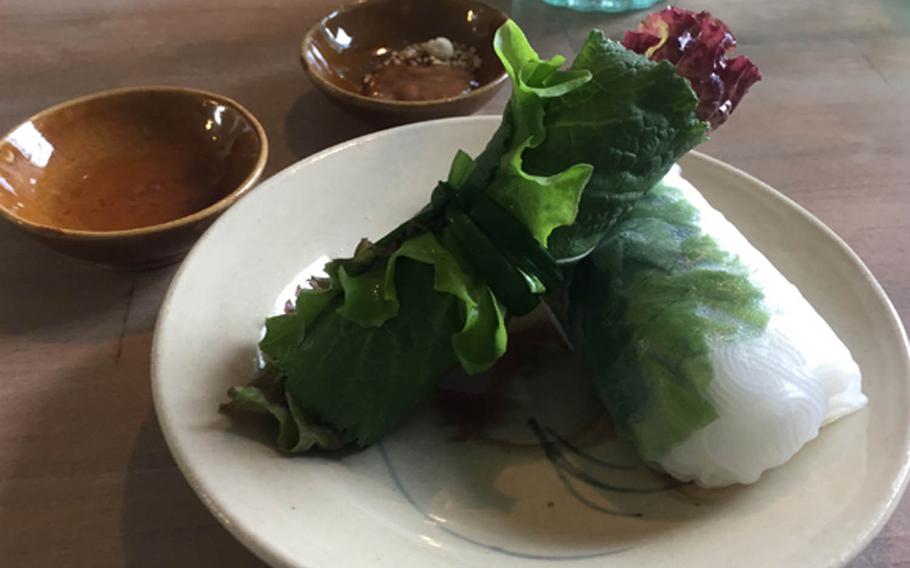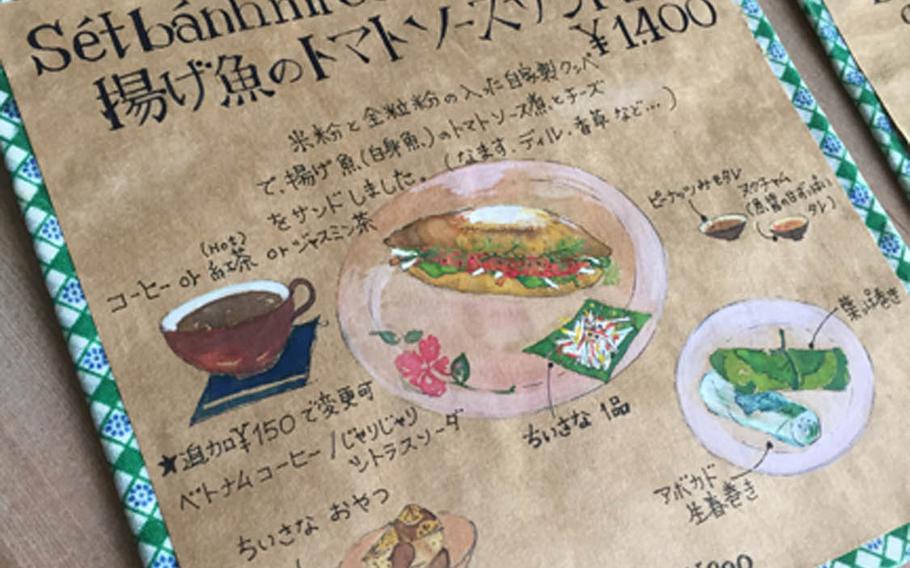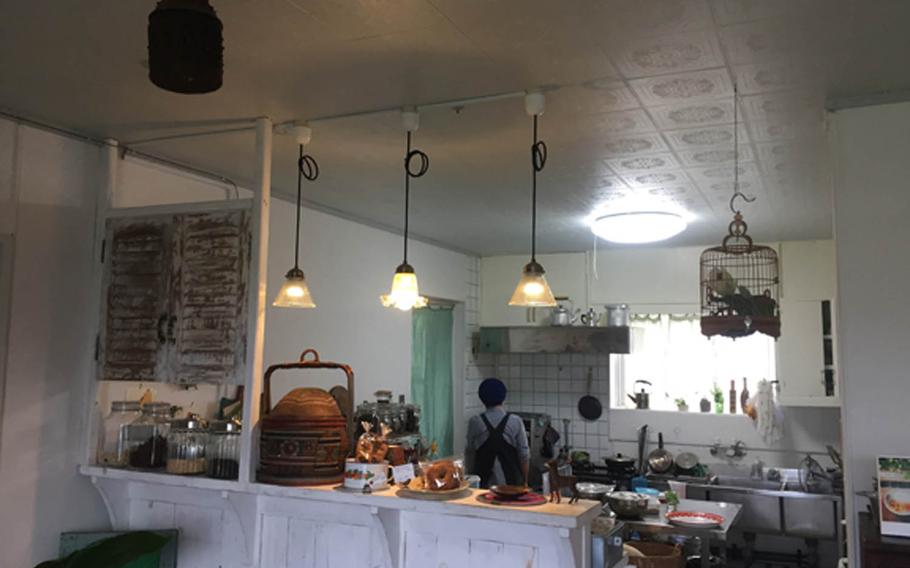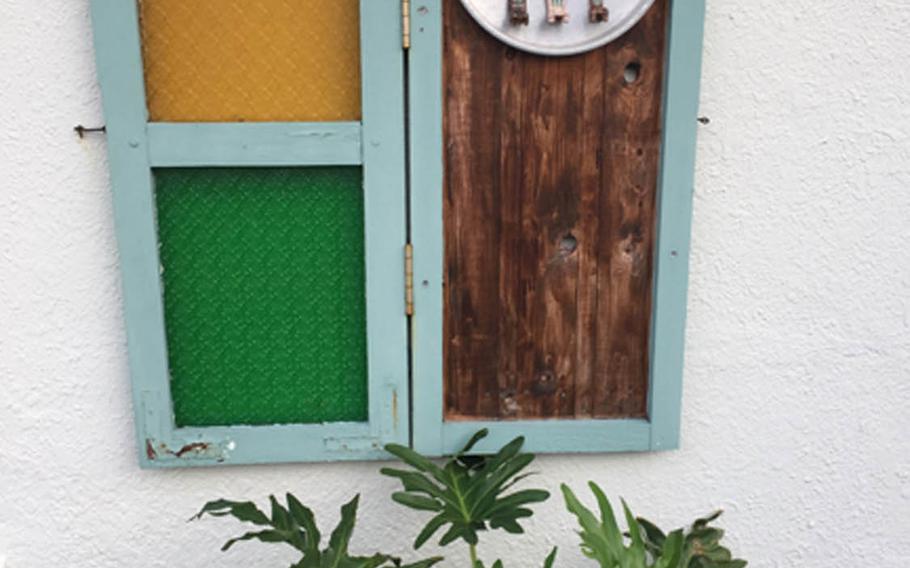 Life is truly like a box of chocolates at Mo cua so, a Vietnamese-inspired cafe in Okinawa City, where you never know what you're going to get.
And that's a good thing in this instance.
Mo cua so means "on the table." It focuses on fresh ingredients, so the menu is always changing. With fresh homemade breads and pastries, locally procured produce and herbs grown outside in its garden, the restaurant creates works of art on the plate that are as tasty as they are visually stunning.
The cafe is hidden among the hills and neighborhoods of Okinawa City, so it is difficult to find, but well worth the effort.
On a trip to the cafe at the end of May, we found that the menu — complete with pictures drawn by hand — had changed from Vietnamese noodles that are a staple in the winter to artisanal sandwich sets.
The members of our party ordered Vietnamese sticky rice, called banh khuc, with a mung bean paste inside. It came wrapped in banana leaves and topped with peanuts and what looked like fish shavings. It was a steal at 450 yen (about $4).
Steam poured from the dumplings when slicing in. The flavors were simple and unassuming but healthy and delicious.
When our sandwich sets arrived (both were about $12.50), we found they came with a starter of two visually captivating spring rolls. One was translucent and stuffed with purple, green and clear vegetables, while the other was shrouded in bright, vibrant greens.
The vegetables inside were so fresh that they crunched with each bite. We were given our choice of peanut, chili or fish sauce.
For the main course, we chose the fried fish and tomato sauce (banhmi ca chien sot ca) and the pork and egg (banhmi giothu and pate or trung) sandwiches respectively (a choice of pate and egg is also available instead of the pork). They came in delicious, freshly baked bread and were stuffed with colorful vegetables and herbs.
The fried fish was thin and crispy. The sauce was not like pasta sauce in the Italian sense; there was no tanginess. It was muted, almost like a gravy. It complemented the fish but didn't take from it.
The pork sandwich was interesting as well. I was surprised to find that it featured pig ear topped with egg, not the meat of the pig.
The pig ear added a bit of crunch that was the perfect counterpoint to the egg. It was stuffed with sweet and colorful peppers, carrots and other vegetables as well.
Both sandwiches were flanked by a bouquet of pickled radishes, a stunning medley of color.
After the sandwiches disappeared from our plates, the chef brought out a small piece of purple sweet potato cake. A glass of Vietnamese iced coffee with condensed milk was the perfect way to wash down the meal. The coffee was included in the set price but is also available separately.
Mo cua so's exterior looks like a quaint Okinawan house. There are few reminders that it is a cafe, save for a small sign on the road and a few small signs around the perimeter. There is very little parking.
The interior decor is simple, plain woods and furniture with the paint nearly sanded off. Wide-open windows allow the sun to pour in. Antiques are sporadically placed, making it seem like a farmhouse somewhere in the American Midwest.
The chef told us that she had discovered that Vietnamese cuisine was very similar to that on Okinawa. It piqued her interest, so she went and trained in Vietnam.
She moonlights as an artist; half of her cafe is an art gallery.
So much care had gone into the food at Mo cua so, we almost felt bad eating it. But once we tasted it, we did not regret it at all.
Mo cua so might not be for everyone. You have to truly enjoy authentic Vietnamese food, and food that isn't heavily salted or sauced, where the chef lets the ingredients taste like they are supposed to. One must also be prepared for a surprise, like a new menu altogether.
As we departed, full and happy, the chef told us she was taking the fish sandwich off the menu. She was thinking of adding Vietnamese noodles back on. We smiled.
You can never be certain of what you'll find at Mo cua so, but one thing you can count on, whatever you get, will be delicious and healthy, and that is all one can hope for in a dining experience.
No cua sa Location: 6-13-10 Hiyagon, Okinawa city, Okinawa
Hours: 11 a.m. to 6 p.m. Thursday through Monday. Last order at 5 p.m.
Prices: Coffee and beverages start at 400 yen (about $360) and side dishes start at 450 yen. Sandwich sets cost between 1,250 and 1,400 yen. Dress: Casual
Information: 098-953-0619