Tattoos lose their stigma, become a form of self-expression for some
by
David Allen
May 7, 2003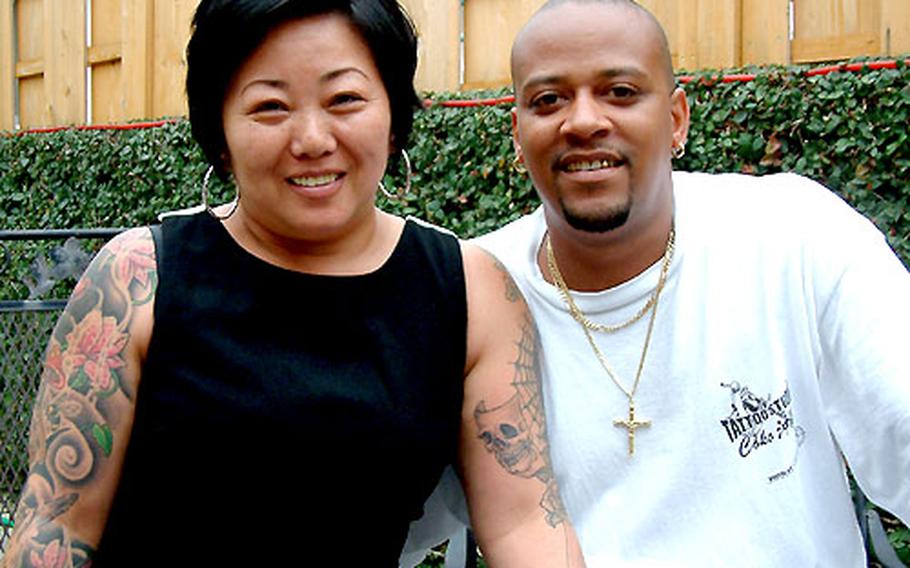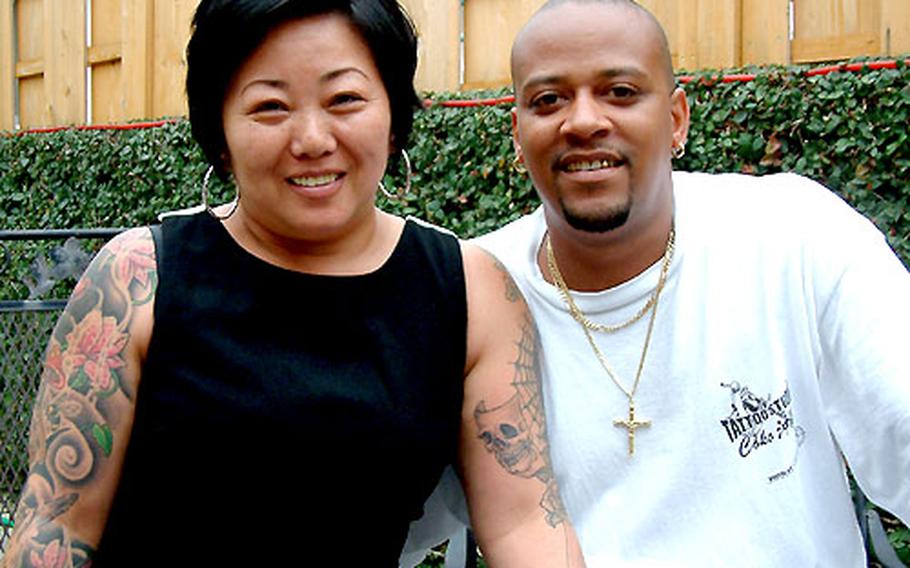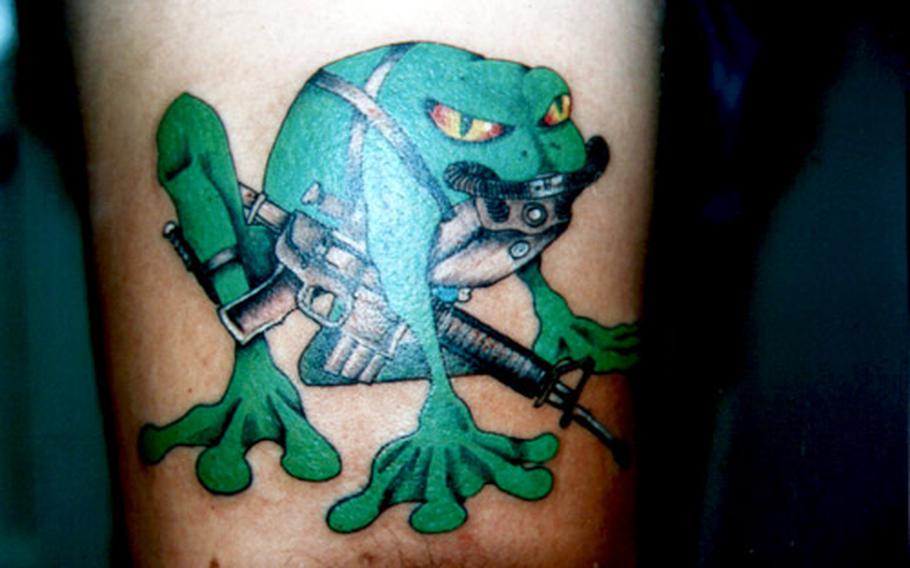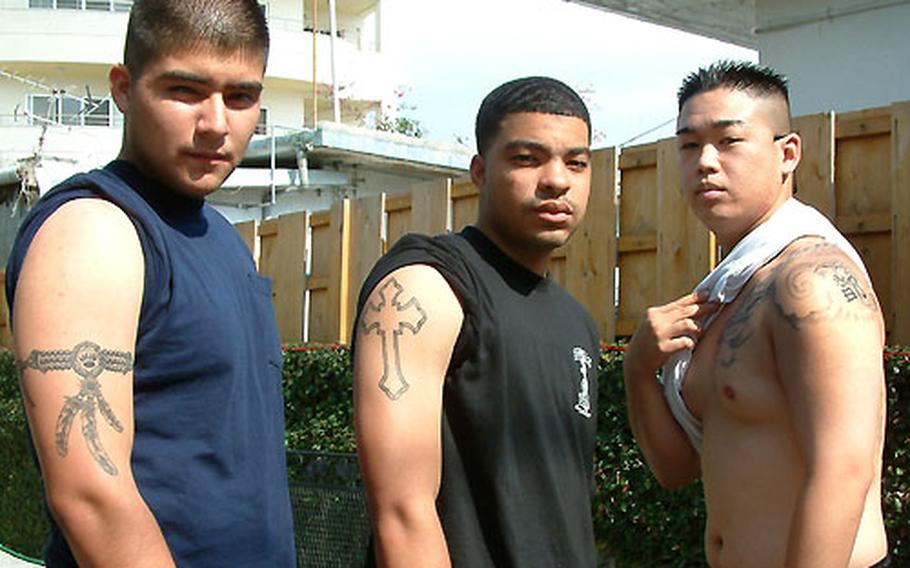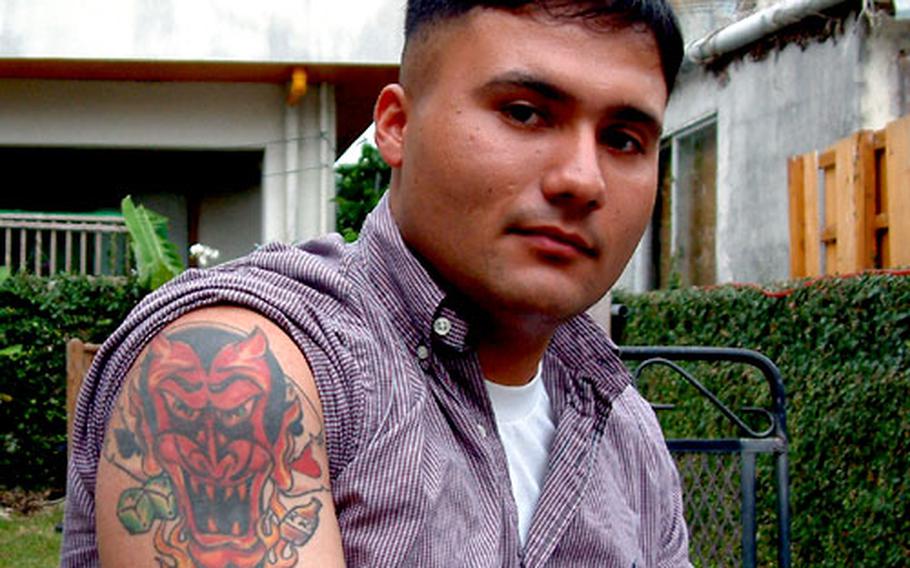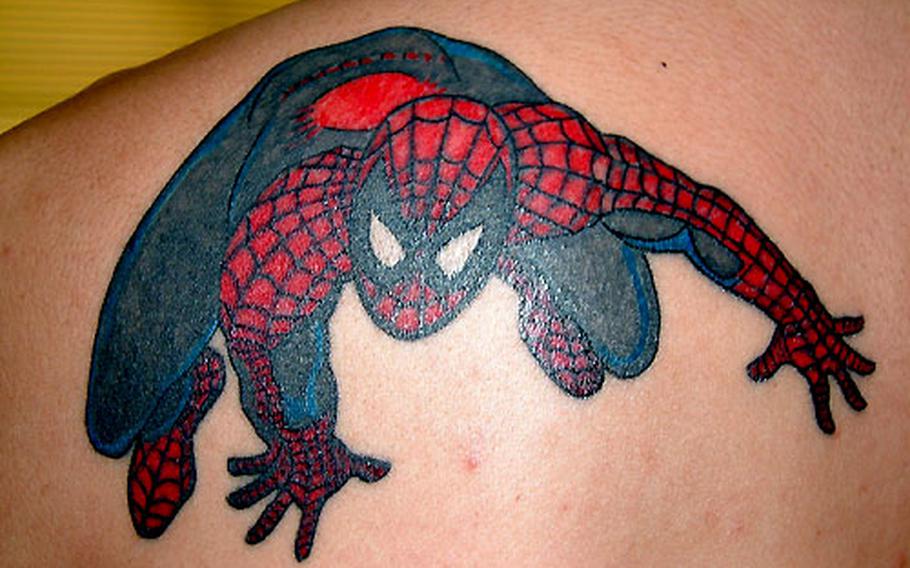 CHATAN, Okinawa — It used to be easy to spot a sailor — he was the guy with an anchor tattooed on his forearm.
But now that tattoos are being called "body art" in polite circles, it's beginning to seem that almost everyone has one.
Wander into the base exchange and you're as likely to run into a young wife and mother of two kids with a butterfly on her ankle as you are some old boatswain's mate with an anchor chain entwined around the USN tattooed on his hairy arm.
There seems to be as many teens getting tribal bands circling their arms and legs, as Hells Angels wannabes tattooed with the devil himself astride a flaming Harley hog.
Just ask Tristin Bailey, 19, a "marked man" looking for a little more color in his life.
Bailey was at Tattoo Studio Coko in Chatan, Okinawa, on a recent Sunday with his buds — Joseph Hunt and Calvin Tang, both 20. The three airmen are stationed at nearby Kadena Air Base.
"I got this cross three weeks ago for $150," he says, sliding up his right sleeve to show off his first tattoo. "I'm thinking of getting it colored in."
Hunt and Tang are old hands at the body art game. Hunt, from Denver, got a Native American tribal band tattooed around his right forearm several years ago.
"I wanted to show people I'm proud of my Native American heritage," says Hunt, who is part Apache. "It's a form of self-expression."
That's also why Tang, from San Francisco, has the tattoo of a dragon that begins on his back and stretches over his left shoulder to his chest.
"It's a beautiful work of art," he says, removing his t-shirt. "The dragon represents my family and is symbolic of strength and our Chinese and Taiwanese ethnicity."
As Bailey contemplates the shade of red for his cross, Hunt and Tang pore through several books of sample art looking for their next tats.
"Everyone has a different reason for why they get tattoos," Tang says. "My reason is that it's a work of art. I love the way it comes out, they way it looks." He says he is thinking of getting a tattoo of a phoenix on his right chest.
"Most of the people in our unit — at least three-fourths — have tattoos," Hunt says. The most popular are bands of barbed wire around the biceps and ankles.
Coko's is run by former Marine Ken Schuur and his Japanese wife, Mako. Schuur has been decorating people for about eight years and Mako is a walking advertisement for his skills, something very unconventional for a Japanese woman.
Mako has tattoos over most of her body, from a traditional Japanese dragon that nearly covers her back, to flowers and fairies on her arms and legs.
Although body art is riding a wave of popularity in the United States, in some cultures in the Far East, people who have tattoos are still regarded as second-class citizens. In Japan it was once thought only gangsters, the yakuza, got tattoos.
But the cultural barriers are falling.
"Styles are changing," Mako, 48, says during a lull in business. "It used to be in Japan that if someone had tattoos they were bad people. But it's like dying your hair or body piercing; it's accepted by the younger generation. I hope to see the day when in Japan people will no longer say, 'Oh, you have a tattoo, you are bad people.'
"Now, if you have a tattoo you are barred from some resorts and the public baths," she says. "That is wrong."
Mako got her first tattoo when she was 28 years old. "I wanted to try it out, it seemed interesting. I like to try everything out, to experience whatever life has to offer. People are more open now. When I go into a convenience store, some people will stop me and tell me I have nice tattoos.
"Of course, some people are still shocked when they see me and turn away."
Schuur, 35, says he was introduced to the tattoo art by a woman stationed with a U.S. Army unit on Okinawa.
"She did tattooing on the side from her home," Schuur says.
"She showed me how to tattoo and I did further study on the Internet. I practiced on myself, trial and error on my legs," he chuckles. "That's why I wear long pants."
He's come a long way since then. In the albums of pictures the three airmen pour over, are dozens of examples of Schuur's needle and ink skills.
Schuur is the only American tattoo artist on the island. He says Americans make up about 70 percent of his business.
"We're more focused on quality than some of the other studios," he says. "We offer a sterile, personal service to our customers. We're not into knocking out as many tattoos as we can."
He's also not interested in inking anyone who comes to his shop on a whim.
"That's why we decided to locate on a side street, off the beaten path," he said. "If someone comes in here drunk or whatever, he can look around but we won't be tattooing him. We tell him he can come back when he's sober."
He has some other rules, as well.
"I won't tattoo genitalia and I won't tattoo faces," he says. "I won't do satanic tattoos. I wouldn't do anything I think my Mom would have a problem with."
He says his mother, a Detroit pediatrician, was shocked at first when she learned he was a tattoo artist. "But after she saw the type of stuff I do, some of the angels and stuff, she approved," he says. "She said she was proud that her son had opened a successful business in a foreign country.
"She even paid for my first sterilizer," he smiles.
Schuur said one of the first things a new customer asks is, "Does it hurt?"
The pain has been described as a thousand bee stings; incessant snaps of a rubber band; multiple paper cuts; the pins and needles sensation of a foot that fell asleep.
Others describe it as a slight tingling sensation or a tickle.
A person's tolerance for pain is a factor, as is the size and location of the tattoo, says Schuur. Getting needled on the back and ankle, where the skin is more sensitive, is more painful than a tattoo on the upper arm.
Anyone who hates getting inoculations for the flu and gets upset at the sight of blood should probably avoid a tattoo parlor, he says.
Where to go for a tattoo
Tokyo
Yen Tattoo
Address: not available
Phone: 03-3793-5353
Price: 15,000 yen an hour
Intersection Tattoo
Address: #501 Hills Daikanyama
1-34-15 Ebisu Nishi
Shibuya-ku, Tokyo 105-0021
Phone: 03-3463-1054
Price: 15,000 yen per hour
Tokyo Body Art
Shinjuku, Tokyo
Phone: 03-3341-1244
Price: please inquire
Okinawa
Tattoo Studio Coko
S-46, 186 Hamagawa, Chatan
(Near KAB Gate 1, One block off Highway 58)
Phone: 936-0510
Price: Starting at $80
Kaori's Tattoo and Body Art
301 2-2-8 Mihama, Chatan
Phone: 936-9409
Price: Depends on design
Rykyu Horiyoshi Tattoo Studio
Gate Two Street, Okinawa City
Phone: 934-8502
Price: Depends on design
Tattoo Studio 329
Highway 329, Kin
(Outside Camp Hansen)
Phone: 968-6329
Price: Depends on design
Yokota
My Way Skin Art Studio
Address: Akiruno-shi, Aburadai 97
Phone number: 042-550-3280
Price: one hour 10,000 yen; larger design may cost more.
Korea
In South Korea, U.S. troops are banned from getting tattoos. Tattoo parlors have been off limits to U.S. forces since at least 1982 because of health and sanitation concerns, said Lt. Col. Steve Boylan, 8th Army public affairs officer.