Sunflowers await at festival on Okinawa for one more weekend
---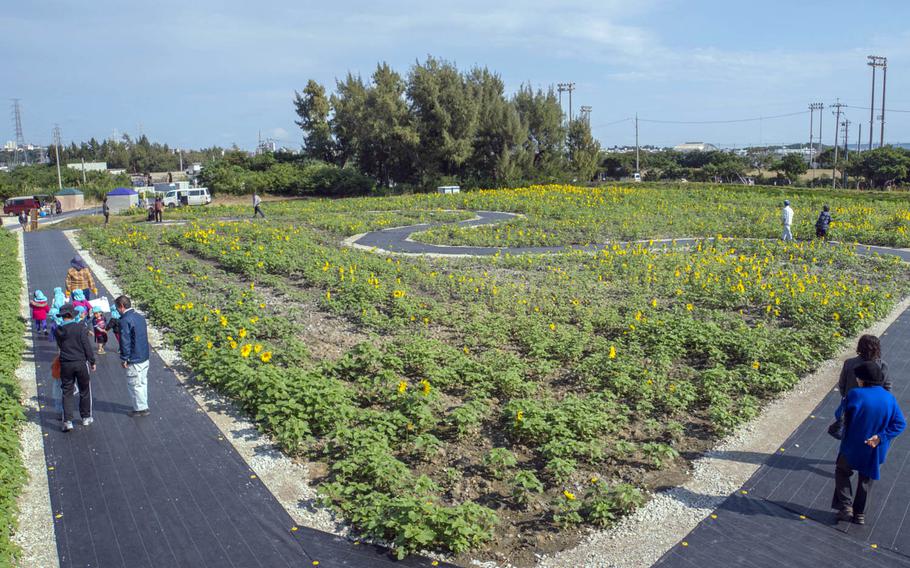 Folks on Okinawa don't have to wait until spring to enjoy colorful blossoms.
The annual Sunflower Festival in Kitanakagusuku, not far from Camp Foster, boasts nearly 400,000 sunflowers to brighten up winter days on the island.
But the event, organized by the village in 2008 to boost tourism and commerce, features much more than yellow rows of brilliant blooms. On weekends, local farmers gather to offer fresh vegetables, flowers and simple dishes.
Designated paths are lined with carpet to ensure visitors do not step on the blooms or walk through mud. A platform in the center of the field offers visitors an elevated view of the perennials.
This year's blossoms are about an eighth of their usual size, but the event is still attracting large crowds.
The festival ends on Sunday; however, the sunflowers will remain for visitors to view through Feb. 13.
Sunflower Festival in Kitanakagusuku
DIRECTIONS
From Camp Foster's Legion Gate, follow Route 81 to 329; take a left. Follow 329 for three blocks, and the sunflower fields will be on the left side.
TIMES
10 a.m. to 4 p.m., daily
COSTS
Free.
FOOD
Farmers sell fresh veggies and simple dishes on weekends.
INFORMATION
Call: 098-935-2233
---
---
---
---