Sticker on the 'Bumper of My S.U.V.' leads to hit song for Chely Wright
---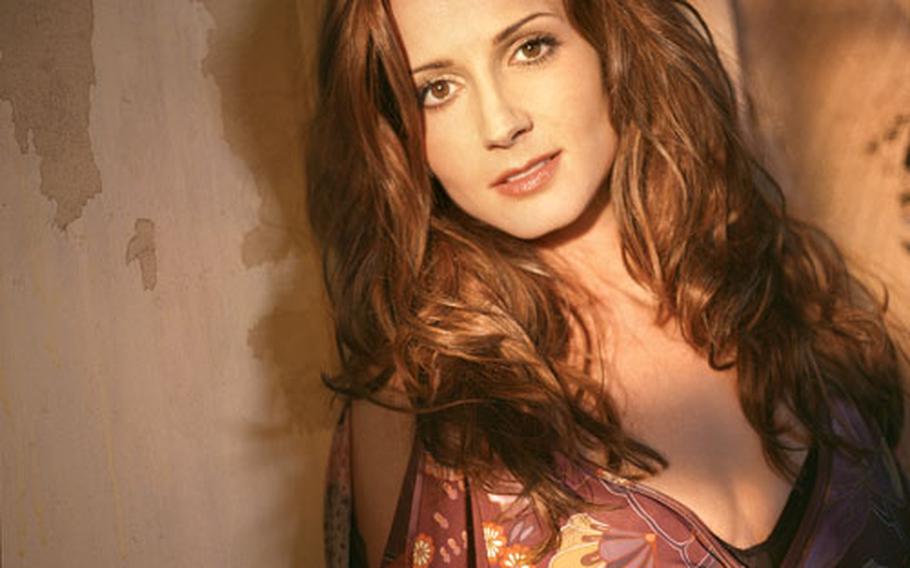 She's been absent from the country music scene for almost three years — calling it her sabbatical. But you wouldn't know it from Chely Wright's new CD.
"The Metropolitan Hotel," released Feb. 22, is a culmination of 12 songs, eight of those either written or co-written by Wright, spanning the wide range of talents from this 34-year-old Kansas native.
"I write about things I know," Wright said during an interview with Stars and Stripes. "I write about things that have happened to me."
None is more true and has a more meaningful story than Wright's newest single, "Bumper of My S.U.V."
In January 2003, three days before Wright's brother, Gunnery Sgt. Christopher L. Wright, was set to deploy to Iraq, he sent her a letter. Enclosed were an American flag and a Marine Corps sticker.
"I have never put a sticker on my vehicle," Wright said. "But I did it mainly out of fear. My brother was going to war, so I didn't think anything of it."
She went downstairs into the garage and put the sticker in the back glass of her SUV. No, it wasn't on the bumper — like in the song — but "I didn't want to risk it being defaced and I wanted it up where people could see it," Wright said.
In June 2003, Wright announced she was going to Iraq through Stars For Stripes, a nonprofit organization providing celebrity entertainment to internationally deployed U.S. military forces.
After returning from Iraq, Wright was driving through Nashville's ritzy West End when a woman pulled up beside her, displaying her middle finger.
"I'll admit I'm a bad driver," Wright said. "I'm always talking on my cell phone or drinking coffee, so I figured she was complaining about my driving."
At the next stoplight, Wright motioned toward the other motorist that she was sorry. The lady was motioning for Wright to roll her window down and when she did, the woman replied, "Your war is wrong. You're a killer just like the rest of them."
"I'm known to be a mouthy person, but I had no response," Wright said. "I was shaking and really just couldn't believe what had happened."
When she got home, the irony had set in as to what had just transpired, and it angered Wright. So, she began to write. When she was done, she had "Bumper of My S.U.V."
"When I was finished with what I had to say, I simply stored it on my hard drive and never thought about it," Wright said. "I never planned on recording it or performing it for anyone. I never thought about it anymore."
Sixteen months later, Wright was preparing to leave for her second tour of Iraq when she happened on a file called "Bumper" on her computer. She had forgotten that she wrote the song, so she burnt a copy and packed it with her other stuff bound for Iraq.
Wright played the song for Stars For Stripes president and CEO Judy Seale while the two were getting their shots at Fort Campbell, Ky.
"I got chill bumps and I was crying," Seale said. "I told her that she had to perform it for the troops while we were over there."
Before their first show, Wright and some of her bandmembers "worked up" the song and told them she wasn't sure if she was going to sing it, but to be prepared to play it.
"I was halfway through the song and I started to get emotional," Wright said. "At the end of the song, 2,000 men and women jumped to their feet. Three-star generals were wiping tears. It was the most emotional that I've ever been on stage. I was crying. They were crying. It was amazing."
Wright performed the song at every show and, during autograph sessions, troops were begging her to release the song so American Forces Network could pick it up. She was hesitant at first and said troops started to get irritated. One said, "With all due respect, ma'am, we don't care what American radio plays because we don't get it over here. That's a song about freedom and that's a song about us."
Wright promised to record the song and send a copy back to AFN-Iraq, which she did. "This song means a lot to me and I wanted to make sure that the most important people — the troops — found out the true story of this song," Wright said. "I wanted them to know that this wasn't some 'write a song and make money off the war' deal."
Wright is donating half of the proceeds from "Bumper of My S.U.V." to Stars For Stripes.
---
---
---
---