Spinning isn't dead, but it'll make you wish you were
by
Ben Murray
March 11, 2007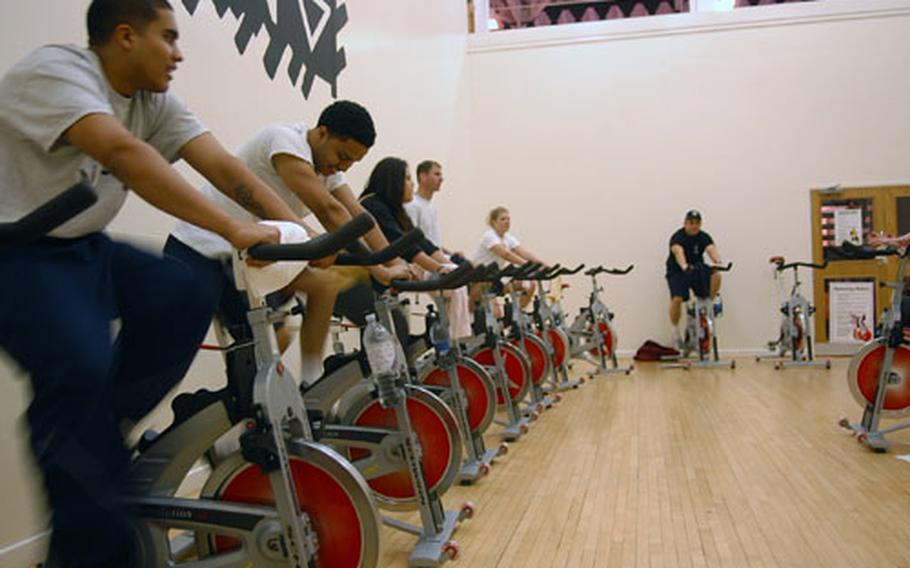 There's an issue sweeping the news channels that has me and a lot of the world's other great thinkers concerned.
It's an issue of global scale that deals with fundamental ways in which humans live, interact with the planet and generally behave in respect to future generations.
I'm talking about the invasion of cyborgs.
It isn't something I took seriously until a recent exercise class where I encountered one of the machines, a fitness instructor who has taken the name "Nichola Cotto" to fit in with humans.
A sweet, British cyborg with enormous amounts of patience, she lead us in a spinning class, the exercise trend you hoped would go away before you had the misfortune to try it.
Her true nature was revealed to us on a "hill climb," a Zenlike suspension of reality in which we pedaled bikes in a tiny, rectangular gym and pretended we were grinding up the face of the Matterhorn on a Huffy.
It was somewhere near the peak of the imaginary mountain where I, lightheaded from exhaustion, glanced over to see her pedaling merrily along as though riding through a park, a tiny little smile on her synthetic lips. It was inhuman.
"It's a tough class," said Cotto-bot, a fill-in teacher at RAF Mildenhall, England, who wore (and this is not a joke) a hat that said Drill Instructor. "You will get a workout in 45 minutes."
And we do. I attended the class as an experiment, to see whether there is a reason the trend has managed to stick around for years.
Emerging in gyms over a decade ago, spinning has become more popular in the past six or seven years, Cotto said, a surprising fact given that torture has been around for thousands of years.
The spinning workout, she said, is versatile because it can be tailored to the needs of participants for fitness goals such as strength, endurance or cardiopulmonary fitness. Or, as Cotto likes to do it, for the maximum infliction of physical pain.
"I like to teach a series of terrains — flats, sprints, jumps," she said. "Me, personally, I like to do it all in 45 minutes."
The maneuvers are mostly self-explanatory. Flats are long sections where Cotto has riders pedal quickly for long periods against steady resistance; sprints are alternatingly slow and ultra-fast portions; and jumps occur when spinners rise out of their seats to pedal standing up.
Each portion is set to music, creating a list of songs I now loathe because I associate them with leg-crippling cramps and the anguish of total dehydration.
By the time "Paradise City" came on at 35 minutes, sweat was rolling off my body, and looking down at the handle bars was like peering over the lip of the Niagara.
Each time I thought I could bear it no longer, Cotto would tell us to turn up the resistance.
"Give me another quarter turn!" she would yell, and I got to the point that I had to fake it, putting my hand on the knob and turning nothing.
Robo-Cotto meanwhile, appeared as physically stressed as a one might get while having a foot massage, refusing to sweat or display anything but perfect form on the bike.
But I think, of all things, it was the smiling that led me to deduce that she could only be made of artificial materials.
It made me wonder why scientists don't keep a close eye on things like cyborgs in England, as opposed to more fantastic ideas such as a planet- wide trend of mysteriously rising temperatures.