Rubbing the right way: Therapists say massage relieves stress
by
Greg Tyler
October 2, 2002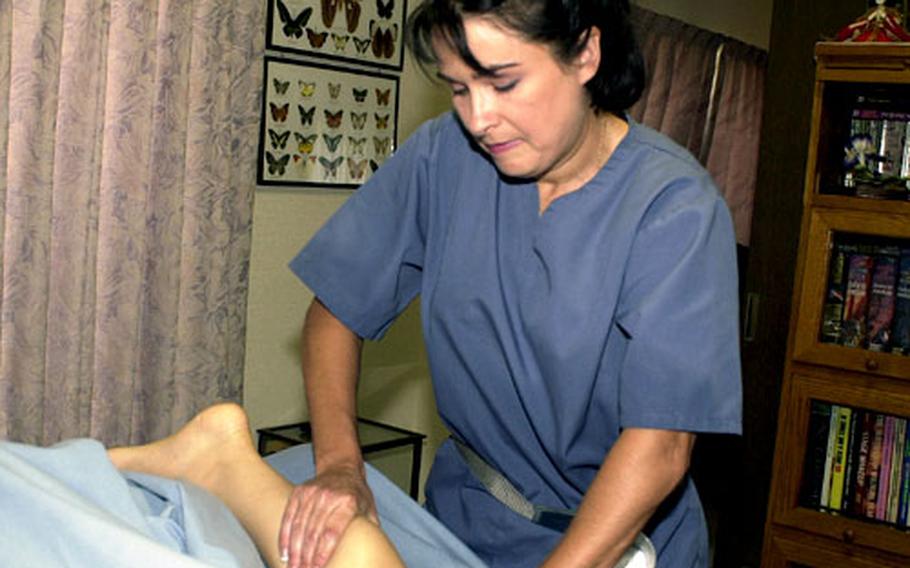 If you've got stiff joints, tired and aching muscles and enough stress to paralyze an elephant, here's the rub.
If you're part of the community at Sasebo Naval Base, Japan, just call Sandra Hornbeek or Junko Miyazaki, and for what might seem like pocket change to those in pain, they'll rent you their soothing, analgesic magic hands.
Both are certified therapeutic massage therapists.
"I think many people tend to look at having a massage as a luxury expense, but they really shouldn't," said Hornbeek, in her clearly Texan accent. "There are important health benefits, and for these reasons we consider massage as preventive medicine."
Among the some 200 types of massage, Hornbeek and Miyazaki are qualified to administer Swedish full-body massages, foot massages, or reflexology, and aromatherapy. Hornbeek also is trained in hot-stone massage techniques.
Hornbeek, 41, graduated in May from the Hands-on Therapy School of Massage in her hometown of Beaumont, Texas.
She takes appointments by telephone and e-mail, performing massage therapy in her home or in the homes of her clients. She's married to Senior Chief Petty Officer James Hornbeek from Sasebo's Fleet Technical Support Center.
A former Navy petty officer third class, the diminutive massage therapist first was introduced to her craft while stationed in Okinawa several years ago.
"I started taking a yoga class there at Kadena Air Base," she said. Her instructor "asked if I wanted to learn shiatsu, a Japanese type of massage. I found out that I have very strong hands, and have a knack for it, which is something I kept in the back of my mind."
After she and her husband arrived in Sasebo, Hornbeek decided to attend school back in Texas and earn certification.
"Sometimes I get as relaxed as my clients, even though I'm working hard and sweating," she said. "It's the perfect no-stress job."
And she helps keep it that way by making sure clients know her massages neither include nor will lead to sexual contact.
"I always have that in the back of my mind. Things do happen, but so far it hasn't happened to me," she said.
"I have clients fill out paperwork, and on there it explains that if they try or say anything sexually oriented that the massage will immediately cease and they will pay for the massage. It's very clear."
She asked one of her first clients in Sasebo if he'd ever had a massage, and he told her he'd once had a "soapy" in Thailand. A Thai soapy massage is known to involve sexual contact between client and practitioner.
"I couldn't even believe he admitted that to me, a perfect stranger. I told him, 'Well, if that's what you think you are getting here, you're sadly mistaken. I do professional, therapeutic massage.' He understood, and it went just fine."
She said Swedish massages are thought to improve circulation, digestion and joint mobility, relieve muscle spasms, cleanse toxins from the body, relax tight muscles and soften skin.
One of Hornbeek's regular clients is Anita Kellogg, wife of Petty Officer 1st Class Steve Kellogg of Sasebo's Explosive Ordnance Disposal unit.
Kellogg runs and lifts weights about six days per week, sometimes developing sore, knotted muscles. She said massages were a regular part of her life until she and her husband arrived in Japan.
"I lead a busy life, and I'm a very fit person," said the 24-year-old native of Townsville, Australia. "All my adult life I've had massages, but I don't like the Japanese shiatsu massages."
"Sandra and I are friends socially, so when I learned that she went to school in Texas to learn deep muscle Swedish massage, I decided I'd give her a try.
"I must say she's very good, and not just because we're friends," Kellogg said. "I'm a tough judge but I'd have to give her about a 9½ out of 10."
Along with smoothing knots in her shoulder muscles, Kellogg said, massages "help me sleep, and they're good stress relievers. The massage room in her house is soothing, and the music she plays is nice. I've had massages there, and she's come to my house."
Miyazaki, 29, a single Sasebo native, earned her certification from Morley College in London. She operates from Fleet Gymnasium on the main base, and the Hario Housing Village gym, as a Morale, Welfare and Recreation department contractor.
Like Hornbeek, she's certified in Swedish massage, reflexology and aromatherapy.
Playing rugby and other sports has left Sasebo's Dennis Lebling suffering from chronic neck and shoulder pain, so recently he stopped by for a Swedish full-body massage.
Miyazaki "was extremely professional," Lebling said. "She conducts a personal consultation before the massage on your first visit, and she explains how the massage therapy works.
"She's really good. After a full-body massage you should feel a little sore," he added. "That's the sign of someone who knows what they are doing. I was sore, but not terribly sore; I was comfortable."
Both therapists believe regular massages will help maintain physical and mental health. "In a perfect society," Hornbeek said, "I think you should have a massage at least once a week."
"As a whole, Americans are very stand-off-ish, don't-touch-me people. But human beings need the nurturing that comes from touching, and massage is one way of providing that.
"If you don't have somebody — wife, boyfriend, girlfriend, whatever — your body craves that touch. So that's another way massage helps to reduce stress, and provide a sense of well being."