Roppongi's Tsuru Ton Tan serves unique udon dishes in a stylish atmosphere
by
Hana Kusumoto
March 15, 2017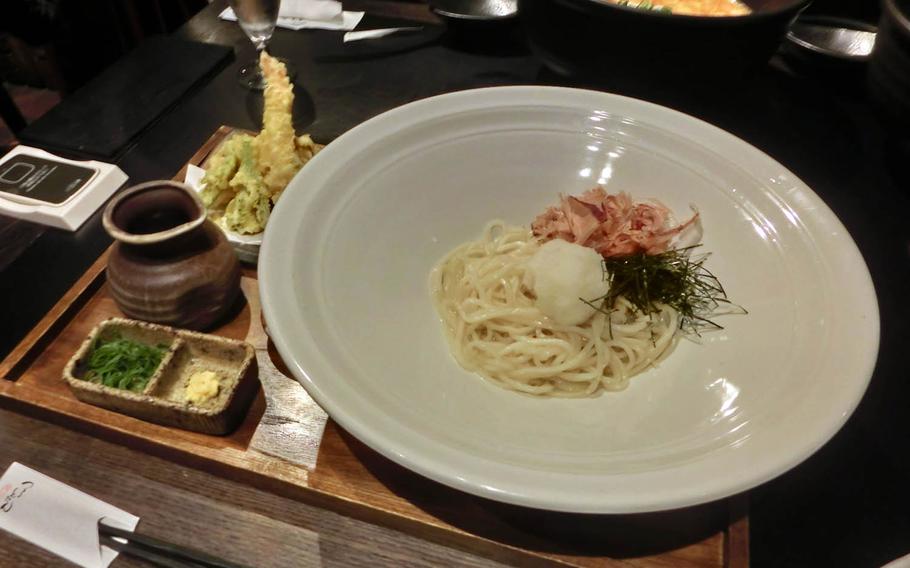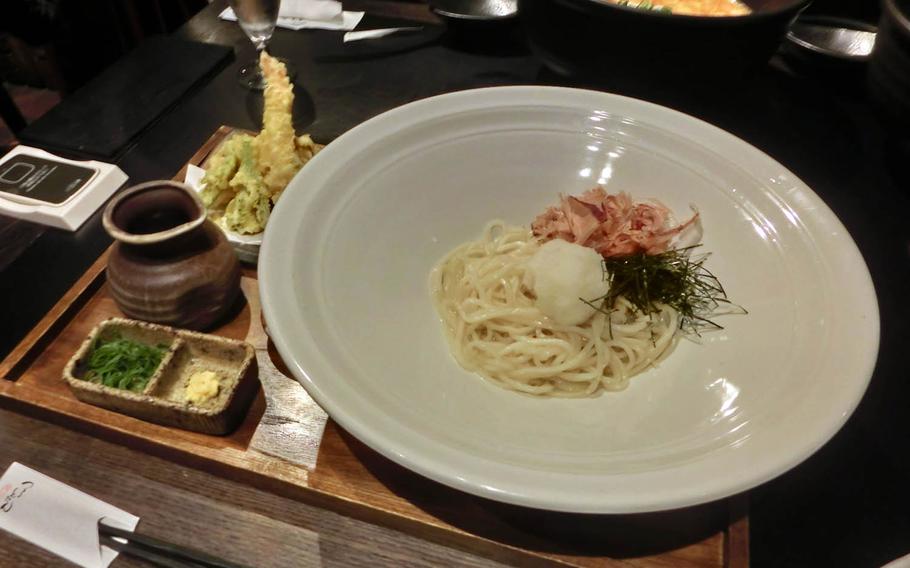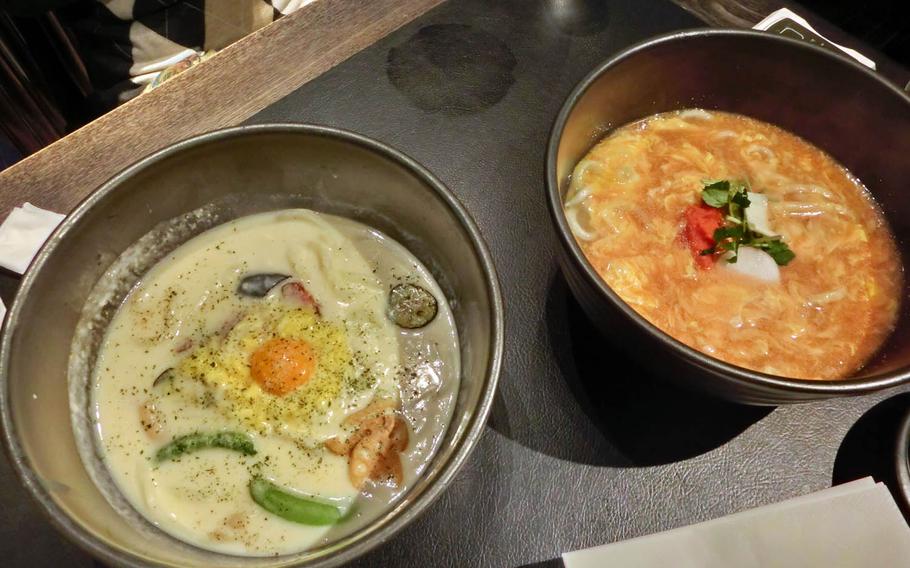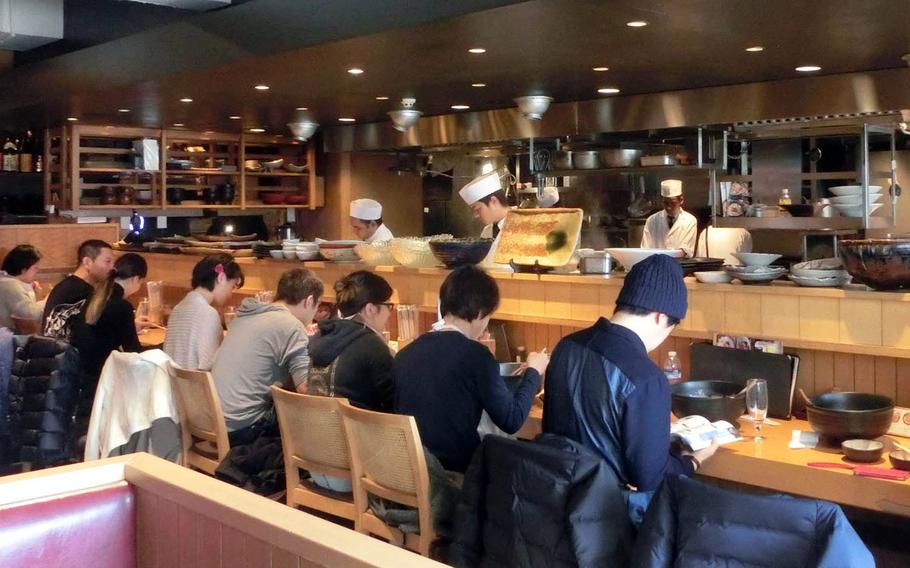 Udon — Japanese noodles made from wheat flour — is a cheap and quick meal usually served at casual restaurants or stand-up stalls all over Japan.
But Tsuru Ton Tan, in the heart of Tokyo's Roppongi district, has raised this common dish to the next level. The restaurant's interior has a stylish ambience, with wooden tables and dim lighting. Chefs can be seen pounding out udon from scratch in the open kitchen.
The restaurant's name comes from the sound of making udon. Tsuru is the sound of slurping noodles, Ton is the sound of kneading and shaping udon and Tan is the sound of cutting it.
Tsuru Ton Tan is always packed with customers waiting to be seated — even at midnight. It serves authentic udon dishes, such as tempura udon and kitsune udon, served with warm dashi soup, which usually has a stock made with kelp and dried bonito flakes.
But the restaurant also offers unique udon dishes, such as carbonara udon, which includes a creamy soup topped with raw egg and parmesan cheese; and squid-ink Korean stew udon, served in a hot pot with black soup made with squid ink and miso.
Customers are not only surprised by the selection on Tsuru Ton Tan's menu but also that all of its udon dishes are served in a huge bowl that is about the size of your face. Another great surprise is that you can get up to three times the regular udon serving for no additional charge.
My party ordered several types of udon. The traditional cold zaru udon with tempura for 1,380 yen (about $12.30) was tasty. The noodles — customers can choose from two types of thicknesses — are smooth and chewy. The tempura was freshly fried with crunchy batter.
The 1,380-yen carbonara udon, which I imagined to be just like carbonara pasta but with udon noodles, was lighter than expected. It wasn't creamy enough and had less cheese, probably to match the udon. The mentaiko, or spicy cod roe, and egg ankake (thick starchy sauce) udon for 1,280 yen (about $11.35) had a strong dashi taste and less mentaiko.
Tsuru Ton Tan also offers shabu shabu, sushi and a wide selection of appetizers. It has a great alcohol selection as well. The restaurant turns into a stylish izakaya, or Japanese pub, at night.
Tsuru Ton Tan recently opened its first overseas chain, in New York City. Its 13 restaurants in Tokyo and Osaka have different themes. The chain in Shinjuku is suited for business dinners and parties, with a unique tatami Japanese-style room with a Japanese cypress bathtub.
Tsuru Ton Tan
Location: Roppongi 3-chome biru, 3-14-12 Roppongi, Minato-ku, Tokyo
Hours: Open daily, 11 a.m. to 8 a.m. the next day (last order at 7:30 a.m.)
Prices: Udon ranges from 730 yen to 1,890 yen (about $6.50 to $16.75). Appetizers range from about 780 yen (about $6.90) to about 3,150 yen (about $28). Draft beer and Jack Daniels Black cost 680 yen (about $6).
Dress: Casual
Directions: About a 5-minute walk from Exit 3 at Roppongi Station.
Information: 03-5786-2626; www.tsurutontan.co.jp/shop/roppongi-udon