Rockin' Rollers
by
David Hodge
April 18, 2010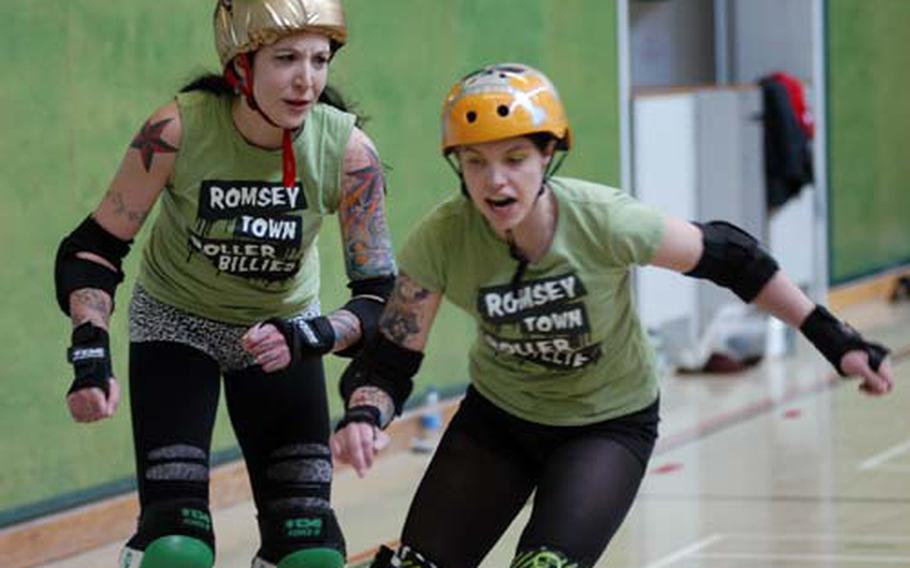 When these women from around RAF Lakenheath start rollin', you know it won't be long before the local roller-skating rink is rockin'.
That's because they are members of the Romsey Town Rollerbillies, a roller derby team composed of a motley crew of Brits, Americans and other nationalities based in Cambridge, England.
The women are from all walks of life and a variety of ages, but they have one thing in common: a love for roller derby, both on and off the track.
These days, the sport isn't elbows to the face or the zany, over-the-rail antics that were popular during televised matches in the 1960s and in Hollywood movies. But it is still a full-contact sport with plenty of punk-meets-rockabilly attitude that utilizes teamwork, strategy and toughness.
"Yeah, we're loudmouths on skates, but we don't throw punches like the [World Wrestling Entertainment]," said Sarah Sole, a hard-charging Virginian known by her alter-ego, Tara B*tch Down. "It's about clean shoulder and hip checks and smearing, a tactic employed to aggravate someone's personal space."
In a five-versus-five roller derby competition — called a bout — points are awarded when a particular player, called the jammer, laps the other team's defense, which consists of three or four skaters positioned side-by-side.
"It's like a pure adrenaline rush," said Sole, who got kicked out of high school volleyball for being too rough and played women's rugby in college.
And it is good entertainment. People of all ages come to the bouts to watch, said Kristie Kuchera, aka Emma-Hit-Cha, a military dependent and hard-hitting skater for the Rollerbillies.
"The games are not rowdy or wild, they're just like any other game where inappropriate behavior gets you kicked out," said Kuchera, a mother of five and grandmother. "It's a serious sport."
Skaters on the team are a mix of sizes, abilities and ages, ranging from 18 to over 40. Each woman has a skater name, a name consistent with the sports' colorful culture. For many of the women, this second persona is revealed at the start of a bout.
They go by names like Princess Vicious, Dusti Knuckles and Violet Hunter. Their attire for each bout also follows a theme, like Equi-Knocks, Smack Attack and Carrie on Skating, where the teams dressed like the title character in Stephen King's "Carrie." Many of the women sport multiple tattoos and piercings with pink skull-and-crossbones stickers on their helmets and pads, but nobody fits into any one particular style.
"I'm somewhere stuck in between corporate America and a tattooed mother of three," said Sole, one of eight military dependents on the team.
Although a helmet and pads are mandatory, personal safety is always at risk because everybody is on wheels. Skaters fall down often during the bouts and sometimes in the middle of a pack, leaving little time and space for others to safely maneuver.
"You have to be willing to accept the fact that you are going to fall hard and hit hard, but it's so fun," added Sole, who, in addition to taking care of her three children and working as a part-time consultant for an education program she co-founded, volunteers as a skate guard at the RAF Lakenheath roller rink on the weekends.
Bumps and bruises are all part of the game, and the competitors even flaunt their battle scars after a match over a pint and cupcakes. "I don't know what it is about roller derby and cupcakes," Sole admitted.
When team member Voodoo Doily suffered a spiral fracture in her leg last year while skating at a training camp, the team rallied to get her necessities for her hospital stay and later held a fundraiser to help her financially when she missed work. Six months later, Voodoo Doily was back on skates.
The personalities of the team members are as diverse as their individual professions away from the sport. They include a lawyer, graphic artist, architect, knitting artist, paramedic, highway project manager and a couple of doctoral students from nearby Cambridge University.
"I love the girls that I play with," said Jayme Ziemer, better known as Jamie Lynn Smears. "They are a phenomenal group of women. Everybody is so dedicated to keep this team up and running."
The team's next bout, with the theme Greased Frightening, is April 24 against the Royal Windsor Rollergirls in Windsor, England. For more about upcoming bouts, or to become a Rollerbilly, visit www.rollerbillies.wordpress.com.
get yer skates onThe Rollerbillies say the team is always looking for some fresh meat. Start-up costs for skates, helmet and pads are about $200 per person and if you stick with it, league dues are about 30 pounds (around $45) each month.
New recruits get hands-on training until they can pass a skater's ability test, which makes them official league members.
The team practices at the RAF Lakenheath skating rink from 7-9 p.m. Tuesdays and at the Cambridge Regional College 1-4 p.m. Sundays.