Rock survivor Alice in Chains surges back to success
---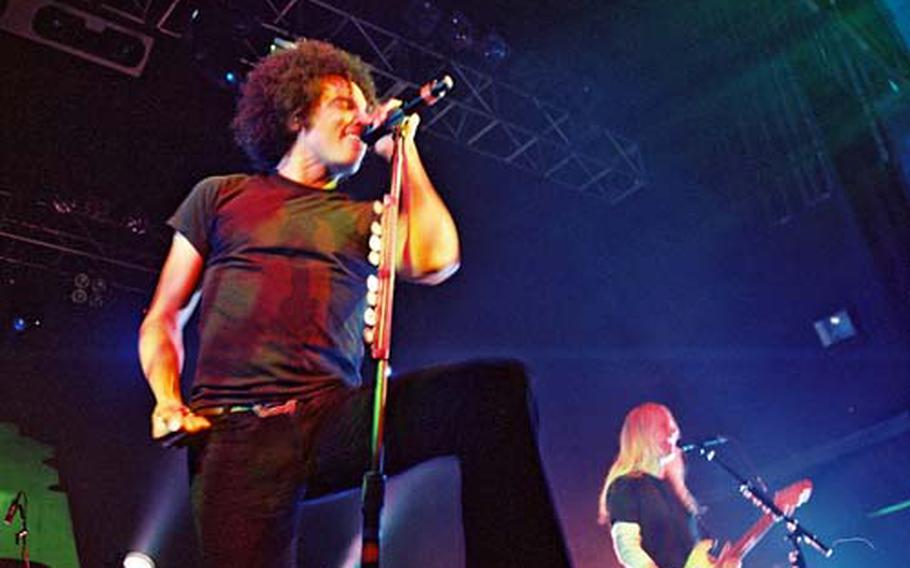 The first time rock 'n' roll lightning struck for Seattle's Alice in Chains, it was the early '90s, when any and all guitar-focused bands hailing from Washington state would be classified under the heading of "grunge."
Along with Alice in Chains, the catalog of so-called grunge bands included collectives as musically diverse as Nirvana, Mudhoney, the Melvins, Pearl Jam and Screaming Trees.
"It was just a convenient tag for people to associate whatever the hell we were doing," Alice in Chains guitarist-composer-co-vocalist Jerry Cantrell says today of the grunge label. "And I get that — it's easy to have a one- or two-word blurb to describe what it is, but it's often pretty shortsighted. We were all a bunch of rock bands from Seattle, and that's the name that stuck."
Today, rock 'n' roll survivors is a more apt description of Cantrell and his longtime bandmates: bassist Mike Ines and drummer Sean Kinney. This year, joined by new vocalist/rhythm guitarist William DuVall, the original three have found their way back to sold-out concerts, a No. 1 single ("Check My Brain") and an album, "Black Gives Way to Blue," that reached No. 5 seven years after the death of lead singer Layne Staley from a heroin overdose.
"This wasn't really an inevitable outcome," Cantrell says of the band's blazing return. "It's something that probably none of us expected to happen. But some of the coolest things in life are the ones that are the most unexpected."
Cantrell is speaking backstage at the Forum music venue in north London, where the band played two consecutive nights in mid-November following gigs in Glasgow, Scotland, and Manchester and Birmingham, England, and before dates in Italy, Switzerland and France. Drummer Kinney is suffering from a bad case of flu. Cantrell has had to see a doctor for a painful back. But true to the Alice in Chains spirit, the shows go on.
New and old songs alike make up the song list, with DuVall picking up Staley's lead vocals on such AIC classics as "Man in a Box," "Would?" and "We Die Young." DuVall manages to capture the beauty while putting his own sonic warmth on the unreservedly raw lyrics.
Lyrically, the new album hints at a lightening of the band's mental load. However, Alice in Chains' signature moodiness remains intact, along with the sublime aural warning created by discordant, dissonant harmonies and guitar work that something is about to go very wrong.
"I think that there are plenty of the darker elements — that's just collectively how we are," Cantrell says. "It's about the whole enchilada, you know what I mean? It was never all negative, although maybe we touched on things that were a little deeper, a little more unspoken on a human level, or the things that maybe are a little uglier about humanity, or maybe just personal stuff inside you that you are challenged by. That always appealed to us. We always dug deeper.
"Maybe the balance has shifted a little bit, but I also feel that a lot of the music before kind of got tagged with that negativity, and that they were all drug songs. That's unfortunate, because there were a lot of positive aspects to a lot of the darker things we wrote about, and there was always a real survivor element.
"All of the elements that we were before, we still are today. The challenge — which obviously in our case was immense — is how to move on, and how to evolve and grow, add a new member and change a little bit without losing your identity. I think we've been really successful with that."
military connectionAlice in Chains guitarist-composer-singer Jerry Cantrell opted for a career in music instead of following his soldier father (the inspiration for "Rooster," one of the band's signature songs) into the military, but he finds a few similarities between the two professions.
"By no means do I equate what I do with being in the service — that's a serious occupation and one of service, without a doubt," Cantrell said. "But what's similar is, we do travel a lot, and it is kind of an operation where you roll into town, you take over the place, you do your job, you tear it all down and you roll into the next town — so it's kind of a unit in that way."
All members of the current lineup — vocalist/rhythm guitarist William DuVall, bassist Mike Ines and drummer Sean Kinney, along with Cantrell — come from military families. Born in Tacoma, Wash., Cantrell spent many childhood and teen years in suburban Tacoma near Fort Lewis. His father's military career also had the family living in Alabama, Alaska and Pennsylvania.
Alice in Chains is on a European tour in support of its current album, "Black Gives Way to Blue." The band performs at Nottingham's Rock City Dec. 6 and Brixton Academy in London Dec. 7.
---
---
---
---